Fernandinho says winning his fifth Premier League title is the perfect way to bring his City career to a close.
Our captain first lifted the trophy in 2014 when a side led by Manuel Pellegrini sealed success, before helping City to four titles in five seasons under the guidance of Pep Guardiola.
The latest success came after a final-day victory over Aston Villa at the Etihad, which saw Fernandinho play in front of the home fans for the final time.
And with the midfielder set to call time on his City career this summer, he says leaving as a Champion is the ideal ending.
SHOP THE PREMIER LEAGUE CHAMPIONS' RANGE
"To finish my nine years at City by winning my fifth Premier League title is a dream come true," he said.
"This squad is genuinely special. The togetherness of the players is like nothing I have experienced before. These guys are my brothers, which makes winning the title even more special.
"I want to thank Pep and all the backroom staff we have here. As players, we are given everything we need to be successful. The support we get to ensure we go onto the pitch in the best possible condition is amazing and without it there is no way we could have won the title.
"To have won this trophy four times in five years really is amazing. Everyone knows the Premier League is the most competitive in world football, but we have shown consistency over a long period. That is testament to what City have built.
"I am leaving this summer, but I am very confident City will be successful again in the future."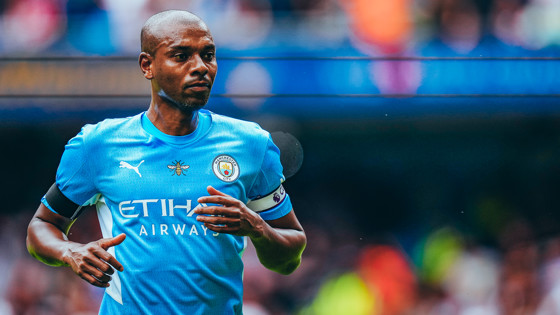 Fernandinho reserved special praise for the City fans, who he believes have played a key role in our Premier League success this season.
The Brazilian, 37, says the energy they have transmitted from the stands has helped City get over the line in a tense title race with a fine Liverpool side.
"This club is fantastic and so are our fans, who have been with us every step of the way," he said.
"Without them by our side, there is no way we can do what we have done these past five seasons. We have felt their energy and it has driven us on.
"I want to say a proper goodbye to them on Sunday by beating Aston Villa and ending the season on a high."