Ilkay Gundogan scored two and set up the other as City moved within three points of a third successive Premier League title with a 3-0 victory over Everton at Goodison Park.
Gundogan, on his 300th City appearance, opened the scoring with a beautiful flicked finish in the 36th minute before providing for Erling Haaland to head home his 52nd goal of the season just two minutes later.
Gundogan added his second and City's third shortly after half-time with a perfectly executed free-kick.
Pep Guardiola's side now move four points ahead of nearest challengers Arsenal with three games left to play.
After winning the league in 2020/21 and 2021/22, we need a maximum of three points to become just the second club in the Premier League era to lift the trophy in three consecutive campaigns.
This victory extends our winning run in the Premier League to 11 matches and our unbeaten streak across all competitions to 22 games.
What happened
Everton, buoyed by a morale boosting victory over Brighton earlier in the week, went toe-to-toe with our title chasers in the early stages.
However, the match soon settled into a familiar pattern with City dominating possession and our hosts looking to make the most of rare opportunities to break.
Our first clear cut chance of the afternoon came after a typically incisive first touch from Riyad Mahrez out on the right. Cutting in, he breezed beyond Dwight McNeil and chipped a cross into the box.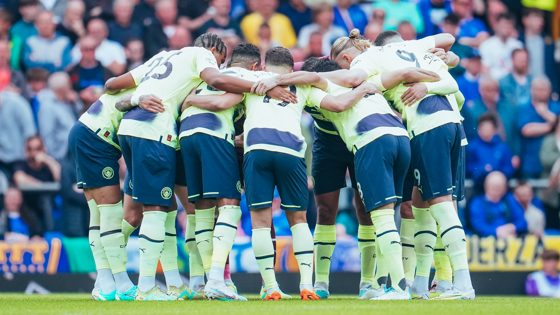 The ball eventually fell at the feet of Ilkay Gundogan but the German was adjudged to have pushed his marker.
While our control of the ball continued, City were missing the required composure in the final third and Jordan Pickford went largely untested for the first half an hour.
Julian Alvarez appeared to be in behind Everton's defence after a brief Toffees foray into our half but the Argentine was crowded out before his team-mates could make up the ground to support him.
Everton's best chance of the first half fell to defender Mason Holgate from James Tarkowski's header but Holgate could only send it high above the bar from just a few yards out.
That sparked the Blues back into life and soon a moment of magic from triple centurion Gundogan had us ahead. The captain wandered into the box, took Mahrez's cross on his thigh and, with his back to goal, flicked it beyond Pickford.
Gundogan turned creator for our second just a couple of minutes later. The German chipped the ball along the six-yard line with his left foot and straight onto the head of Erling Haaland, who had been on the periphery of the game until that point.
Haaland made no mistake, nodding it back the way it had come for his 36th Premier League goal and 52nd in all competitions this season.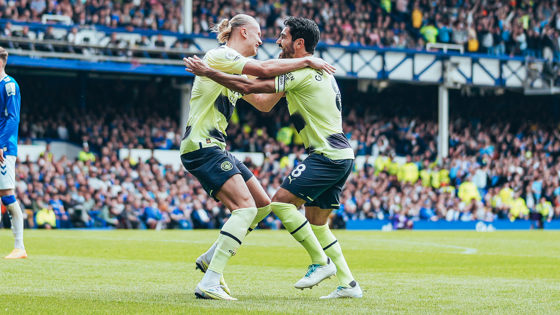 Phil Foden's driving run a few minutes after the restart earned a free-kick on the edge of the box when he was forced to the ground by James Garner.
After placing it down himself, Gundogan stepped up to the ball and caressed it over the heads of those in the wall and into the top corner.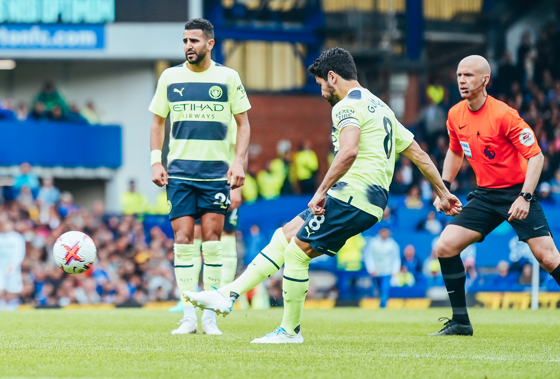 Everton showed fighting spirit in the minutes that followed but the next major chance came the way of City, with Rodrigo and Foden linking up before the latter crossed for Haaland.
The Norwegian attempted a bicycle kick from a tight angle but couldn't replicate his wonderous strike against Southampton last month.
Having regained their footing, Everton's James Tarkowski thundered a header against the crossbar shortly after the hour mark. A corner was given, with suspicion that Ederson got a fingertip to the ball.
Haaland had a shout for a penalty turned down in the 75th minute. The Norwegian looked to have been barged over by Pickford but referee Anthony Taylor was not moved.
Both goalscorers were substituted shortly after that to a rapturous applause from the excellent travelling City support.
From that point on, it became an exercise in keeping the ball for City who have another special Premier League achievement in our sights.
Teams
CITY XI: Ederson, Walker, Dias (Gomez 90), Laporte, Akanji, Rodrigo (Phillips 87), Gundogan (C) (Bernardo 77), Mahrez, Alvarez, Foden, Haaland (Grealish 77)
Subs: Ortega Moreno, Stones, De Bruyne, Palmer, Lewis
EVERTON XI: Pickford (c), Patterson, Tarkowski, Mina, Holgate (Coady 56), Gueye (Onana 56), Garner (Gray 75), Doucoure, McNeil, Iwobi, Calvert-Lewin (Maupay 45)
Subs: Begovic, Lonergan, Keane, Simms, Welch
Man of the match
Ilkay Gundogan – The Club captain could hardly have wished for a better way to mark his 300th City appearance.
With the Blues in charge of the ball, he was free to roam beyond Rodrigo and deep into Everton's half. That's how he picked up his first, latching on to Mahrez's curled cross and showing a level of composure in the box that many prolific strikers could not match.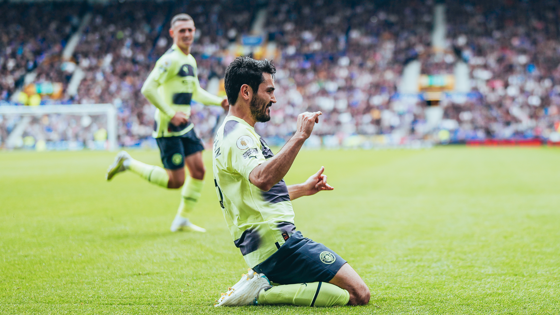 It was back to supplying those ahead of him just two minutes later, with a deftly executed chip measured to perfection for Erling Haaland to head home.
He completed a truly memorable performance with the guided free-kick early in the second period to come away with his second brace in our last two Premier League games.
The No.8 has been pivotal to our success since arriving as the first signing of the Pep Guardiola era back in 2016.
He has demonstrated an incredible level of versatility to match his consistency whether he's asked to control the midfield in a deeper role or provide a goal threat in the box.
He will never be forgotten at this club for his heroics on the final day of 2021/22, but Gundogan has been a marvel throughout his 300 games at City.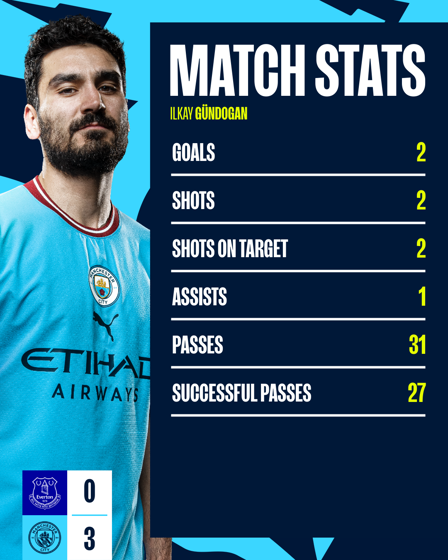 Ilkay Gundogan reaction
On the game: "Every game is like a final now. For the last three years, this place has always been very tough for us. Even more so now. We feel like this is a big win."
On his first goal: "I felt that I was free. Both centre-backs were focused on Erling. I saw the space. The ball was a little bit behind my run. I had to adjust and somehow, I was able to take a touch, I tried my luck and it worked out perfectly."
On the title race: "We have a very experienced team. It's not really a new situation for us, competing for the last few games of the season with someone else. The margin for mistakes is very slim, we know that. I think that we were able to live these moments in the past helps us a lot. Sometimes, you have to stay calm and trust your abilities. Even though it was tough today in the first half, that is exactly what we did."
Pep Guardiola reaction
"Between the Champions League semis, it's difficult here after Everton scored five against Brighton. From minute one we took the game in our hands. It was a brilliant performance at the end of a season. We need two more victories to be champions. Step by step recovery.
"They defended deep. Their transitions are amazing. They are the best team by far in transitions in the league. We controlled the game. We were patient and attacked the spaces.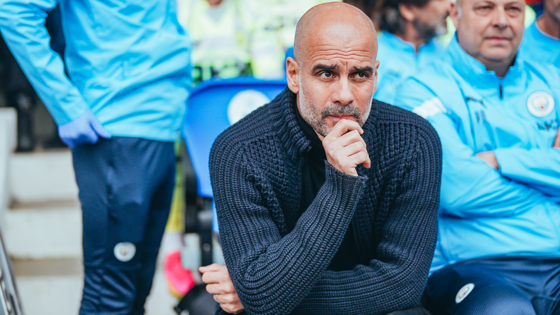 "Gundogan arriving in the box is amazing. Really really important.
"Every time we win you bring energy for the next game. We are recovering well.
"Semi-final of the Champions League against Real Madrid at home, what can you say? I said to the players try to relax and just do what you have done for the last four or five years."
In our stride
This match was our 11th consecutive Premier League victory. This is the fifth time Pep Guardiola has masterminded a run of at least consecutive league wins since arriving in England in 2016.
The only other managers to have had more than one 10+ game winning streak in Premier League history are Jurgen Klopp (3), Alex Ferguson (2), and Arsene Wenger (2).
Having put together mammoth winning runs in order to see off the challenge of Liverpool in recent seasons, we are attempting to do similar to Arsenal this year.
When the pressure is on, that's when Guardiola's City tend to click into gear.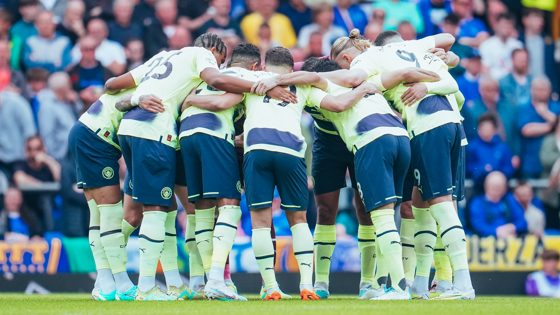 What it means
City move four points clear of Arsenal with three games left for both sides.
Our challengers lost 3-0 at home to Brighton & Hove Albion later on Sunday. With City not in Premier League action until next Sunday, Arsenal will also face Nottingham Forest before we play a league game again.
Even if Arsenal win at Forest, a win at home to Chelsea next Sunday would guarantee a fifth Premier League title in six seasons and third in a row.
What's next
Real Madrid visit the Etihad Stadium on Wednesday night for the second leg of our Champions League semi-final. That tie is 1-1 after a gruelling encounter in the Spanish capital earlier this week.
In terms of Premier League football, we host Chelsea next Sunday afternoon for our final home match of the campaign.
News about Everton v Man City