Norwegian striker Erling Haaland has become City's first signing of the summer.
The 21-year-old will join the Club on 1 July after penning a five-year deal which keeps him at the Etihad Stadium until the summer of 2027.
Here are 10 things you may or may not know about our exciting new arrival…
1. Great leap forward
Haaland's athletic prowess was already evident from a very early age.
Remarkably, he still holds the world record for the longest standing long jump by a five-year-old
International Age Records show that the Norwegian striker set the record on 22 January 2006, producing a remarkable leap of 1.63m
2. Alarm anthem
Haaland has revealed that at one stage the Champions League anthem served as his dedicated, go-to alarm call tone.
"[The Champions League anthem] is my alarm tone. I wake up to it every day - it's the last song I'm tired of," he said speaking in 2019.
"I always get a perfect start to the day."
3. Tunes of glory
Before leaving Norway to play with Red Bull Salzburg in Austria, Haaland was part of a rap group called the Flow Kingz along with fellow leading young Norwegian players Erik Tobias Sandberg and Erik Botheim.
Their YouTube video for Kygo jo, has so far attracted more than 9million views!
"We were with the national team at Under-16 or Under-17, and we were good friends, so obviously we were training but then for the rest of the day we didn't have anything to do," Haaland revealed.
"We tried to do a lot of random stuff and then we came on this and thought, 'Maybe we should make a music video, why not?' because Erik Tobias Sandberg was really good at rhymes.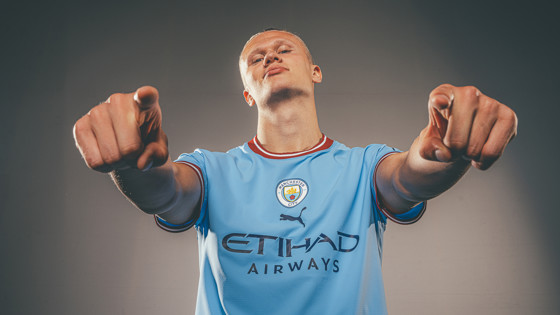 "Erik Botheim says he is good at rapping, so he was the rapping guy. And then I was the one who had the big verse.
"In the end it is a really nice song and it has had a lot of views."
4. Growing up
Despite his still tender years, Haaland is already a formidable physical presence, thanks to his tall, imposing 6ft 4ins frame.
And such was his notable size and stature when playing at Molde in his native Norway, Haaland was fondly given the nickname, 'The Man-Child' by his teammates.
Not least after one remarkable season that saw him gain 12cm in height!
5. Land appeal
Haaland grew up in Bryne which is a small farmers' town about 25 miles south of Stavanger.
And he says he can see looking after and tending to animals on the land once he finishes playing football.
"I don't own cows or pigs, but I will for sure in the future," Erling revealed speaking earlier this year.
"Yeah, I think I will have a small farm, after I retire. I don't know where, but I am quite sure I will have some animals.
"We are thinking about getting a couple of goats, we will see."
6. Athletic prowess
Aside from his long jump exploits, Erling also proved a natural athlete in a host of other disciplines.
As a youngster, Haaland's father Alfie introduced him to a number of sports; including cross-country skiing, handball and athletics.
"It was before [Erling] started playing football," Alfie revealed. "We used to take him to athletics so he could test himself.
"Erling played handball, athletics and cross-country skiing til he turned 14. Norway's handball manager wanted him to play handball. I thought it was nice to play tennis and handball next door.
"Versatility is important. You get to develop completely different sides of the body, and that can be positive no matter what you do."
7. Sleep stories
To further illustrate his passion for football, whilst with Red Salzburg, Haaland revealed that he went to bed with the five match balls he had registered hat-tricks during a goal-laden first few months there.
Haaland enjoyed a stunning start to his career with the Austrian club.
And in an interview with a Norwegian news outlet, he said: "I sleep with the five balls for each hat-trick I have scored.
"I lie in bed and I feel good with them. I look at them every day. They are my girlfriends."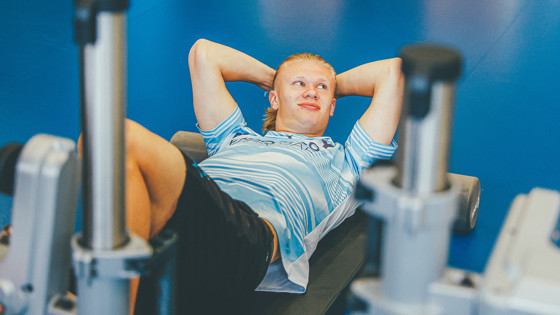 8. Family fortunes
The sporting prowess of Erling's father, Alfie Haaland, is, of course, well known with the Norwegian having played football at the highest level in England, including a fondly remembered three-year spell with City between 2000 and 2003.
However, his mother also has a notable sporting back-story of her own.
Gry Marita Braut was a renowned Norwegian heptathlete champion during the 1990s. It's a demanding, testing event that sees competitors specialising in a series of gruelling disciplines comprising the 100m hurdles, high jump, shot put, 200m, long jump, javelin and 800m.
9. Special inspiration
As a younger player, Erling revealed how one of his motivating inspirations was former Swansea City and Spain cult striker Michu.
In the wake of the forward's spectacular exploits during the 2012/13 season in south Wales, which saw Michu score 22 goals in 43 appearances and help the Welsh club lift the League Cup, Haaland even at one stage tagged himself as Michuoviedo9 on Instagram by way of homage to the Spaniard.
In return, Michu who was subsequently forced to retire early from the game due to injury, sent Haaland a signed Burgos shirt bearing his name on the back, where he had become sporting director.
10. Native son
Haaland was born on 21 July 2000 in Leeds a little over a month after his father Alfie Haaland had joined City from Leeds United.
As Erling was born in England, it meant the forward was technically eligible to represent the English national team had he so chosen to.
However, with Erling's family having moved back to his native Norway in 2003, he subsequently opted to play his international football with Norway.