England boss Gareth Southgate says he would have 'no hesitation' in giving Phil Foden his senior Three Lions debut if decides to select the 20 year-old for either of England's upcoming UEFA Nations League matches.
England take on Iceland on Saturday and then play Denmark on Tuesday as international football returns for the first time since last November.
Foden has been selected for the senior squad for the first time by Southgate and will become the youngest City player to represent England since Micah Richards in 2006 should he play in either game.
The national team boss admits he's been impressed by what he's seen so far – though he won't be revealing if Foden will start on Saturday - until an hour before kick-off.
"You wouldn't expect me to tell you that!" he laughed when questioned about the City's playmaker's chances.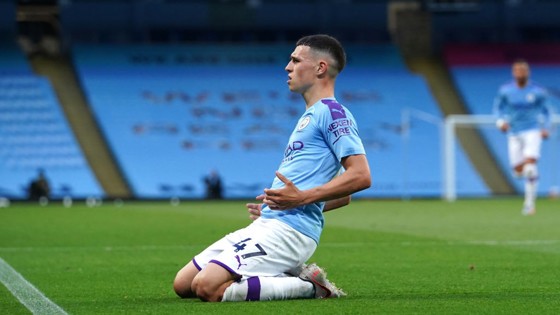 "What I would say is everything we've seen on the training pitch we've had no hesitation to select any of the players.
"You are never quite certain how young players will adapt but Phil Foden and Mason Greenwood are a part of a very exciting group of players coming through the English system."
"The senior players are a great influence and the young players have no fear - they adapt very quickly and we've enjoyed the week, so far.
"In the last two or three years we have seen a lot of exciting young players coming through who we believed we should expose to training with the team.
"There has been a high turnover at times we've wanted to bring people in to see what they can do.
"The freshness and energy of new people have meant our level of performance and consistency has started high.
"We have kept blooding young players and kept winning.
"Experience is still important; you have to balance the experience and leadership with youth and energy.
"It's helpful to have experienced guys in there if you have people making a debut.
"There is a balance, but you have to look at the past and people on the training ground and if they are up to speed and make a decision based on what you've seen.
"Winning is what it's about for these young players.
"Just to be here isn't enough. They want to add to the successes and victories and you need a core of the team where that is the focus."