Ruben Dias has applauded 17-year-old Rico Lewis after his goal inspired City to a 3-1 UEFA Champions League victory over Sevilla.
The teenager made history by becoming the youngest ever scorer for a player making their first start in the competition, dethroning Karim Benzema.
The visitors took a surprise first-half lead through Rafa Mir, but Lewis' powerful strike levelled the score, before Julian Alvarez put us ahead with a composed finish.
Riyad Mahrez added a late third to secure the points, but Dias was especially proud of Lewis' overall display.
"I just told him he cannot come out of the game with the cramp like that!
"Definitely, he is an enormous talent. He's been with us a long time now. I think for him to have the opportunity to play, let's say the full game, and to score, you can see his quality.
"Brilliant things from him and he just needs to keep working.
"We wanted one more thing, not to concede, but unfortunately we conceded the one. It's one of those games. Everything was done and settled in terms of the math of the group but still it was a game we needed to perform and the rhythm to keep going.
"The games don't stop. To drop down completely is never a good idea. In the second half it was a very good answer from the team."
"I had two good ones [chances], keep going and it will come."
The Portugal international, who played the entire 90 minutes at the Etihad Stadium, was named as UEFA's Player of the Match for another assured display at the back.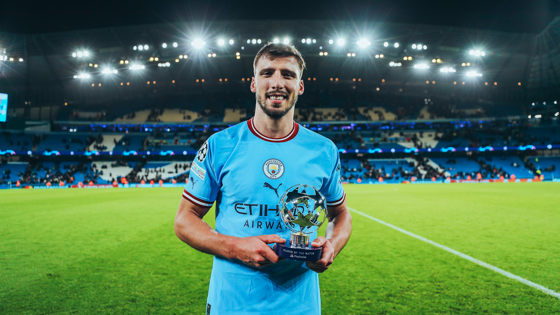 Pep Guardiola's men had already sealed top spot in Group G prior to matchday six and end the group stages undefeated, but Dias made it clear that despite already securing qualification, the clash with Sevilla was not one to rest easy and take our foot off the gas.
"In this club it doesn't matter if it's a friendly or the Champions League final or a group stage game with everything done already.
"We need to push each other. The same as in training as well, you can train in a certain way or you can train to win things, that's just the way we do things.
CITY+ | SIGN UP TO ACCESS EXCLUSIVE CONTENT
The defender also had some praise for Kevin de Bruyne, who was introduced from the bench in the second half and registered an assist for the go-ahead goal with a sumptuous pass for Alvarez.
"It's one of those Kevin things," said Dias. "It's good to be able to count on him."