Ruben Dias believes ten-man City gave everything they had to try to earn victory during the 2-0 Premier League defeat to Crystal Palace at the Etihad Stadium.
Wilfried Zaha handed the visitors the lead in the sixth minute, before Aymeric Laporte was shown a straight red card for denying a clear goalscoring opportunity on the stroke of half-time.
DOWNLOAD THE MAN CITY APP

City remained a threat even with a man down but were caught on the counter two minutes before full-time, with Conor Gallagher adding a second for the Eagles.

Dias feels City did everything they could to win the game, and is looking to bounce back from the defeat.

"It's always a tough game in the Premier League, whoever the opponent," he said. "Today we were not at our best but even so the team fought and gave everything, but it was not enough today.

"The reaction is that we have a game in a short period of time and we are already thinking about it. Today we lost three very important points but it is what it is, it is football. We are definitely not happy but looking forward already.

"Whatever happens this team is always motivated. We're always going for it. We knew we had a tough job to do in the second half and we came with everything we've got but it just wasn't enough."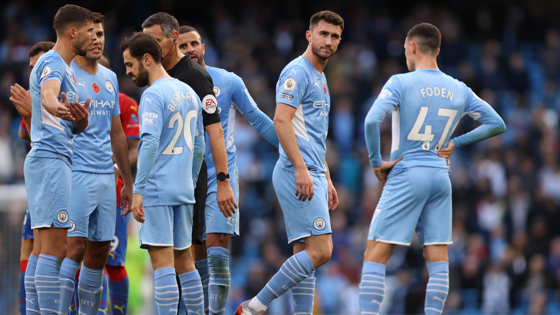 The Portuguese also admitted his surprise at seeing Laporte sent off before the interval, after the Spaniard tangled with Zaha just inside the City half.
"I still haven't had the chance to watch it back [Aymeric Laporte's red card] again. For me, it was a little bit strange to see a red. I was walking back thinking it was yellow. I never thought he [the referee] would go for a red but we have to accept it."
CITY+ | SIGN UP TO ACCESS EXCLUSIVE CONTENT

Pep Guardiola's men thought they levelled mid-way through the second half as Gabriel Jesus found the net from a tight angle, but after a VAR review, Phil Foden was judged to be slightly offside. Dias feels the disallowed goal was a blow to City's hopes of a comeback.

"We scored a goal but it was ruled out for offside unfortunately," he said. "That threw us down a little bit because at that moment I thought we're going to do it, but unfortunately we could not. It's time to look forward.

"When things don't go well, everything is missing. But today, the team was there."