Pep Guardiola admits City have some rebuilding to do this summer in order to maintain the squad's high levels.
With David Silva leaving at the end of the current campaign, Vincent Kompany leaving last season and other senior players entering the final year of their current deals, the boss says he will need to add new faces – but that it is a normal process for all top clubs.
LIKE PEP'S STYLE? Check out the latest in PUMA leisure wear here
"You have to rebuild, but it happens all around the world and you have to accept it and take the right decisions as a club to maintain the levels," said Pep.
"Like Jadon Sancho when he was in the Academy and he wanted to go, we couldn't do anything else - the guys who don't want to stay have to leave - this is the first consideration, and the second is their age.
"The process we would like is to stay with the players we have because of what they have given us for the last decade - and be eternal.
"However, we all grow older over the years and eventually we have to replace them - and we will replace them with new players.
"But it's not a disaster, it's part of the normal circumstances that happen in all the clubs."
Asked if he would be focusing on defensive reinforcements first, Pep said: "We have exceptional players and we an incredible six or seven weeks ahead.
"We have to be all together to fight for this. To win the Carabao Cup, be second in the table, reach the FA Cup semi-final and be in the Champions League is incredible and I want to focus on this.
"After, we will reflect on what has happened and I will sit down and think with the club what replacements need to be made, but not to judge just the back four or defence.
"We will think more when the season is finished."
Turning his thoughts to Liverpool tomorrow evening, the City boss says every game is important for many reasons and that trying to win the Premier League next season.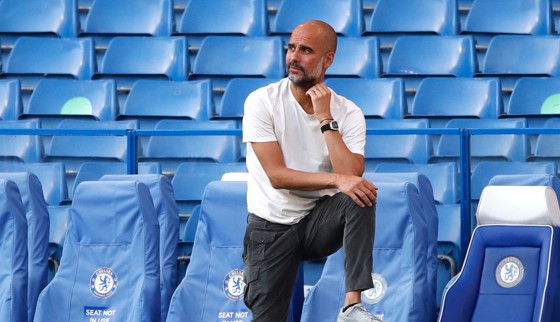 It is a challenge he is already relishing.
"I have had many, many challenges in my career as a manager," he said.
"This is one more. The immediate challenge is to do a good game, face a fantastic team and compete like we did in the past.
"We know the quality they have and it will be a good game to watch - it will be good for our game, too, with Arsenal and Real Madrid big tests for us - to see our level in terms of the play, the key moments and so on.
"The fact is we lost the Premier League with seven games left and the challenge this season was to win it again. It didn't happen as we weren't so consistent.
"But we have an incredible six seven weeks ahead of us and the dream to come back to Wembley after the semi-final.
DAVID SILVA: Order your copy of 'El Mago – A Decade of Magic' now.
"It's so difficult to be there again and maybe a final as well and after that, we have the Champion League.
"Every game we play between then and now is a chance for us to arrive in the best possible condition, so every game is so important.
"We have incredible things ahead. I am focused only on this."
The Premier League, Sky Sports and NOW TV have agreed to offer two NOW TV 'Day Pass' vouchers for free to every Premier League Seasoncard holder & Hospitality Seasonal member.
Find out more, here.