Pep Guardiola says he will assess his squad after Thursday afternoon's training session and the next round of COVID testing at the CFA.
The players returned after two days' rest ahead of the busy festive schedule, with Premier League matches against Leicester City, Brentford and Arsenal inside a week.
And ahead of the visit of Brendan Rodgers' side on Boxing Day, the City boss says it is too soon to say who is available and who isn't.
CITY V LEICESTER: TICKETS ON SALE
"We had two days off," said Pep.
"Now we start training this afternoon and we will see. Every day we do tests. Maybe they arrive positive, or backroom staff.
"I cannot answer you now, but hopefully as much as possible we are ready for the game on Sunday."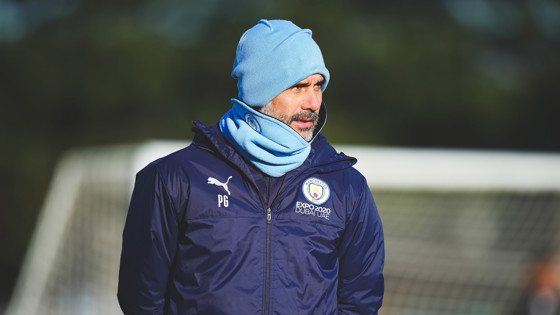 Although Leicester are currently 22 points behind City, Guardiola is expecting another very difficult 90 minutes against a side he says are 'exceptional'.
"Leicester remain Leicester," he said. "They have a top-quality manager with exceptional players in all departments.
"Seasons have high and low periods. The club work well in many senses.
"Recruitment. But sometimes anything can happen, but they have the same value I give to them. They are exceptional from Kasper Schmeichel to Jamie Vardy." 
The manager was also asked for his thoughts on how the ongoing pandemic is affecting the game.
Two Premier League fixtures have already been cancelled on Boxing Day, including Liverpool's home game with Leeds United.
"There are rising cases all around the world. It's not just Premier League, it's everywhere," he said.
"Five or six in the last round of fixtures were postponed. It's a lot. What the Premier League decide with consulting people will be good for us.
"What we want is people stay safe and stay well. Social distance, masks. When I go to the streets, people are not following the rules.
"We must take care, pay attention to these kind of things and protect ourselves and other people.
"The new variant is here and cases are rising. Football is not an exception. Whatever the Premier League decide, we will support. 
"Leeds v Liverpool has been postponed. There are cases. This is society. Not just the Premier League.
"It's everywhere. I see newspapers online. Cases rise. Restaurants cancel dinners.
"It's everywhere. What we want is to play the Premier League fairly. If there are cases, of course games should be cancelled.
"But I know how the meetings work, everyone looks out for themselves."