There was a song City fans used to sing in the late 1980s and 1990s.
It was sung to the tune of an old hit called 'Remember Then', covered by a band called Showaddywaddy in 1979 and with the revised Kippax chorus of 'Remember when – when – City scored ten?'
And for those luckily enough to have been at Maine Road on a dismal November afternoon back in 1987, it is something they will indeed always remember.
The 1980s were hardly a boom time for football and City were still the eleventh best supported side in the country despite being in the second tier.
Chelsea, Spurs, Arsenal, Everton and Newcastle United all averaged between 20 and 30,000, despite being in the top division. Only United and Liverpool – the latter regularly winning numerous trophies at the time, had an average greater than 30,000.
CITY+ | Free to Cityzens until football resumes
So on November 7th, 1987, just under 20,000 fans would be rewarded with a match they could later deservedly be able to later brag 'I was there'.
On the face of it, the game didn't look that thrilling -a mundane-looking clash with bottom-of-the-table Huddersfield Town.
Malcolm Macdonald was the new boss of the Terriers and his side ran out with high hopes of adding to City's miserable start to the season following relegation from the First Division.
Mel Machin's side had managed just six wins out of sixteen and sat uncomfortably in mid-table, unable to shake off the hangover of previous campaign's disappointment.
Huddersfield's kit on the day was an unusual black and yellow chequered design and despite their position in the league, for the first ten minutes, City were on the rack and could have been 3-0 down, but it soon became clear it wasn't going to be Huddersfield's day.
When a questionable penalty was awarded in the 13th minute, Neil McNab slotted the ball past the keeper to put City 1-0 up. From then on, Huddersfield capitulated and everything City tried seemed to come off and end up in the back of the net. Winger Paul Simpson was in fantastic form and he helped supply Paul Stewart, Tony Adcock and David White to give Machin's side a handsome 4-0 lead at the break.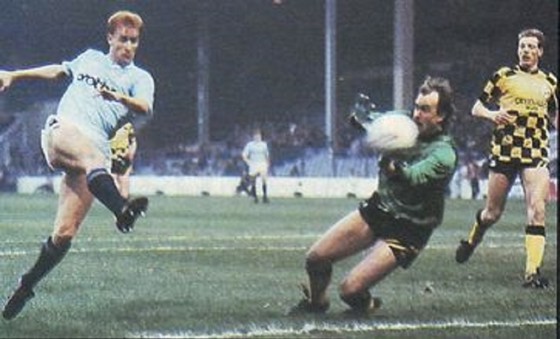 It is often the case that a side leading so convincingly at half-time tends to take their foot off the gas in the second period, but it didn't happen on this occasion.
Adcock added a fifth on 52 minutes and Stewart scored his second on 66. Adcock became the first player to complete his treble a minute later to make it 7-0 and Stewart made it 8-0 – uncannily – on 80 minutes.
There was something special in the air that day a hunger among the players and supporters that something unique was happening and the opportunity to reach double figures now acted as further incentive to further punish Huddersfield.
Chances to be part of an historic occasion or remarkable scoreline are few and far between and with 10 minutes left, there was still time to score more goals.
Step forward David White.
White made it 9-0 with five minutes left, leaving City tantalisingly close to the magic 10.
The excitement was incredible as City fans urged the players forward, but the tenth goal of the game actually went to Huddersfield, who scored in the 88th minute when former youth team graduate Andy May converted a penalty. Cue feverish, ironic celebrations from the small band of travelling fans in the Platt Lane.
Was there still time to grab No.10? As a long ball was hoofed up front it was flicked into White's path and he suddenly was clean through. With his electric pace he raced toward goal, rounded the keeper and planted the ball in the net.
The noise was deafening. Maine Road went wild and then the final whistle blew seconds later.
Terriers boss Malcolm MacDonald was almost too shell-shocked to speak afterwards, but in later years he recalled: "We went to Maine Road about a month into my time with Huddersfield and I remember how well we started the game," he said.
"We could have been a couple of goals up and were playing well early on until it all started to fall apart on 15 minutes and we went into the break 4-0 down.
"I just said to the lads to go out in the second -half and try and claw back a bit of pride – when you're that many goals behind the game is pretty much gone so the intention was to play as well as we could and see where it took us.
"Our main problem was dealing with the speed of City's forward line – they were very quick – Paul Simpson and David White would set off and I noticed the linesman was sprinting to keep up with them!
"The sad thing is that I felt we played better after the break and I maintain three or four of City's goals looked offside, but they kept going in and I felt utterly powerless to stop it.
"That season, everything that could possibly go wrong for us, did."
Of course, Macdonald would have the last laugh as – typically – Huddersfield Town won the return fixture 1-0 and they even returned that season to Maine Road in an FA Cup third round replay  – securing a 0-0 draw!
Only City…