While our 125-year anniversary series City DNA has so far celebrated some of the Club's eccentricities, geniuses, and uniqueness, it has also celebrated excellence – and the 2017/18 season was as near as Manchester City have ever come to perfection.
The previous Premier League successes had been close affairs, with City pipping United and then Liverpool in 2012 and 2014 respectively.
What would become known as the 'Centurions' season began steadily and then, in true Star Trek fashion, hit the Warp Factor speed and left everyone and everything in its wake.
Pep Guardiola has taken exactly 12 months to figure out where the team he had inherited needed improving and his thrilling brand of football had been fully absorbed by the players that remained at the Club, and those who had just arrived.
The result was truly beautiful football.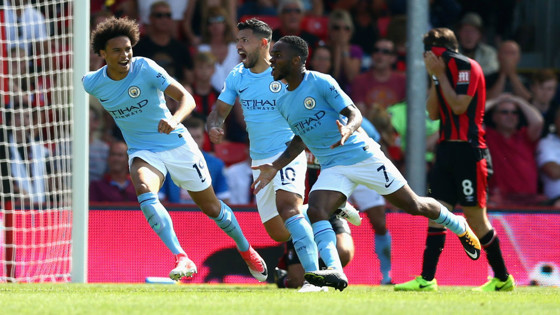 As with any season, there were moments that stand out – games that could have taken the campaign in a slightly different path – such as Raheem Sterling's 97th-minute winner at Bournemouth in the third game.
Then there was Sadio Mane's dismissal for dangerous play against Liverpool that saw the visitors capitulate to a 5-0 loss, or the narrow 1-0 win in the back yard of defending champions Chelsea.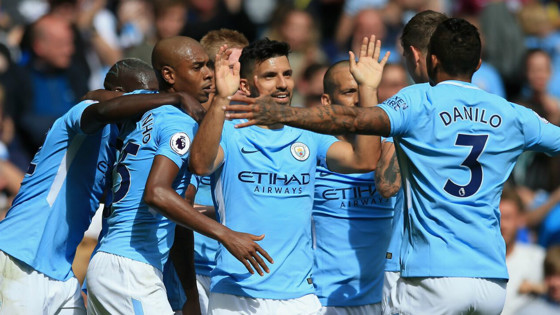 But those fine margin matches were few and far between, because the goals were flowing and City were blowing teams out the water with some blistering performance.
CITY+ - Free to Cityzens until football resumes
Palace were beaten 5-0, Watford 6-0, Stoke 7-2… and even when the scorelines were closer or City weren't quite hitting the heights, a way would be found such as Sterling's late winner at Huddersfield and his 96th-minute winner in the next game at home to Southampton – plus David Silva's late strike to see off West Ham – and those games were in succession.
Momentum and destiny were carrying the team towards glory.
By the time City travelled to Crystal Palace on New Year's Eve, Pep's men had won 19 of the 20 Premier League games played and gone 15 points clear at the top.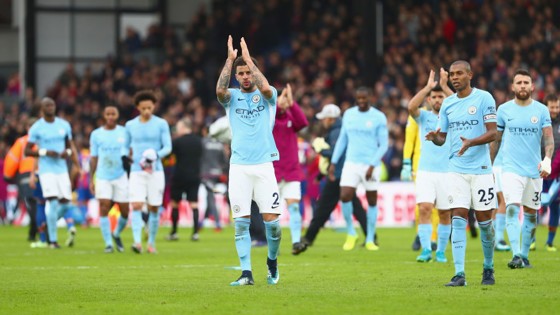 It was incredible and like a long distance runner who races clear of the field to establish a huge advantage, the chasing pack were so far behind that the race felt effectively won by the halfway stage.
Of course, there was still work to do but injuries to Gabriel Jesus, Vincent Kompany and the difficulties David Silva was enduring with the premature birth of his son only seemed to galvanise a very special group of players further still.
Aymeric Laporte arrived towards the end of January, by which time Liverpool had ended our unbeaten run, but the victories and goals kept coming.
Plus the Carabao Cup was secured with victory over Arsenal with fittingly three of the Blues' long-serving favourites in Aguero, Kompany and David Silva on the score-sheet.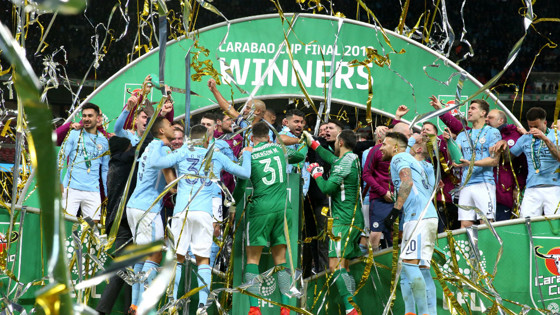 Four more win s in March set up a Manchester derby that City fans had dreamed of all their lives – the chance to be crowned champions at home against United.
The footballing Gods allowed us to believe that was going to happen with City 2-0 up at the break and disappointed not to have scored four of five – the many misses proved costly and United recovered to win 3-2.
But just a few weeks later, United also had another part to play in the title, losing at home to West Brom to confirm City were champions – you could argue the Reds had stopped us being crowned twice at the Etihad – but nobody was complaining.
And with the title secured, Pep ensured his players then focused on the records that could still be broken with 100 goals and 100 points still possible.
A Pablo Zabaleta own goal away to West Ham at the end of April brought up 100 goals (you really couldn't have made that up) and on the last day, with almost the last kick of the game, Gabriel Jesus scored the goal that brought up a century of Premier League points – the first time any club had achieved that feat.
In short, City smashed it.
Most points, most goals, most away points, biggest winning margin of points, most wins, most away wins and most consecutive victories – plus best goal difference and equal earliest title win with five games to spare.
It is a season that no City fan will ever forget.