Cheltenham Town have created a special matchday programme for the what the club are calling 'one of the biggest occasions in our history'.
There will be a digital and printed version of the programme - which lifelong City fan and world renowned photography Kevin Cummins – has made a sizeable contribution towards.
And Cheltenham Town are donating 50% of the profits with FareShare, the UK's largest charity fighting hunger and food waste.
The CTFC website commented: "Kevin's pictures captured key moments in the Manchester music scene, helping to define the cultural history of the city and now he can add Cheltenham Town's not-so-world-renowned matchday programme to his extensive portfolio.
"We got in touch with him to ask if he would like to help us create a special edition for the FA Cup fourth round tie at the Jonny-Rocks Stadium and he obliged, donating some of his most iconic images of Liam and Noel Gallagher to the cause.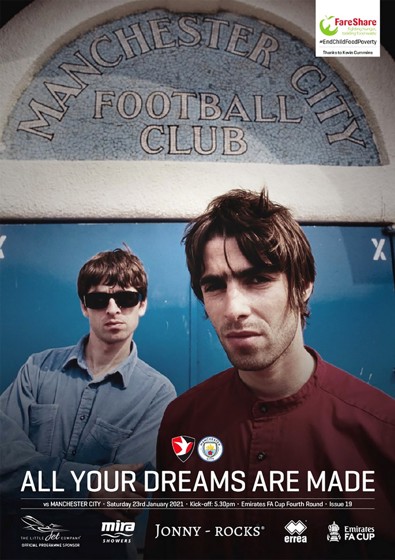 "So we've decided to use one of the famous brothers on the front cover to create a unique version to mark one of the biggest occasions in our history."
Cummins, a columnist in City's own digital matchday programme, added: "I was chatting to one of the Cheltenham Town directors, Murry Toms, and he asked me if I could help them out.
"He's a big Oasis and Smiths fan and has always admired my work, so I told me that maybe we could do something that'd help raise money for FareShare, too.
"In return he told me that he'd invite me to a game as soon as we were able to go to one.
"It's a ground I've never been to and I wanted to try to make it special for City fans, as we rarely get to tick a new ground off.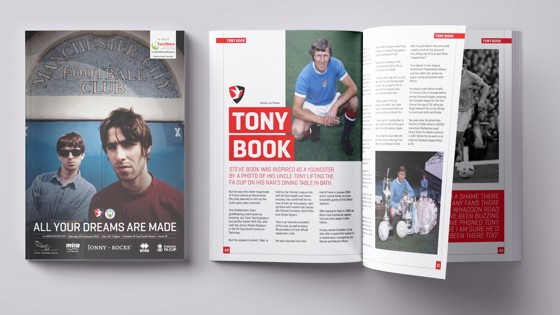 "At least we'll have a nice programme for our collection and a good relationship with a lower division club as well.
"Photographing Oasis was a dream for me as a Manchester City fan.
"It was an opportunity to get my club into music magazines worldwide - we were a very different proposition back in '94 to the club who will be turning up at the Jonny-Rocks Stadium.
"I'm delighted to work with The Robins to support FareShare, and I hope you enjoy this very different match programme cover for a very different match in the history of both clubs."
Cheltenham Town are hoping football fans in Gloucestershire, Greater Manchester and across the world will give their support for the initiative and help fight to #EndChildFoodPoverty.
• The special print edition of the matchday programme is available to pre-order from the Cheltenham Town FC official online shop, priced £5 with 50% of the proceeds going directly to FareShare. Please note that this edition will not be dispatched until Friday at the earliest. P&P is £3 if required.
• A digital version will be sent to all supporters buying a digital ticket, as well as a teamsheet and ticket from the game.
You can purchase the programme here.