In the latest edition of our series marking City's 2021/22 Premier League title success, the spotlight is shone upon Raheem Sterling.
To help celebrate another memorable campaign, which yielded our sixth Premier League trophy, we take a closer look at the contributions of our City stars.
It was a true team effort with every player producing a significant impact. Today, we analyse the influence of our England forward…
SUBSCRIBE TO THE OFFICIAL MAN CITY PODCAST
Season stats
Appearances (all competitions): 47
Goals: 17
Assists: 9
Premier League appearances: 30
Cumulative minutes: 3,088
Season highlight
It was another unforgettable season for Sterling.
The forward rewrote the history books once more, netting his 100th Premier League and 150th career goals, and powered into the Club's top ten chart of all-time goalscorers.
He also earned a nomination for the 2021 BBC Sports Personality of the Year and launched The Raheem Sterling Foundation at his former school, Ark Elvin Academy in Brent which seeks to champion the next generation, educating, empowering and inspiring young people to become better prepared for the future and to embrace opportunities to achieve greater social mobility.
It was a season packed with special memories but there can be no qualms as to what stood out as his best individual performance: a dazzling display at Carrow Road, as the England star netted a perfect hat-trick to inspire another crucial win at Norwich.
The forward was in scintillating form that day, scoring with both feet and his head, showcasing all the best attributes of his game: speed, skill and finesse. The opener was a trademark curling effort, the second an instinctive header and even a missed penalty could not dampen the display as he swept home the rebound for his third.
Unsurprisingly, he scooped the Man of the Match award and also claimed the Fantasy Premier League's 'King of the Gameweek' prize.
It was certainly a day to remember, though his most significant contribution to City's title success would be yet to come…
Overview
Sterling is a player who thrives on confidence and he showcased some of his very best throughout the course of the season to help Pep Guardiola's men to more trophy glory.
Of his 17 goals and nine assists, 13 and six arrived in the Premier League, as he teased and tormented opposition defences.
One of seven players to hit double figures for the campaign, he finished third in the goalscoring charts but second in our list of league goalscorers – just two shy of Player of the Season Kevin De Bruyne.
With two superb assists against Burnley, he racked up 200 goal involvements for the Club and earned several Player of the Month and Goal of the Month nominations along the way. December proved a particularly fruitful month with an impressive purple patch and he clinched the Premier League Player of the Month prize, having spoken just before Christmas about how his iconic stoppage-time winner against Southampton in the memorable 2017/18 season sparked an 'obsession' with scoring goals.
He went on of course to hit a Century of top-flight strikes – a feat he'd always hoped to achieve – and continued to contribute at the sharp end of the pitch.
His most significant moment would not write his own name onto the scoresheet but instead, one of his teammates', as he produced a vital impact from the bench with City trailing Aston Villa 2-0 on the dramatic final day of the season.
Weaving a moment of magic, he burst to the by-line before clipping a pinpoint delivery into Ilkay Gundogan's path to ignite the Champions' sensational comeback.
What they said
Pep Guardiola: "I have known Raheem for six seasons. I know him perfectly well. This season he was outstanding in goals and assists and his contribution to the team. Nobody doubts how important he is. He is showing that.
"Always the goals are a consequence of his confidence, and his confidence comes with his smile and mood. Against Sporting, the intensity of his movements… they were magnificent. It is what Raheem has done over many, many years together.
"In terms of stats and the national team and becoming a key player for us – and for me personally – I am very glad he is back to his best because we need him."
Shaun Goater: "I always speak highly of Sterling. It is testament to Pep coming in to say: 'I want you inside the far post' even though he is a winger and tap it in and he probably gets nine goals a season just on the far post.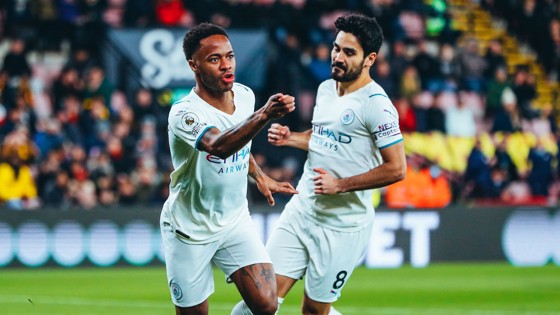 "He can come in from wide, run in behind and his timing is so good and impactful. When you have players who can find these passes across the six-yard box, to score the number of goals he has is really impressive.
"[Against Chelsea at home] We saw a control in his game. When he receives the ball and walks sometimes, he's analysing the situation. It's almost like he's figuring out the maths of how to get around and go in and out, and play some combination passes or drop the shoulder because he has a great change of space.
"He's made some brilliant decisions, combining with players, playing one-twos running in behind – what you want a wide player to do."
Trevor Sinclair: "I'm so pleased (with Sterling's form), but I'm not surprised because he's done it throughout his career. The spotlight is so fiercely on him all the time because of the standards he sets himself, so whenever he does dip slightly below that, people are on him for whatever reason.
"(But) you hear managers talking about him throughout his career, whatever the game is, he will come in the next day and work his socks off. He's got that about him and he will always be successful (because of it).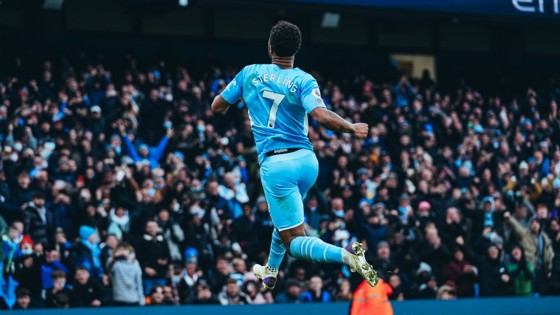 "He'll give you everything and he's one of the best players in the Premier League, there's no doubt."
Darius Vassell: "If you talk to defenders, he's one of the players you'd hate to play against every game, He brings so much to the table. He can also play in any of the front three positions and can move around which is a nightmare for defenders.
"The key to success is how you handle adversity and he's got used to it. He's grounded and has set a stall out as to how he's going to play and train. He's now a real role model that players look up to and want to be like.
"He's flying that flag really well and long may that continue. It's a long journey, but he's reaping the rewards and so are the City fans."
Shaun Wright-Phillips: "To reach 100 Premier League goals as he did recently is a massive achievement. If he can keep that sort of form going and keep scoring like he has been, in six years' time or less, he can take it to 200 goals.
"That shows you how well he has done in a short space of time and he might have now joined the 100 Premier League goals club, but he can start creating his own goal-scoring clubs!
"It is fantastic to see.  He scores goals from outside and inside the box and he can score penalties, too. As a winger he has an all-round collection of goals as though he was actually a striker.
"Sterling is a great person to look up to and not just only for what he does on the pitch, but for all the stuff that he's gone through away from the pitch, too.
"To still be that person who loves football and wants to help people, it's just loveable and I always tell kids that is a great role model to look up to."