A misunderstanding? A refusal to play? A falling out in the heat of the moment?
In September 2011, Carlos Tevez and Roberto Mancini had a very public disagreement during a Champions League match away to Bayern Munich.
Much was written about the incident and fingers pointed towards Tevez, with the Argentine striker heading back to his homeland after his manager suggested as much and suddenly, City were without a footballer that brought so much to the team.
Tevez spent several months back in Argentina as a result, but what really happened that night in Munich?
In his extended CITY+ 93:20 interview, Tevez revealed that it was part anger, part misunderstanding and a situation that should probably never have happened.
"It's been almost 10 years that since that moment," said Tevez.
"What I remember is that in the first half, Bayern Munich were far more superior than us.
"So, I began warming up in the 35th minute of the first half. And I warmed up for 10 minutes until the first half ended.
"I kept warming up at half time, and when the second half started, I remember we were five minutes in, and I was still warming up and we were still 2-0 down.
"In that first substitution, I think he (Mancini) subs on De Jong for Aguero.
"I knew I'd warmed up enough to go on by that point so when I see that substitution, I didn't like it all.
"We are 2-0 down and De Jong comes on for Sergio and I don't go on, so I was angry.
"I went straight to the bench and when Mancini told me to keep warming up, I said no.
"I said if he wanted me to, I was ready to go on but I wasn't going to keep warming up as I had spent about 35 minutes warming up already.
"And from there, it was back and forth between us. A bit in English, another bit in Spanish, another in Italian... and I believe words were misunderstood.
"Because I was telling him in the heat of the moment, he only understood the things that he wanted to.
"I just wanted to know if he was going to use me on or not and it's not about who was right or wrong. It was all about trying to get him to put himself in my shoes."
City's title challenge began to falter towards the end of the campaign and with a world class striker effectively improving his golf in Argentina and the situation unresolved, finally, there was mediation between player and manager.
"I came back, and I apologised for the mistake I made in that moment," said Tevez.
"That, for me, was a problem with an easy solution.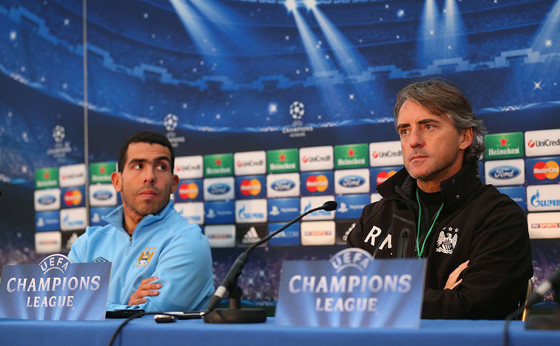 "But as I said before, with English, Spanish and Italian that were shouted on the bench and in the dressing room, it was a complete mess.
"It ended there, I came back, and we both apologised and later, we won the Premier League title.
"Our relationship had always a really good one, we just had that moment, since he always respected me, and I respected him.
"The truth is, a coach, Mancini is really talented and to be honest, I really appreciate him as a person as well.
"And luckily, we brought some joy to the fans together."