Fernandinho rolled back the years yet again against Sporting Lisbon with another typically assured and understated performance.
On his 100th Champions League appearance, he was voted the UEFA man of the match for a display that had all the usual silk and steel trademarks City fans have become so familiar with over the years.
The 36 year-old has now made 372 appearances for City since he joined the Club in 2013, including 22 matches this season.
On Matchday Live, studio guests Trevor Sinclair, Esme Morgan and Nedum Onuoha all paid homage to the evergreen Brazilian.
"Fernandinho is an unbelievable athlete, his attitude is superb," said Sinclair.
"You don't get to 100 Champions League games without that drive and determination he has.
"He doesn't get injured, is always available and he is just top drawer
"The talent is realising what your role is; you have to work it out, knowing what people do better than you.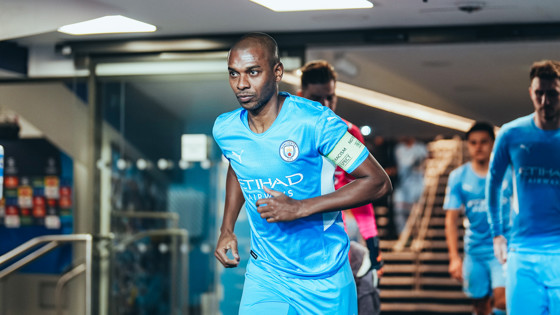 "He is such a selfless player, you look at his age and he's incredible. 
"I was lucky enough to interview him and he was on time, so humble, especially when you think of all he has achieved in the game.
"You can forgive him being casual because he's a top pro and you know he will always do well for you."
Former City defender Onuoha admits he is somebody he wished he could have called a team-mate.
Onuoha believes his longevity is testament to his professionalism and dedication to Manchester City.
"He's one of my all-time favourite players, a brilliant footballer who has taken things to a new level," said Nedum.
"To make 100 appearances in the Champions League, you have to play well week in week out to be trusted for that long. 
"Some people don't get the respect they deserve, there are some things you can't teach and he can sense the right place to be at the right moment.
"I would've loved to have played with him. You know the ball coming to you is a good one. 
"You get elected (as skipper) by the people around you because they know you have their best interests at heart.
"If you have someone who can deliver an opinion, you have someone who can protect the team. He is brilliant."
Esme Morgan joined in the praise for the Club skipper.
The 21 year-old City defender, who is recovering from injury at present, says Ferna's mere presence sends a calming influence throughout the team whenever he plays.
"As a fan, if the other team was breaking you feel more relaxed with him there and know he would make a nice clean challenge at the right time," she said.
"He is so reliable. Some of the goals he has scored are fantastic and he doesn't get enough credit for his attacking output. 
"I think he is so important for so many players. He gets everyone together whenever we have a tough run and to have someone who has the respect of the players is priceless.
"In football there are many egos and it takes a lot to bring everything together. 
"His versatility is key. It is a testament to his intelligence to football, knowing what is required of all the roles around him.
"Players like Fernandinho can just slot in because he has a variety of skills and that means he can play pretty much anywhere."