On the eve of the 10th anniversary of City's memorable 6-1 win over Manchester United Pep Guardiola says he didn't watch the game back in 2011 but recalls the impact the result had in the city.
The boss has enjoyed his own fair share of victories at Old Trafford and watched the highlights later in the evening, admitting the result took him back somewhat at the time.
"I definitely have memories of that game," said Guardiola when asked for his recollections of that day.
"I didn't watch it live, but I knew the result and saw the highlights.
"When a team like City win at Old Trafford with a result like that, it was always a surprise, but this showed how good the team Roberto Mancini built was and showed the excellent players he had.
"It was a good result!"
The City boss was also asked whether he would have liked to have had the opportunity to coach Mario Balotelli, one of the stars of that Mancini side.
Balotelli scored twice in the 6-1 win in 2011, revealing the T-shirt with the question 'Why Always Me?' on the front after putting the Blues 1-0 up.
"I don't know," smiled Pep.
"They are top, top players, so I don't know. I don't complain about players I didn't have.
"I have been very fortunate to have the players I've had as manager in all places I've been."
And ahead of our trip to Brighton, Pep revealed John Stones and Gabriel Jesus are available to play – when he was asked for an injury update.
"Everyone is fine (except Ferran Torres)," said Pep
"John Stones is fine and Gabriel is ready - back. He was ready for the last game. He's always ready!"
Pep also says he will greet Brighton boss Graham Potter before and after Saturday's game.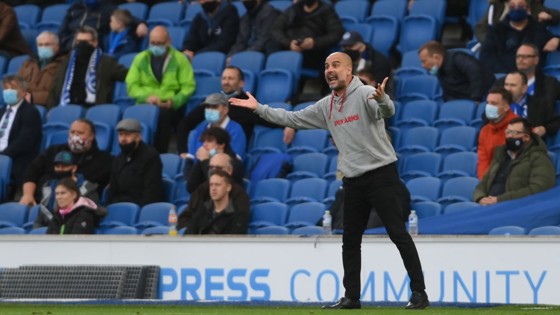 Potter apologised at his Thursday press conference for over-celebrating the first goal in his side's 3-2 win last May – resulting in an exchange of views on full-time at the Amex.
But the City boss says there is no problem with the manager of a side he enjoys watching.
"I will shake hands like I do with all managers before and after the game," he said.
"I enjoy watching Brighton, they are an exceptional team."