Raheem Sterling says his third goal of the night was planned - and that he hasn't given up hope of claiming the Premier League's Golden Boot.
The City and England forward is five behind leader Jamie Vardy with three games remaining and he knew he'd need a treble this evening at least to have even a slight chance of the coveted prize.
After netting his third hat-trick of the campaign, Sterling – who has a career best tally of 27 already this season - refused to rule out the chance of catch the Leicester striker.
"I said before the game that I was on 14 and needed to score a hat-trick today and I'm grateful I did," he smiled.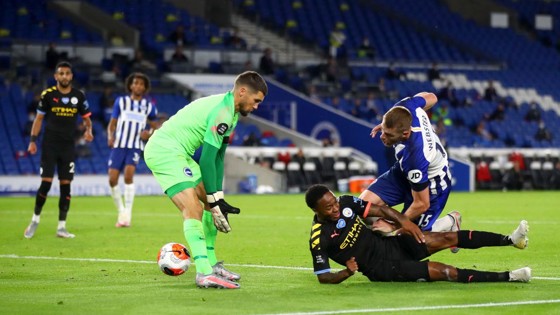 Sterling opened the scoring with a terrific low drive from the edge of the box before heading home Riyad Mahrez's cross.
His hat-trick goal was less conventional, however… heading through the keeper's legs as he fell towards the turf.
"I tried to kick over the defender's head and I saw the keeper coming so I just headed it in!" he said, tongue firmly in cheek.
"The most important thing is the goals I score help the team and we are looking to end the Premier League strongly as we can and try our best in the FA Cup and the Champions League as well.
"We were disappointed last weekend with the loss away to Southampton, where we created chances and didn't take them – but we bounced back against Newcastle and again here today.
"The problem we've had this season is that we've been creating lots of chances and the past two seasons, we've been taking them - but not quite as much this season where we've maybe not had so much luck at times.
"We've just got to keep making chances and playing as well as we can."