Pep Guardiola says his team produced the ideal performance needed to beat Brentford.
The narrow, hard-fought victory gave the champions a 10th straight victory, but the boss also added that there is a long way to go despite his side now having an eight-point advantage at the top.
"This was the best performance we could play," said Pep.
"It was so intelligent because they are the best team in the Premier League on set-pieces (as they showed) with the chance they had on the first corner.
"The second half was much, much better. We played the game in this stadium, against this team how it must be played.
"The quality of the players made the difference. It's a good victory. Now we recover as much as possible because at 12.30 on 1 January we have another game."
Asked if he was proud of his players' resolve and consistency, Pep added: "Yeah, a lot. All the managers know in this country making arguments in this league, with broadcasters makes no sense.
"I learnt it one or two years ago. We won a game, but we are at the end of December with many games to play. We are eight points in front, but with 54 still to play.
"The team after all the years together still fight. Today we needed this type of rhythm.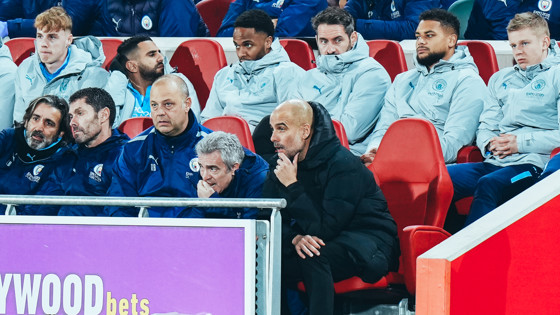 "If you make attack quick, they will attack quicker with Toney… Every time they put the ball in the box they are so good.
"Just look at the results Brentford have done this season. It has been so tight. They are exceptional at what they do and that's why the game we played was perfect today 
"There are 54 points to play for. We were 4-0 up in 25 minutes (against Leicester) and then it was 4-3, just three days ago."
And asked if the title was now City's to lose, Pep said: "Thank you for the nice words because we win, but I am not going to believe you if you say it is already done.
"Chelsea and Liverpool are more than exceptional.
"One is the champion of Europe and Liverpool have been our big rival in recent years. 54 points still to play and every game we are just thinking the next game we have.
"Unfortunately we have to come back soon to London and play at 12.30 and go with a good intention."