Bernardo Silva was delighted to help Manchester City move top of the Premier League table with a 3-1 win at Watford, but insists there's still a long way to go this season.
The Portuguese midfielder grabbed a brace in a dominant display from Pep Guardiola's men with an early Raheem Sterling header setting us on our way inside four minutes.
Combined with Chelsea's 3-2 defeat to West Ham United in Saturday's early kick-off, the win saw City reach the Premier League summit for the first time this season.
And while Bernardo stressed that there will be plenty of twists and turns between now and May, he admitted that it's a fantastic position for City to be in ahead of the hectic winter period.
He reflected: "It's always better to be top than second! But it's still the beginning, we're not even halfway through, there's a lot of work to do.
"We're happy to be top of the league but Liverpool are just one point behind, Chelsea if I'm not mistaken are two, and there are lots of games to play and win.
"But of course, it's better to be in our position than not to be top.
"It's been tough for us, it'll be tough for Liverpool, Chelsea and for us to compete with each other, we know the level and the standards are very high.
"We have to do our job, we know how tough it is to win the most competitive league in the world. We're going to try and do our best as we always do."
Three points at Vicarage Road ensured City claimed a seventh successive win in all competitions as well as a Club-record 31st victory across 2021.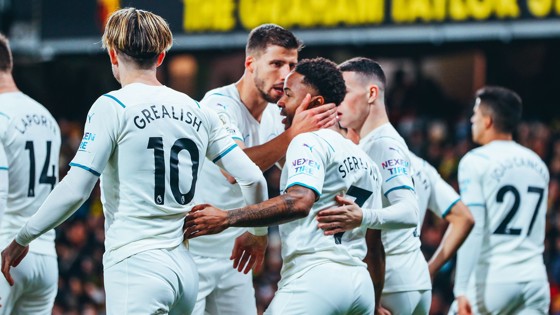 And while Bernardo felt the score could have been a little more handsome, the win was just rewards for our efforts in his opinion.
"(We did) a very good job in the first half especially," he added.
"We started the game well, controlled possession, created chances and didn't allow them to counter attack.
"We scored two in the first half but should've scored more, then with 3-0 we tried to control the game.
"In the last few minutes weren't as good but we're very happy, top of the league and (now) onto next one."