Bernardo Silva has assured that City will aim to bounce back after being held to a 0-0 Premier League draw by Crystal Palace.
Pep Guardiola's side had numerous chances to get the all important goal at Selhurst Park, with Bernardo coming close twice.
Joao Cancelo and Kevin de Bruyne both struck the post, whilst Palace goalkeeper Vicente Guaita made some smart saves to keep City at bay.
City now sit four points clear of Liverpool at the top of the league table, with the Merseyside club having one game in hand.
The Portuguese midfielder has promised that City will look to bounce back from the disappointing result and will keep on fighting until the end.
"It was a tough game," he reflected.
"We actually played well and controlled the game, apart from one or two times we lost possession and they counter-attacked. They didn't create much.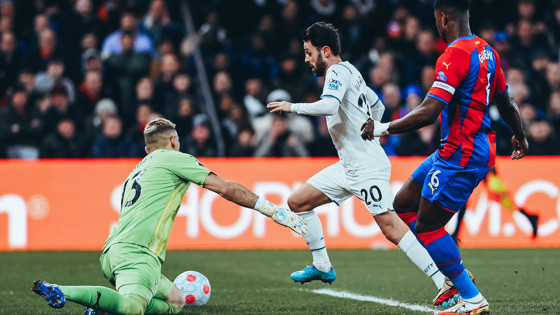 "We were actually good, but unfortunately we couldn't score. It was a very frustrating game. Still a long way to go. It's still better to be in our position than Liverpool's, they still have to come and play in our stadium. It's exciting.
"It is always better to win than to draw. We wanted to win. We wanted the six point advantage over Liverpool. They now play Arsenal and we go to rest to play Southampton in the FA Cup.
"There are nine games to go. We're going to be there - we're going to fight as usual for the title."
Guardiola's men had 18 shots on goal and had 46 touches in the Palace box but could not make the heavy pressure tell.
The 27-year-old believes that on another night, City would have found the net but also reserved some praise for the resolute Eagles.
"It was frustrating the first half," he added. "Kevin hits the post, I missed the chance, Riyad had a few chances, Laporte with the head.
CITY+ | SIGN UP TO ACCESS EXCLUSIVE CONTENT
"We could have scored goals even in the last ten minutes of the game. Sometimes games go this way but I think the team played well.
"It's a tough team. It's never easy to play away in the Premier League. Over the last few years, we know and we've felt how difficult it is to come to this stadium.
"A draw is very disappointing for us, but there is a long way to go."