On his 52nd birthday, we look back at the all-too brief career of Ali Benarbia...
It's fair to say that when Ali Benarbia signed for City in September 2001, nobody knew who he was – that's the bottom line of what would become an amazing addition to City's promotion-chasing squad.
It's safe to assume that, apart from the more knowledgeable members of our fanbase, odd world football anorak, the Algerian playmaker was a completely unknown quantity.
He was almost 33 and had been on trial with Sunderland after spending his entire career in France and so his arrival went largely unheralded.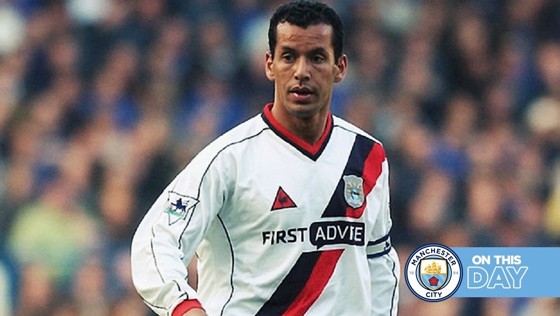 A decade with French minnows Martigues had been followed with stints at Bordeaux, Monaco and PSG, though a disagreement with the Algerian FA meant he only won a fraction of the caps he should have.
What we didn't realise was that Kevin Keegan had pulled off a masterstroke when he invited Ali to lunch at the club's Carrington HQ. 
He'd heard that his invited guest had not been happy about a perceived lack of respect Sunderland had shown him during his brief trial where it was reported that Black Cats' boss Peter Reid insisted he watch him train a few times before deciding on whether or not he'd offer Ali a deal.
Ali wasn't happy with that all – with his reputation, he probably felt Sunderland should have been well aware of his capabilities.
He left the north-east, never to return again and, as he had a friend at City (Alioune Toure), who shared the same agent he thought it would be nice to stop by and meet the great Keegan in person.
Over what has now become an infamous salmon lunch, Keegan told Ali everything he wanted to hear and he was as good as signed up before he left for his plane home.
a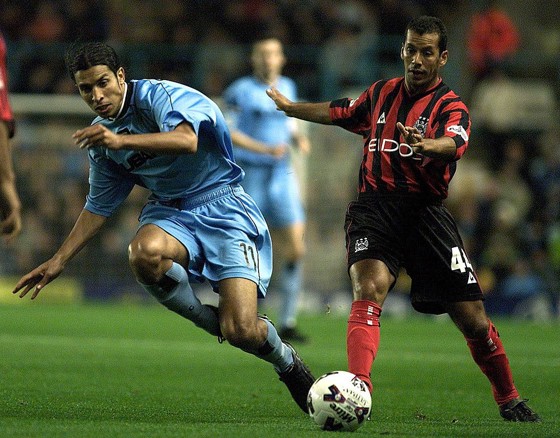 Like Georgi Kinkladze and Eyal Berkovic before him, it took Ali about 10 minutes to bewitch a packed Maine Road on his debut against Birmingham City and, by the end of his first game, the man City fans had known little or nothing of before he signed was just about the only thing our supporters wanted to talk about.
The real mystery was how come nobody in England knew anything about him?
Benarbia had it all – skill, vision, and a wonderful football brain. He may have been at the wrong end of his career, but City fans knew they were in the presence of a genius from the first time they saw him to his final game just shy of two years later.
Along with Israeli magician Berkovic, City perhaps had one of the best midfields in the country – including the Premier League, where City were hoping to return to before long.
a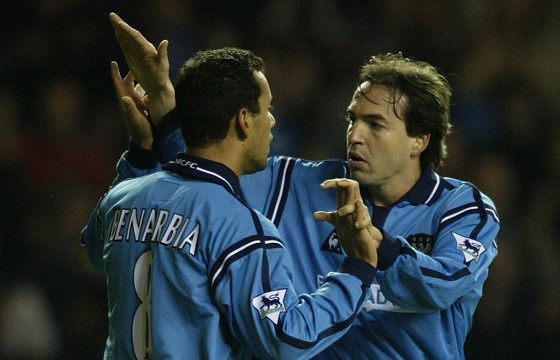 Second tier defences simply couldn't handle Benarbia who was physically strong on the ball and couldn't be bullied out of a game the way the physically slight Berkovic sometimes was.
Ali inspired the team who were a joy to watch and during the 2001/02 campaign - one of the most enjoyable for perhaps thirty years.
City won the league in a canter, finishing comfortably ahead of the chasing pack and also scoring a record number of league goals.
Benarbia's influence cannot be underestimated and his vision created innumerable chances and goals for the likes of Shaun Goater, Darren Huckerby and Paulo Wanchope – so many in fact, that Wanchope said "he finds you when you can't find yourself!"
Many wondered if he'd be able to cut it in the Premier League and, after winning the 2002 Player of the Year award by a landslide, his appearances became less frequent in the top division.
Ali's influence seemed a little less while his midfield partner Berkovic excelled, but age and tiring legs seemed to be the reason – Ali was 34 and the fast pace of the English top flight seemed to be jading him at times, though he was never less than inventive and bright.
It was clear that, despite another year on his contract, Benarbia wasn't entirely happy with his contribution as he completed his second season at Maine Road and the man who made thousands of grown men, women and children stand up and bow in homage every time he went near the corner flags decided to call time on his career with City after a competitive pre-season friendly at Mansfield Town.
With the career Ali had enjoyed, it was understandable he didn't want to be remembered as a bit-part player in his final year.
WATCH DOCUMENTARies such as MADE IN BELGIUM ON CITY+ 
It was a huge blow to Keegan who hadn't seen his departure coming and he never replaced Ali and shortly after fell out with Berkovic, thus going from having two of the most gifted individuals in his midfield, to none.
City almost went down that season, but Ali did return for the inaugural City of Manchester game against Barcelona and was welcomed back as a hero.
People would say: 'if only we'd had him six years earlier'. If only indeed!
Because he had the kind of skill seen only once in a blue moon, those who saw him play will always fondly remember Ali.
When asked once by a journalist if he'd had the kind of adulation he was getting at City anywhere else, he replied "Everywhere I go."
His star shone brightly, if briefly, and his stint at City was perhaps one of the most enjoyable of his career.