Women's Team
1
Parris: My smile says it all!
PARRIS LIFE: Two more goals for Nikita Parris!
Nikita Parris could not contain her delight, having fired City to the Continental Cup Final with a superb double at Chelsea.
The forward struck twice in the second half – the opener from the penalty spot and the second a cool finish into the far corner – to book the Blues' place in the showpiece at Bramall Lane, and continue her excellent scoring form in the process.
Parris – the league's all-time record goalscorer – has netted eight in six games, increasing her impressive tally to 16 for the season. Her purple patch has guided City to the top of the Super League table, as well as the Final, and she's delighted with her contribution.
READ: Parris at the double again to seal Final spot
WATCH: Match highlights | City 3-0 Watford
"It's a great feeling – the smile on my face says it all," she grinned.
"I always try my best to hit targets. I set goals and I try to reach them. I do everything I can to be in the best shape for the team and for me personally to be the best version of myself.
"It was a massive team performance. We were under the cosh in the first half but in the second half, we came out fighting.
"In the second half, we got going and we got the goals."
With Chelsea dominating the opening 45, Parris admitted a tactical change was required at the break – and it worked wonders.
"The message was that we needed to put more pressure on the Chelsea back four," she revealed. "They had too much space to pick passes. When we put them under pressure, they gave us the ball back.
"We're an offensive, high-pressing team but we didn't do our job properly in the first half. We couldn't deal with Chelsea's wide press."

In the midst of a crucial period of fixtures, City face Emma Hayes' side again on Sunday – the first of a 'City v Chelsea double header', as the men's sides also lock horns.
Though buoyed by the semi-final triumph, Parris asserts her side must beware a backlash.
"Two goals tonight mean nothing in regards to Sunday's game," she stated. "I have to rest and recover – we all do – and be ready to go in that game.
CUP FINAL...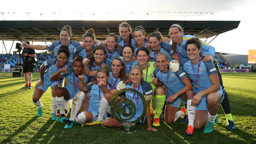 "Chelsea will come out fighting and it's an important three points for both of us. It will be an electric game on Sunday.

"You have to look at every game. You can't think of other teams or get too far ahead. Each game, we want points – we want to win – and it doesn't matter what Arsenal or Chelsea do. We just have to be ready to compete.
"I think it will be a similar game [to Wednesday night]. They're going to come out for the three points and we definitely are.
"Ultimately, we've got to win the game. Winning the game means that we have to put them under pressure high up the pitch.
"Offensively, we have to do our job and defensively, we have to stop them from scoring. That will be the case for Sunday."
📸 This is how it feels to be City 💙

🔵 #mancity pic.twitter.com/qOhnTN3upN

— Man City Women (@ManCityWomen) February 6, 2019