Women's Team
1
McManus: England debut means everything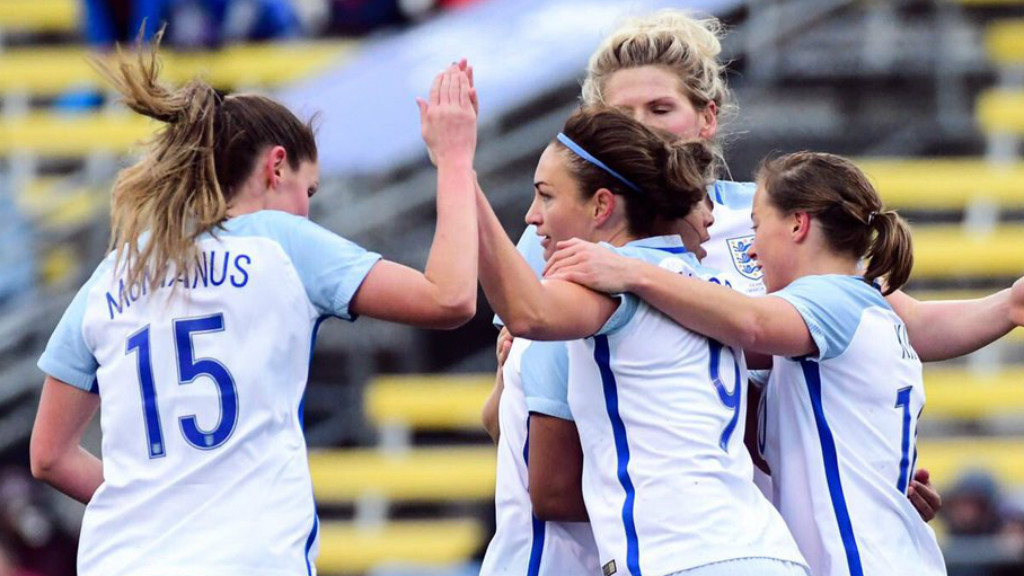 DEBUT DELIGHT: Abbie McManus congratulates Jodie Taylor on her strike
"When opportunity knocks, answer the door."
Watching on from the bench as England kicked off their 2018 SheBelieves Cup adventure against France, City's Abbie McManus had no idea of the turns of events that would unfold 14 minutes later.
As Anita Asante – recalled to the Lionesses side for the first time since 2015 – sadly limped off with injury, newly-appointed England manager Phil Neville assessed his options and selected 25-year-old uncapped McManus to step into the breach.
The Prestwich-born defender, who had earned her first ever call-up to the senior squad just last week due to captain Steph Houghton's enforced absence, heeded the call to ready herself for her first team debut – a moment she had dreamed of.
Her first cap heralded a result and performance to remember, as England ran out 4-1 victors, thanks to goals from Toni Duggan, Jill Scott, Jodie Taylor and Fran Kirby. The perfect start to a new chapter of her budding career.
McManus recalls: "Phil shouted my name, telling me to get warm, but even then, I still didn't expect to actually go on the field!
"Anita's injury seemed more serious than we originally thought. Phil told me to make sure I knew my set-pieces, to stay calm and most of all, to enjoy it.
"Under the circumstances and because I wasn't expecting it, I was thrown in the deep end.
"That took away my nerves and anxiety. During the warm-up, because I knew I wasn't starting, I could relax a bit more.
"It was nice to get my debut without the nerves!
"I'm absolutely buzzing and so proud. To have beaten France 4-1 in my first game, it's a great feeling, especially as I wasn't expecting to come on.

"I am known to shed a tear every now and then. I did fill up but thankfully, none fell out! I was very proud and at the end of the game, I was a bit tired too. I was just glad that we got the win. The debut means everything to me and my family.
"I was over the moon just to have been called-up in the first place. Unfortunately, Steph couldn't come and that's the reason why I'm here at the moment but if anyone gets given an opportunity, they're going to try and take it with both hands. That's what I'm here to do."
Since recovering from a long-term ankle injury in the 2016 campaign, McManus has become an integral part of Nick Cushing's City side – and our recent success.
The only surviving member of the City Ladies' side before the Club relaunched in 2014, the defender has witnessed an incredible transformation – both for her team's members, ambitions, environment and for herself. She's delighted with her development and the roads it has led her to discover.
"This year with City, I've played every single minute of every single game," she explained.
"It's something I haven't been able to do over any other season.
"I played consistently at centre-half and we kept so many clean sheets and then I got injured. I worked on my weaknesses in the gym and came back fighting."
McManus added she has settled in easily into the England set-up, helped by the familiar faces around her.
"To be honest, it's just like being back at City because there are so many of us here," she laughed.
"Georgia Stanway was called-up with me and Ellie Roebuck is here for the experience so the old ones and new ones are here from City!

"It's nice to mingle with the girls from the other clubs too because obviously, you only get to play against them in the Super League. It's good to get to know them."
Having tasted first team action, McManus is hungry for more.
She continued: "Phil has told us that it's a clean slate and every English player has got a chance.
"Everyone is eager to show him what they can do and as soon as you get the chance, you have to do it right. Otherwise, he'll be ready to look at somebody else.
"Fingers crossed that I did him justice. We've got games against Germany and the USA next and we want three wins from three.
"It's a new experience for me and I'm learning every day. From the meetings to the set-pieces, everything is different than what I'm used to at City but it's good to be around something new and exciting.
"Obviously, I want to stick around. Hopefully, I can get some more minutes during this tournament and get picked again for future ones.
"I've been given more minutes than I ever expected. Fingers crossed I get more and I hope Phil sees something in me. It's up to him. If he doesn't pick me, I still hope the girls that do get picked do well."