Women's Team
1
Demi Stokes pens new City deal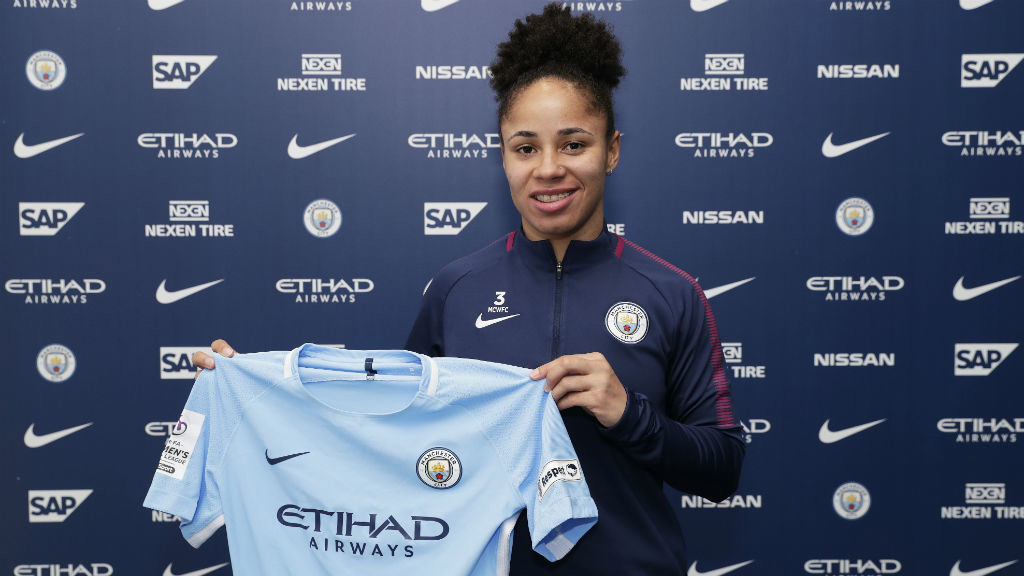 CONTRACT EXTENSION: Demi Stokes has signed a new deal with the club.
City are delighted to announce Demi Stokes has signed a new contract.
The left-back has put pen to paper on a three-year deal, three years after joining the Club.
Stokes has clocked up 76 appearances for Nick Cushing's side, helping the Blues to clinch a domestic treble. The attack-minded full-back has also netted four goals, including crucial strikes against Chelsea and Birmingham in the 2016 double-winning campaign and two in this year's Champions League adventure.
With the Blues still alive in all four competitions in the 2017/18 season and sitting top of the Super League table, the defender is elated to be continuing her journey at City.
"It means so much to me," Stokes told ManCity.com. "It's nice to be rewarded for all my hard work and move in the right direction as it's exactly where I want to be as a player and the type of club I want to play for.
"Personally, I'm over the moon and I don't take this lightly – I know there are probably a million girls who would want to be here playing football for this club so it's very special for me."
City are the reigning domestic champions for the league, FA Cup and Continental Tyres Cup. Following their impressive Champions League debut last year, which earned a semi-final spot, Cushing's side have continued their impressive European form by securing a quarter-final spot this time around.

"I think it would be easy to just go to training, do your bit and go home, but on days off I want to be in and with the team," the defender added. "I don't like having days off because I want to be here and be around everyone.
"It's such a good buzz to be around when we are winning and moving in the right direction, but we know it can mean nothing if we fall short and we are well aware of that.
"Again, it's just enjoyable to be around other people who want to win and want to push each other – it's just a great atmosphere."
Although Stokes has made her mark on the pitch in both a City and England jersey, the left-back still finds it surreal that her passion is also her job.
"For me to be able to say: 'I'm a professional footballer' is amazing," Stokes continued. "I have to pinch myself – to say that I can come in and this is your job, it doesn't feel like a job or a burden at all as you come in every day and you put your kit on and your boots on and it's fun.
"It's just enjoyable every day for me, so to continue doing that at Manchester City is amazing."