Women's Team
1
Stanway: This week could define our season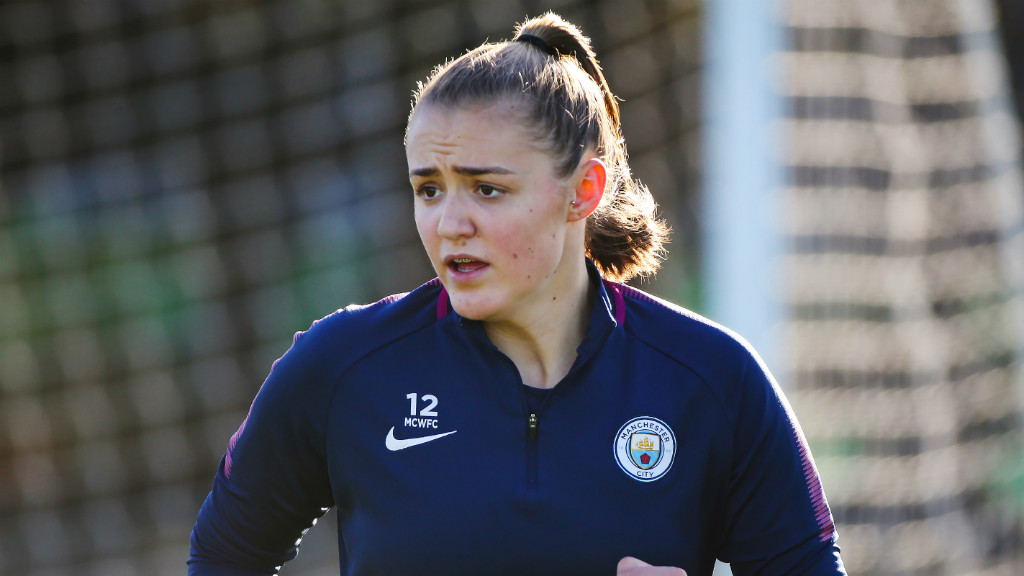 LOOKING AHEAD: Youngster Georgia Stanway is patiently awaiting her chance to shine
Georgia Stanway believes City are facing the most challenging week of the 2017/18 campaign so far.
The Blues travel to Birmingham in consecutive games – firstly, in the FA Women's Cup on Sunday and then in the Super League on Wednesday night – before hosting title rivals Chelsea on Saturday afternoon.
Currently mounting an assault on all four competitions, Nick Cushing's side will hope to end the week by extending our remarkable unbeaten run and continuing our defence of the two domestic trophies.
With Birmingham proving tough to beat and clashes with Chelsea crucial in the title race in previous years, Stanway spoke of the significance three victories would have for City's ambitions.
"It could possibly be the biggest week of the season so far," she told ManCity.com, "and in the shortest space of time."
"We face two big opponents in three games. This will definitely be one of the toughest weeks of the season."
Asked of her thoughts on Birmingham and their potential approaches to each clash in Solihull, the youngster urged caution.
"They're a team that play good football," she replied. "They always put up a good fight against us and we have to take that into account.
READ: Parris pleased with City's persistence
WATCH: City 4-0 Liverpool match highlights
"We've had a good run so far. We're hoping to keep that and go onto bigger and better things.
"We'll prepare in training, do what we do and stick to the gameplan and hopefully, we'll see the results.
"I think both games will be very different. The FA Cup is open to anyone and everybody wants to be in the competition, especially at this late stage.
"Nothing compares to an FA Cup final. We lifted the trophy last year and there's no day that compares to that.
"We've got the feeling inside us that we can do that again and we want to take another step closer to doing so."
Previewing the visit of Chelsea to the Academy Stadium, she continued: "That's always a tough game.
"They've got very good players but as do we. It's definitely one of the biggest games of the season. It's very much up for grabs.
"All the work we put in during the week happens on the pitch and hopefully, that will show on matchday."

City's last game – a stunning 4-0 triumph over Liverpool – was the Blues' first home encounter of 2018 and a welcome return to home soil, following seven successive away fixtures.
Stanway admitted her side have endured a gruelling period but is proud of the way the team rallied to produce results.
"We've done a lot of training and a lot of travelling with a lot of games," she conceded.
"That's just part and parcel of football – we're more than willing to do it and if we get the results, then perfect."
The 19-year-old played a notable role in City's outstanding 2016 double-winning campaign and racked up more gametime in the 2017 Spring Series.
Although she has found first-team opportunities more limited this season, the ever-humble Stanway is content to wait her turn, ensuring she is ready when called upon.
READ: Free coach travel for Continental Tyres Cup Final
WATCH: Throwback ▶ City 3-1 Birmingham
"It's always difficult not being named in the starting XI and having to sit on the bench," she stated, "but we've got the best team around us.
"Training day in, day out will help me both on the pitch and personally.
"As an individual, of course, you want to play but you have to bide your time and put the work in.
"As a youngster, you're looking up to the place you're fighting for but I'll stay patient and hopefully, show what I can do like I did on Sunday against Liverpool.
"The most important thing is that we play good football and that we're getting the results – that's all that matters."