Women's Team
1
Beckie anticipates exciting crunch clash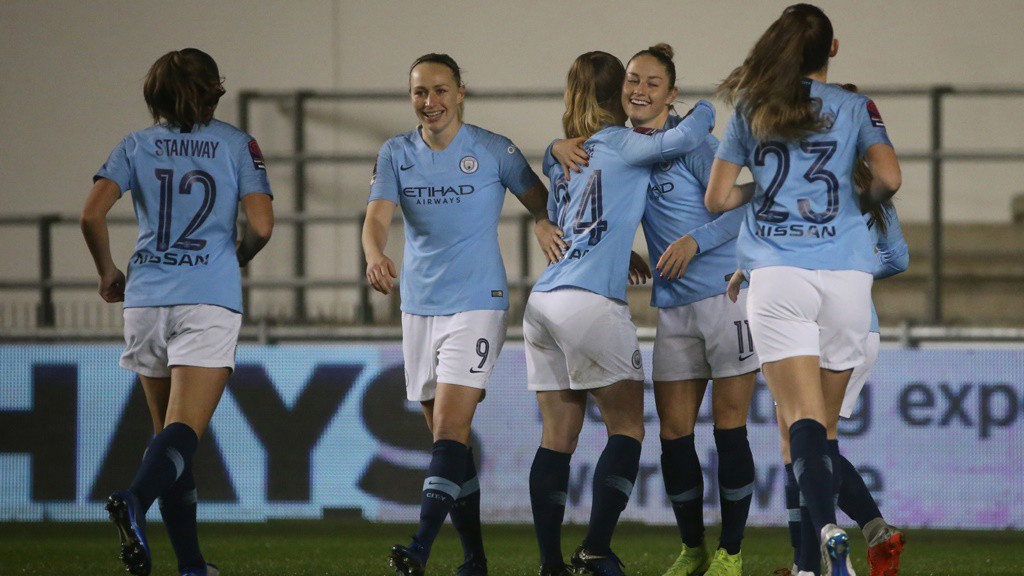 av
Janine Beckie anticipates Sunday's visit of Birmingham could provide another classic crunch clash.
City host the Solihull outfit as the division's second and third-placed teams lock horns, with both sides looking to stay hot on Arsenal's tail in the title race.
Both sides head into the encounter in excellent form. Nick Cushing's side have won four on the bounce, bagging 15 without reply, including an impressive 2-0 triumph over the league-leading Gunners last weekend.
Beckie, who netted four in the midweek Continental Cup victory over Sheffield United, believes her side's squad depth is paying off and is relishing the prospect of another entertaining match-up against Birmingham, after the away fixture heralded a five-goal thriller.
READ: City stars to lock horns in Women's World Cup
WATCH: Match highlights | City 2-0 Arsenal
GALLERY: 13 months out | Welcome back, Pauline!
"They're two points below us," she stated. "They'll have a lot of motivation coming here.
"It's hard to play away at teams you are right underneath and it's going to be a great game. They gave us a great game last time.
"They have talented, really good players. We have to be solid defensively, moving the ball around, playing our game. We mustn't let them get control.
"When we control the game, we control the tempo and that's when we have teams on their heels.
"Every team provides a different challenge and that's good preparation.
"As competitive players, we always want competitive games and you have to put the work in to get results."
Having been forced to bide her time on the sidelines since her summer switch from Sky Blue FC, Beckie enjoyed a night to remember on Wednesday, stealing the show with an awesome four in a 6-0 win over Championship side Sheffield United.
Naturally delighted with her return, the forward hopes to gain more opportunities to show what she can do in the coming weeks, with another packed schedule looming.
READ THIS...
"I was excited to get some minutes," she admitted.

"I'm still new to the squad and with the depth, it's a tough squad to get into.
"I'm excited any time I can get minutes and I was excited to get some legs under me, getting into the system because I haven't had all that much of a chance.
"We really dug deep into the squad with a lot of changes to the team from the Arsenal game.
"There was some much-needed rest for some players who played big minutes against Arsenal, keeping them fresh going into Sunday.
"It's important when you play three games a week. It speaks of the depth of our team – it was a good performance and there were a couple of girls back from injury.
"It's important moving forward to have strong performances from everyone in the team. Day in, day out, we are constantly rotating the squad and everyone has the chance to play with each other – there are never set teams in training.
"It's the reality of being a footballer at this level. We're a competitive team and it's a competitive practice. We have a deep squad but you don't want players who all do the same thing – everyone has different strengths and different playing styles.

"Everyone wants to be on the field and people are filling in seamlessly. We know you have to fight for our position and it's hard to get into the squad. Then, when you get in, it's hard to keep your place. It makes for a good environment.
"It all comes down to the work we put in, in training and I think it's showed. Now, we need a big push to stay near the top of the table.
"We need to take our momentum into this weekend. It's hard to beat teams who are on a roll but we're looking to be just as unbeatable on Sunday.
"We have confident players, which gives us more ability to be comfortable with the ball and put goals in the back of the net.
"We have high expectations for ourselves. We pick things apart and we know we have to raise our level on Sunday, moving the ball quicker and being more lethal.
"It's a tough turnaround but the level mustn't drop. It needs to be high on Sunday and going into the New Year with games coming thick and fast."