Women's Team
1
Keira Walsh extends contract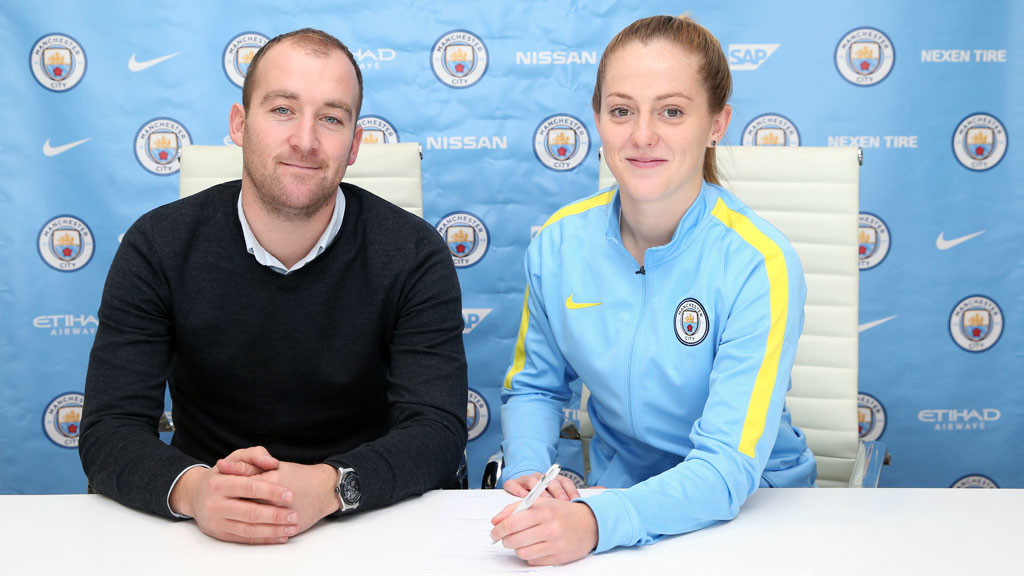 RISING STAR: Nick Cushing has been delighted with Keira Walsh's performances
Man City Women's Keira Walsh has committed her long-term future to the Club.
The 19-year-old City fan, who signed her first professional contract last June, has penned a new deal to the end of the 2019/20 season.
She made her debut in the 2014 Continental Tyres Cup-winning season and has flourished alongside senior internationals.
The news marks an exceptional week for the youngster, who netted her first goal for the Blues in the midweek Champions League win over Brondby IF.
"I feel like I have to pinch myself! It doesn't seem real but I'm over the moon to have renewed my contract," she told mancity.com
"I was injured [earlier in the season] but then I got myself back in the team. Since then, I've scored in the Champions League and I've got a new contract! This is where I want to be so I'm really pleased.
"Signing a new contract is definitely the icing on the cake of good week... You can't really beat scoring your first goal in the Champions League. That goal been a long time coming!
"At this club, I feel I can improve as a player and a person. There's nowhere else I want to be."
In her three years at City, Walsh has claimed three medals - two Continental Tyres Cups and a league title.
At such a young age, the midfielder is thrilled to have achieved so much, highlighting the Club's ambition as a key attraction.
"We set the targets at the start of the season that we wanted to challenge for the league and the cups and we've done that - we've won two out of three," she added.
"Moving forward, we would like to win more trophies. There is a sense that we're part of something special at a Club like this.
"Ideally, the hope is that I continue my career at the Club for a long time - not just the foreseeable future."
Manager Nick Cushing has high hopes for Walsh. He reflected: "From the moment we saw her at the Development Squad trials three seasons ago, we knew she would be a key player for us.
"It's an important position she plays in our team and our methodology. To get somebody who fits that position, with technical quality and game intelligence, is rare for us and we're very lucky to have found it the way we did.
"We still haven't seen the best of her. I really believe that. It's my job and Keira's to make sure she fulfils her potential.
"She has the ability to change roles - she could play in any of the positions across our midfield three, but I think her real strong point is dictating games and managing the ball for us.
"Her ability to control the game is, for her age, phenomenal. We speak a lot about how she can affect the games now and I really believe going forward, she can be one of our most important players.
"You've seen in the Champions League games, she's gone up against really experienced players. At that level, to have still been as good as she was shows that she's a maturing footballer, but we've still got a lot of work to do to improve her and make her the best player she can be.
"To have a City fan and a local girl within the team, with the ability she's got, is a real plus point for us. She can learn from the other players, but she can also teach them because her game intelligence is second to none.
"For a young player to have that is really special. We've got to push her, and we've got to make sure we keep evolving her. Her next step is to get into the senior England team."