Women's Team
1
MCWFC's 2015 fixtures announced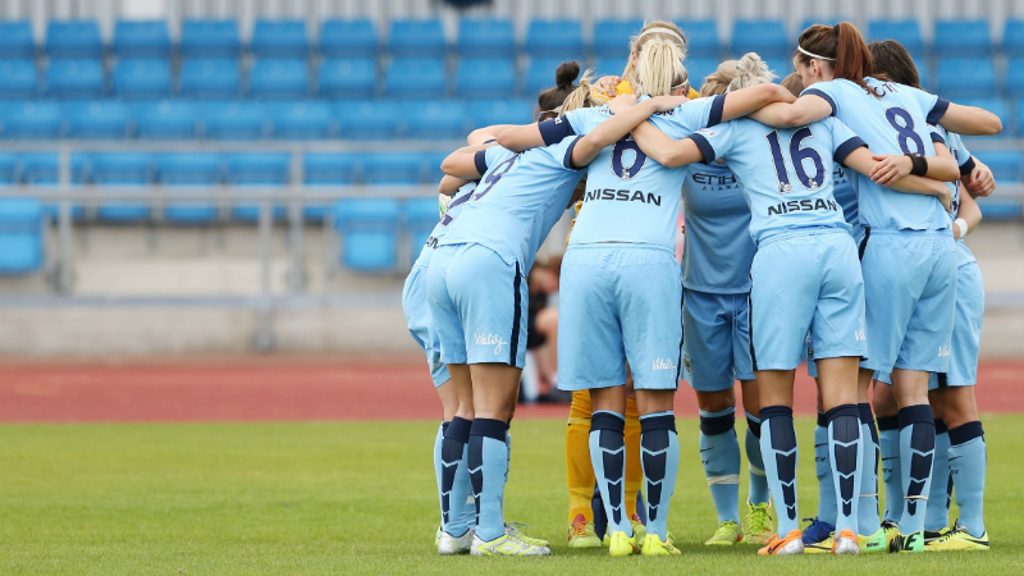 Huddle
The Blues' opening league fixture of 2015 sees Nick Cushing's side travel to last season's third-placed outfit, eager to avenge their two defeats from last year.
Number one shot-stopper, Karen Bardsley, is relishing the chance to show how far she feels the team have come since then and cannot wait for the season to start.
"It's going to be a really good test for us out of the gates," she declared. "We're really looking forward to playing Birmingham again because I don't think we performed to our best each time we played them last season.

"It will be a really good opportunity to show how we've progressed and we'll be really fired up to play them as they will be for us.

"Everyone's really excited to get this season under way. We have to play everyone twice so we might as well start with one of the best teams in the league.


"We've just had a brilliant pre-season trip to Abu Dhabi, where we came together really well on and off the pitch. We got a lot of team bonding done and we did a lot of sports psychology work so we are all in a really good place at the moment.

"At this stage, it's going to be a target for every team to fight on all three fronts. I don't think it's unrealistic for anyone to target that and I wouldn't expect anything less from this team. We want to win these cups!"
The opening encounter in Solihull is followed by a trip to WSL 1 newcomers Sunderland, who were promoted to the top flight in October.
Over the course of the campaign, Cushing's side will face Liverpool, Bristol Academy, Sunderland, Chelsea, Notts County, Birmingham and Arsenal – both home and away – in addition to defending their Continental Cup and fighting for more silverware in the FA Women's Cup.
The Blues' first game in their new home will see the 2014 Continental Cup finalists lock horns once more on 19 April, before league champions Liverpool visit the City Football Academy six days later.
The clash against the Gunners will represent MCWFC's first ever league game in the new Stadium and Bardsley believes it will be a memorable occasion both on and off the pitch.
"That will be an awesome day," she smiled. "All around, it will be a great platform for football in Manchester. Playing at that ground is going to be incredible."
Last season's runners-up Chelsea will arrive at the CFA on 10 May, with the return fixture occurring on 26 July - after the mid-season break for the Women's World Cup.
MCWFC begin their Continental Cup adventure at Doncaster Rovers Belles once again on 22 July, before hosting Durham in their second game of the competition seven days later.
The Blues' other group games all take place in August, with trips to Sunderland and Everton and a home clash with Liverpool.
The FA Women's Cup draw is yet to be announced but the tie will be played as the very first game of the season on 22 March.
City's final three league encounters of the season will all be played at home, with the final match seeing the Club welcome Notts County on 4 October.
Ticket details, including seasoncard information, will be released on mcfc.co.uk in due course.