Media Watch
1
Media: "Crucial" De Bruyne and PL predictions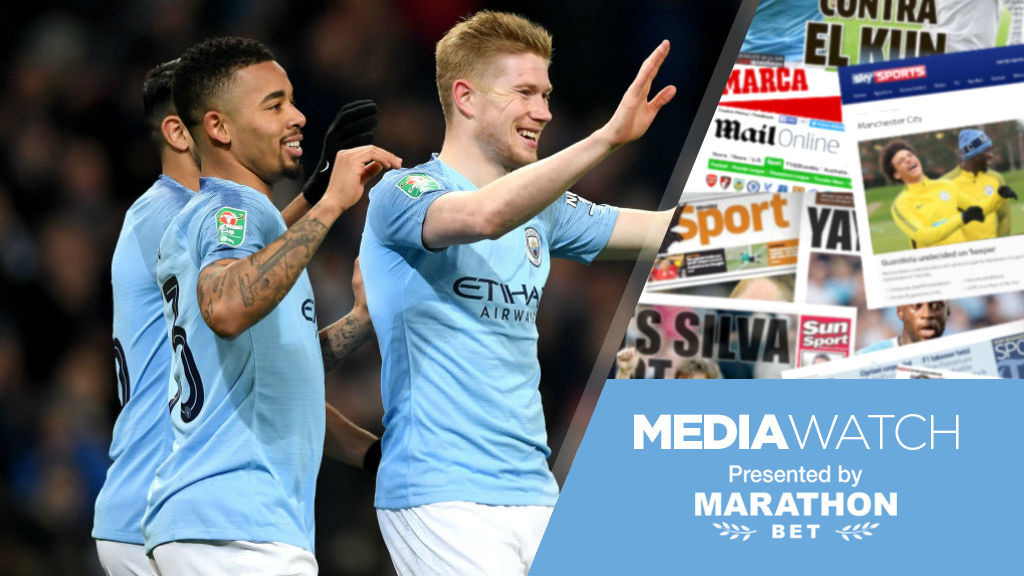 MEDIA WATCH: Your Sunday round-up!
It's your Sunday media round-up!
The media's thoughts on Kevin De Bruyne plus predictions ahead of our clash with Wolves feature in today's media watch…
First up, we begin with the Manchester Evening News' opinion piece on De Bruyne.
TV LISTINGS: Which channel City v Wolves on?
WATCH: Match highlights | City 9-0 Burton
GALLERY: Behind-the-scenes | Target practice with Sure
Tyrone Marshall scribes: "That City have reached this point in mid-January without much of a contribution from the man most would consider their best player is impressive. That they can now take him off the leash is a thrilling prospect.
"De Bruyne has given the impression of being determined to make up for the time he has missed in the first half of the season and while he may have been disappointed at seeing his fun cut short on Wednesday night, he will be aware he can have a much greater impact on some much bigger occasions for City between now and the end of May.
"In a season that could yet be glorious for the Blues, but could also be decided by the smallest of margins, the presence of a fired-up De Bruyne might just make a crucial difference."
Next we take a look at score predictions for Monday night's game.

The BBC's Mark Lawrenson writes: "City scored seven against Rotherham, nine against Burton - so I guess they will be going for 11 against Wolves.
"Despite the return to form of Pep Guardiola's side, I think Wolves will go to Etihad Stadium in In the same way that Liverpool's last-gasp winner in the Merseyside derby definitely spurred them on the next few games, I really do feel that Sadio Mane hitting the post for the Reds against City has had a similar effect on Guardiola's side.
"That game, which City won 2-1, was so finely balanced and if that Mane shot had gone in, I think Liverpool would have won it.
"You only have to look at City's results in the two games they have played since then to see how much that result has lifted them, and I just see them kicking on now. The blip they had over Christmas seems a long time ago already.
"Wolves, who are ninth, are looking good for a top-10 finish, and that is not just down to what we have seen from them in the first half of the season.
"In the past their owners have always kicked on from a position of strength, which is the way to do it - and they looked to do that again when they tried to sign Tammy Abraham.
"If they do stay in the top half that would be a really good first season back for them, and you could envisage them really building on that in the summer.
"3-0."
Paul Merson also eyes a win for us and writes for Sky Sports: "City struggled at Wolves earlier in the season. Nuno Espirito Santo's side have done great, they've come up and had a real go.

"They have been an absolute credit to the Premier League.
"City look back in their groove after following up the win over Liverpool with emphatic cup victories over Rotherham and Burton.
"Those kind of games are dangerous because you can pick up bad habits in them, habits which a side of Wolves' calibre will punish. City have to be careful, but they should get the job done.
"3-1."
That's all for your Sunday round-up, but we will be back tomorrow with all the latest news and headlines from the back pages.