Media Watch
1
Media Watch: Press purr over De Bruyne and Foden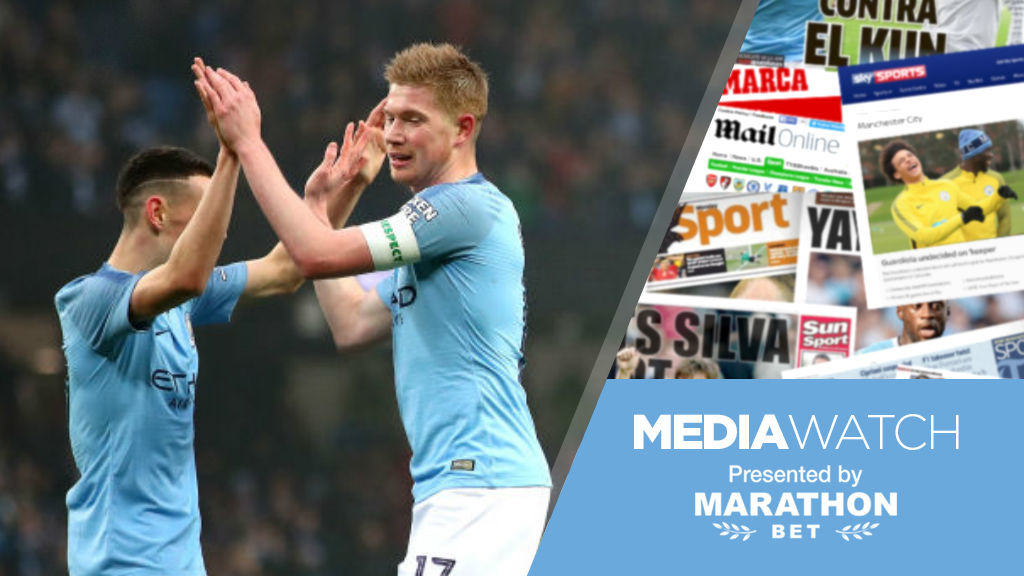 STARS ON SUNDAY: The national media were full of praise for the performances of Phil Foden and Kevin De Bruyne against Rotherham
There's praise aplenty for Kevin De Bruyne and Phil Foden as Monday's media watch kicks-off another busy week for Manchester City.
The pair both impressed in Sunday's 7-0 FA Cup third round rout of Rotherham United with Foden scoring his first senior goal at the Etihad and De Bruyne captaining the side to great effect.
And as the Blues now start preparations for Wednesday's Carabao Cup semi-final first leg at home to Burton – and await tonight's FA Cup fourth round draw – the national media was at one in its admiration for the duo's impact.
Writing in the Daily Telegraph, Richard Jolly said De Bruyne's performance augured well for the defining second half of the campaign.
Jolly reports: "Manchester City reeled off the biggest win of Pep Guardiola's reign.
READ: When is the FA Cup fourth round draw
WATCH: Phil Foden | I'll never score another goal like that!
GALLERY: Man City 7-0 Rotherham | Seven up for City
"He made eight changes, they scored seven goals and Rotherham witnessed the sort of stellar displays from Kevin De Bruyne and Raheem Sterling to invoke fear in superior opponents.
"Last season's warnings were heeded and last week's efforts reproduced as City built on victory over Liverpool. "Wigan brought us out of this competition and we spoke about that," said Guardiola.
"De Bruyne could have recorded a hat-trick of assists but he played with the air of a man with a point to prove after his deputy, Bernardo Silva, earned plaudits for his relentless running against Liverpool.
"The Belgian produced a blend of outrageous skill, accurate delivery and full-blooded endeavour to suggest that, after an injury-hit first half of the campaign, he could illuminate the second half of it."
For his part Jamie Jackson, writing in the Guardian, was no less impressed by the Belgian midfield dynamo's bravura display.

Jackson scribed: "The standout performer was De Bruyne, who was making a first start in nearly three weeks following injury.
It was only a 10th appearance of the season due to two previous serious knee problems. Guardiola indicated that, if De Bruyne can remain fit, then City will be even stronger in the latter part of their campaign.
"Without him last season would not have been possible," Guardiola said of the 100-point, record title triumph. "(Without him) we have done incredible in terms of results. We have an opponent (Liverpool) that has done better than us. That can happen.
"We were two seasons without (Benjamin) Mendy. We do not have a substitute for the left-back. He (De Bruyne) is going to give us extra, the creativity in the final third.
READ: Pep Guardiola | De Bruyne is so important for us
WATCH: Philippe Sandler | 'It was great to make my debut'
"He played an incredible game, created a lot of chances and he has the vision to see what other people cannot see. Last season he played an incredible number of minutes and this season it is just 400 minutes when everyone else plays 2,000."
It was also a day to remember for Foden who rounded off another hugely impressive performance by registering his first senior goal on home soil.
And the Daily Mail's Jack Gaughan believed it was a hugely symbolic moment for the teenager.
Gaughan writes: "For Guardiola, Sunday represented a triumph in more ways than a biggest win of his tenure and merely progressing.
"Phil Foden scored for the first time at the Etihad Stadium, unable and unwilling to hide his glee – even though the ball crawled over the line after his mis-control popped onto his left knee. His precise, meticulous use of the ball and diligence in his work continues to shine through.
"Kevin De Bruyne's comeback continues to be carefully managed, this only his third start since the beginning of November and Guardiola believes the talisman will be fresh for the run in. He was replaced by debutant Philippe Sandler, a summer signing from PEC Zwolle, in another big moment.

"The defining image from this will be Foden's celebration, arms involuntarily outstretched and mouth wide. He passionately beat the City crest after his second for the club and the 18-year-old knows this is a huge month for him.
"Guardiola should start Foden in both semi-final legs of the Carabao Cup against Burton Albion and in the fourth round of the FA Cup. These are the weeks in which he can truly kick on.
"'If he plays, it is because we believe he can play,' Guardiola added. 'It is not because he is a Manchester City fan or a nice guy, no, it is because we believe he can do it.
"He makes mistakes, but nobody is born knowing everything. He is going to stay with us many years.'"
READ: Which TV channel is Man City v Burton Albion on
WATCH: Every Angle | Sergio Aguero's goal versus Liverpool
Meanwhile, looking ahead to Wednesday's Carabao Cup assignment, Burton boss Nigel Clough has urged his players and supporters to relish the experience.
It promises to be one of the biggest moments in Burton's history and Clough, who played for City in the 1990s, says it will be a game to cherish.
Clough told the Brewers' official website: "We are going to enjoy the experience. Nobody gives us much of a chance and quite rightly so. But it's great for our supporters. Some have followed the club for 40, 50, 60 years or more and never dreamt of being in a League Cup semi-final so let's enjoy it."
"Clough says his players are fully aware of the size of the task that awaits them.
"I watched them play Liverpool and they were pretty frightening at times. Their work rate and ability all over the pitch was there for everybody to see. They also have strength in depth not just on the bench but below that.
"They have the best youngsters in the country at the moment, so whichever team they play has quality.
"Every game you have a chance but it's just about what degree that chance is. Ours is extremely slim but there is always a chance in football."