Media Watch
1
Media: PL predictions and Ederson vs Alisson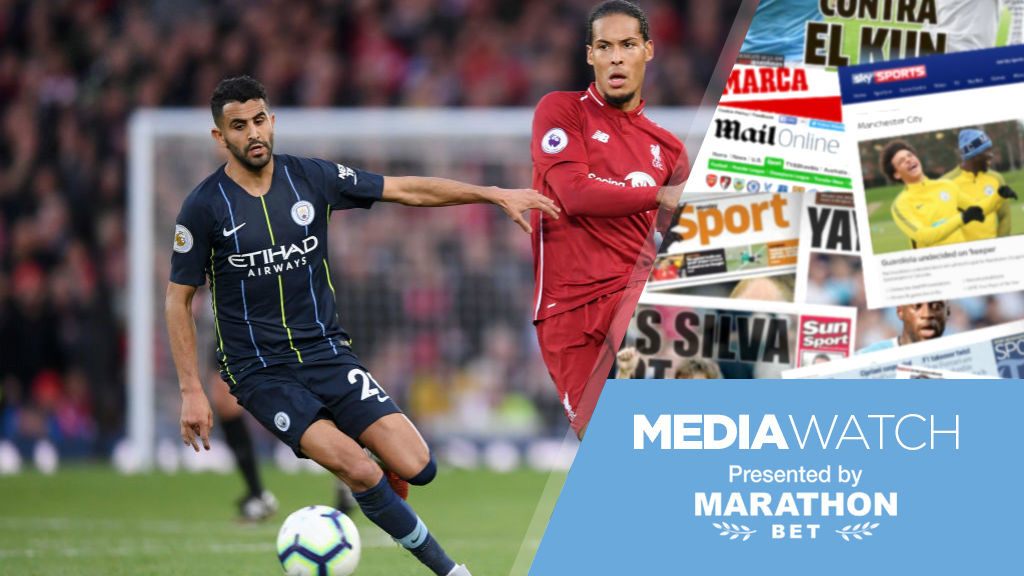 MEDIA WATCH: Your news round-up!
It's your first media round-up of 2019!
We are kicking off the year by taking a look at predictions ahead of Thursday's big game as well as analysing an Ederson v Alisson stats piece.
Also, it wouldn't be media watch without a sprinkling of transfer gossip!
First up, we look at the BBC's predictions as we take on Liverpool.
WATCH: Best of 2018 | Goals with Ilkay Gundogan
READ: Talking points | Silva shines, Aguero milestone and Ferna factor
Mark Lawrenson eyes a 1-1 draw at the Etihad, and writes: "Super Thursday! It's a massive fixture.
"Because it's Liverpool, Pep Guardiola's side will need to win. The Reds, on the other hand, will be happy with either one of two results - the win or draw.
"Of course, they won't play for the draw, but a point will make City's attempt to close the seven-point gap a lot more difficult.
"It'll not be an end-to-end encounter - it'll be cagey. It'll be very different to some of last season's clashes between the sides, but similar to their first meeting this season when there were relatively few chances during the 0-0 draw.
"Liverpool boss Jurgen Klopp will want his potent forward line to get a few opportunities, but if you're either side would you go gung-ho knowing you leave yourself open to the counter-attack?
"These two teams will have massive respect for each other's attack, and because of that I think this will be a stalemate.
"A 1-1 scoreline will be a far better for Liverpool - privately Klopp will be thinking his team will have a better chance of winning the league if they don't get beaten."
Next, we move on to Sky Sports' head-to-head feature between Ederson and Liverpool 'keeper Alisson.

On distribution, Sky says: "In Liverpool's demolition of Arsenal on Saturday, Alisson had observers drooling with the drilled, diagonal ball to release Roberto Firmino in the build-up to their fourth goal. The pin-point pass turned defence into attack in a flash and seconds later Mohamed Salah was winning the penalty which killed the game.
"Not to be outshone, Ederson then produced some memorable moments of his own in City's 3-1 win over Southampton, showing incredible confidence with one dribble in his own six-yard box and launching the attack from which David Silva opened the scoring. Both incidents were typical of Ederson, whose calmness in possession frequently eases the pressure on his defence.
"Over the course of the season, the stats suggest he has the edge over his countryman in terms of distribution. Ederson has completed 504 passes with a success rate of 82.7 per cent - the second-highest in the division after Chelsea's Kepa Arrizabalaga. Alisson has made more passes (566) but, with a success rate of 78.8 per cent, he has not been as economical."
Finally, despite Pep Guardiola repeatedly saying that he is not interested in making any new signings in the January transfer window, the press continue to speculate…

The latest name on the rumour mill is teenager Oscar Tarensi.
Spanish outlet Sport claim: "One of the best young players at Espanyol, Oscar Tarensi, will sign for Manchester City. SPORT have learned that the deal is at an advanced stage and is set to be completed in January.
"Oscar turns 16 on Jan. 10, which is when he will be able to sign for any other European side. City, who have a big presence in Spain, have been following him for a while. He will join a growing number of Spanish youngsters at the English club, including ex-Barcelona players Eric Garcia and Adrian Bernabe.
"It's a blow for Espanyol. Oscar has always been one of the most highly-rated players at the club. For that reason, he has always played an age group up and is currently a regular in the Juvenil B team. He's also a Spain youth international.
"Always playing on the left, he's equally as good as a full-back, a midfielder and a winger."
That's all for your new year round-up, but we will be back tomorrow with all the latest news and headlines from the back pages!