Media Watch
1
Media pinpoint City's 'future superstar'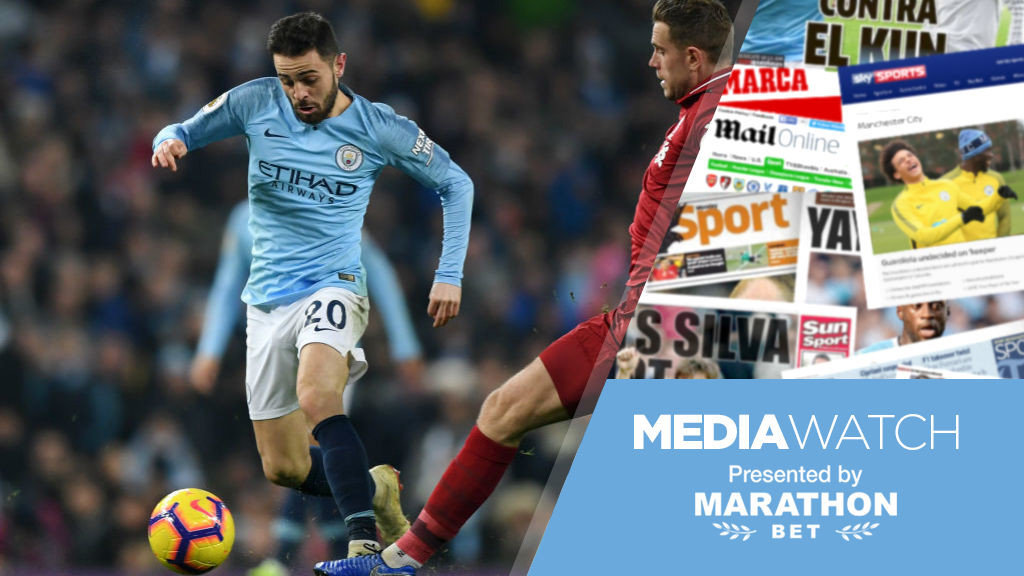 MEDIA WATCH: Your Saturday round-up!
It's your Saturday media round-up!
Lots of headlines to get through this morning, including plenty of praise for our Blues.
Bernardo and Fernandinho continue to receive plaudits for their performances against Liverpool, Sergio Aguero is hailed Fantasy Premier League 'royalty' and we take a look at some FA Cup predictions.
READ: Tireless Bernardo, Aguero 250 and ton-up Pep
WATCH: City 2-1 Liverpool | Tunnel Cam
GALLERY: Buoyant Blues are up for the Cup!
First up, Bernardo has been named as City's "future superstar" by the Daily Mail.
Kieran Gill scribes: "In a crowded midfield on Thursday night, Silva stood out. The ball seemed glued to his boot at times while he continually stopped Jordan Henderson and Co from having time to think.
"Manchester City's win was the result of little and large margins. The ball was 11.2mm from crossing the line to give Liverpool the lead while Silva covered 13.7km.
"It was more than any player has ran in a Premier League match this season, and who has ran the second furthest? Silva again, with another third of a marathon against Tottenham in October.
"Silva was involved in 18 duels on Thursday – Liverpool's best in that statistic was Georginio Wijnaldum on 12 – and no one on the pitch managed more recoveries of the ball.
"When the starting line-ups were announced and Kevin De Bruyne was confirmed as being on the bench, it felt like Liverpool had a slight advantage.
"Yet by the end of the 90 minutes, this former Benfica ball boy had showed how much he has evolved. He is a playmaker with the legs to do the heavy lifting, a ball winner with finesse, a deep-lying midfielder who can be as aggressive as he is delicate.
"Suddenly, that £43m price tag and bit-part role he played last season is a distant memory. Silva now looks like a bargain and future superstar of City."
Fernandinho also continues to receive praise for his display in our mid-week win by Chris Waddle.

"They were unbelievable. I can't speak highly enough of them," Waddle told BBC Radio 5 Live's Football Daily podcast, as quoted by the Daily Star.
"It's not just their running and competing but the quality on the ball is fantastic.
"For me, Bernardo Silva, I would love to see the miles he has clocked up tonight.
"If he had a Fitbit on he'd probably have done about 40,000 steps. He was everywhere and kept dragging the team forward.
"Loads of City players were exhausted tonight and I thought Liverpool might take that advantage late on as they didn't use much energy in the first half.
"They pushed them for about five minutes in the end but Bernardo Silva and Fernandinho were absolutely brilliant."
Next, we move on to the Premier League's Fantasy Football.

Ahead of our upcoming top flight games, Lee Bonfield thinks you should put Sergio in your line-up.
"But there is one other striking option, a certain Sergio Aguero (£11.2m), whom Lee feels should come under serious consideration, especially with a home fixture against Wolverhampton Wanderers and trips to Huddersfield and Newcastle United in his next three matches," the FPL states.
Lee goes on to write: "Wolves have one clean sheet in the last 13 and we know what Aguero is like at home, he scores goals at home," Lee says. "He is FPL royalty."
Finally, we look at predictions ahead of Sunday's FA Cup clash with Rotherham.
Michael Owen predicts an emphatic win for us at the Etihad, as he writes for the Metro: "Somewhat surprisingly City have won just three of their last seven FA Cup ties against sides from a lower division, but the Millers have lost their last five FA Cup games and have conceded at least twice on each occasion.
"I am writing this before City's home Premier League game with Liverpool but, whatever the outcome of Thursday's fixture, I expect City to make serene progress against a Millers side whose main objective is to maintain their Championship status at the end of the season.
"Michael's Prediction: Manchester City 5-0 Rotherham United."
That's all for your Saturday round-up, but we will be back tomorrow with all the latest news and headlines ahead of the game!