Media Watch
1
Gossip: City tracking exciting Palace youngster?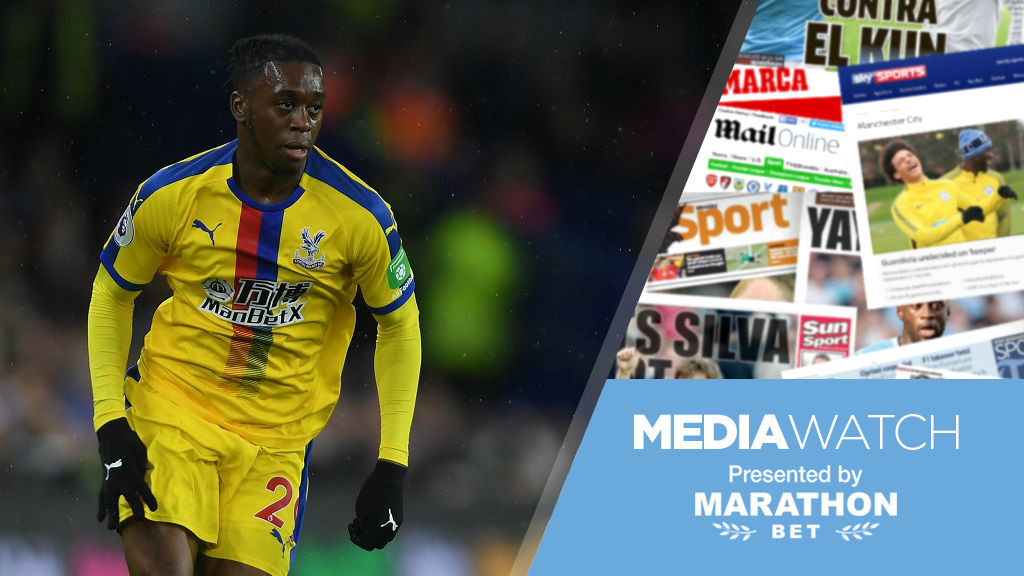 Transfer gossip, Uwe Rosler and Newport County all feature in today's media round up.
The Blues, having a rare midweek rest from action are preparing for the weekend trip to South Wales and we'll hear from Exiles boss Mike Flynn shortly – but let's begin with more reported interest in two of the Premier League's most promising left-backs.
Calciomercato write: "According to reports from the Daily Mirror, Manchester City are interested in signing Leicester City's English left-back Ben Chilwell.
READ: Sensational Sterling, brilliant Bernardo
READ: City's 10 stunning Premier League stats so far...
"However, in recent hours, Arsenal have reportedly expressed an interest in the Englishman; as they seek for a replacement for an ageing Nacho Monreal and another option to Sead Kolasinac, who struggles defensively for the Gunners.

"As per The Sun however, Manchester City are also keen on Crystal Palace's emerging full-back Aaron Wan-Bissaka; who has impressed many with his performances this season.
"However, City face competition from Borussia Dortmund for the young Englishman; the German outfit already signing a young Englishman in Jadon Sancho, who has turned into quite the successful signing."
Now, onto a former City favourite who refuses to hide his loyalty to the Blues.
The Daily Mail take up the story…
"Malmo boss Uwe Rosler has warned under-fire Chelsea manager Maurizio Sarri that current results are not up to scratch and the former Manchester City player said he was 'delighted' to see Pep Guardiola's side demolish Chelsea in a 6-0 victory last weekend.
"Rosler, who scored 50 goals for Manchester City in the 1990's, is a cult hero at the club and tuned in ahead of his Malmo team's Europa League final 32 knockout tie.
"The German, who previously managed Molde, has also exchanged good luck text messages with Manchester United manager Ole Gunnar Solskjaer, whose own team face Chelsea in the FA Cup on Monday evening.
'You want me to be honest?' Rosler said. 'I was delighted [by the City win]… It's no secret, my connection and feelings for Manchester City. The game they played.... the beautiful game we all talk about. The sort of football that inspires every coach.'
You can take the man out of City, but you can't take the Man City out of the man – if you get my meaning…
Rosettes and pennants galore!
Finally, the sort of FA Cup tie romance that puts Valentine's Day gushing firmly in the shade – Newport County v City.

In terms of fascination, it's arguably the game that will capture the nation's hearts and it would be foolish to think that all the neutrals won't be willing the League Two outfit to pull off an almighty shock.
Reuters report: "The FA Cup may have lost its appeal, no longer a highlight of the English football calendar, but occasionally it throws up a fixture that captures the imagination.
"Saturday's meeting between fourth tier League Two Newport County and Premier League champions Manchester City certainly provides the David versus Goliath encounter which is at the heart of the world's oldest club competition.
"Pep Guardiola's multi-million-pound squad, used to the pristine surfaces of their own Etihad Stadium and Premier League venues, will be in action at Rodney Parade, until a few years ago used exclusively for rugby and with a capacity below 8,000.
"Leicester City have already been beaten by County this season and Championship (second tier) club Middlesbrough certainly struggled in the mud during their defeat in South Wales in their fourth round replay.
"Newport manager Mike Flynn does not think the pitch will hamper City too much, however.
'They're a fantastic outfit and knowing how good Pep is, I'm sure he'll overcome that pitch,' Flynn said after the win over Middlesbrough.
'We passed the ball around a lot in tough conditions and I'm sure Man City will do the same.'
We'll know more on Saturday…