Media Watch
1
Media Watch: City target Roma starlet?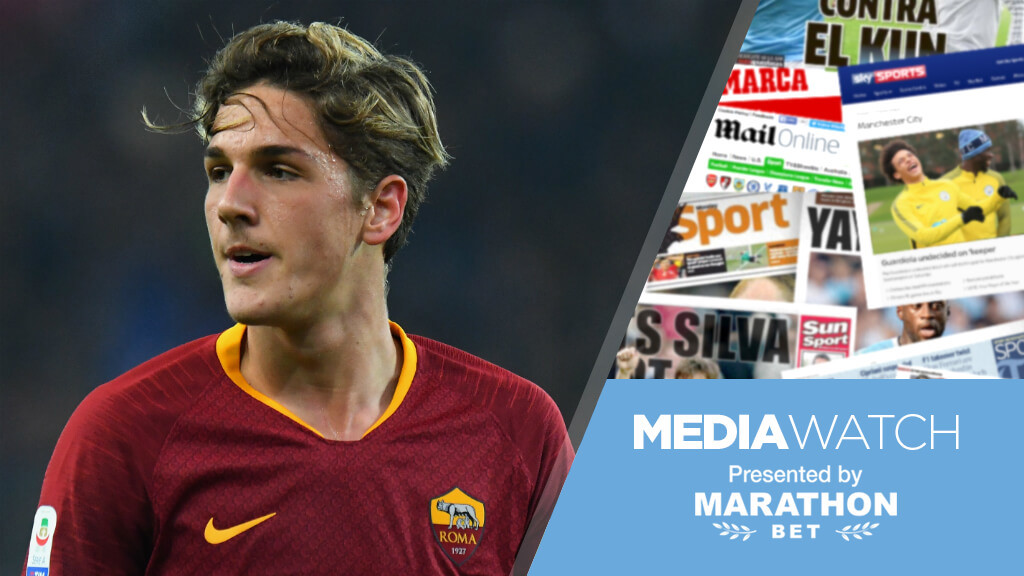 MEDIA WATCH: It's claimed City are targeting a Roma midfielder...
Rousing encouragement from current and former Blues, a word from the opposition and a tale of transfer gossip...
Saturday morning's media compilation provides plenty of variety.
Let us begin with the main matter of the weekend: City's Premier League visit of Arsenal - another crucial clash, in which the Blues seek to preserve our title hopes by closing the gap on leaders Liverpool once again.
READ: City v Arsenal | Injury update
WATCH: Inside City | Episode 327
As always, Pep Guardiola spoke fondly of Arsenal manager Unai Emery in yesterday's press conference, and the Gunners boss has expressed equal admiration of his City counterpart, dubbing Guardiola the best in the business.
Quoted on the Gunners' official website, Emery told press: "I have analysed a lot of teams and coaches and I think it's difficult to find one coach who is better than Guardiola.
"His career is a very big career. We started together. He started with the Barcelona second team, I started with Lorca after Almeria when he was starting to train.
"I learned a lot looking at his team. It's good to look at each other when we are coaches to learn different things between us. I think in his career he doing the best in all the coaches in the world.
"He has had the possibility to take the best players at Barcelona, in Bayern and in City little by little. He is every year improving with great players and also paying a lot for some players. But he led them, at Barcelona, Bayern and City, one step more every place.
"This for me is the quality that makes me say he is the best."

Emery also revealed that a former Blue could be handed his Arsenal debut at his old stomping ground on Sunday – Denis Suarez.
As Sky Sports report: "The 25-year-old trained with his new team-mates for the first time on Friday after joining on loan from Barcelona until the end of the season.
"Suarez spent two seasons with Manchester City before moving to Barcelona in 2013 and Emery says his experience of living in England will help him settle in quickly at the Emirates."
Meanwhile, Ilkay Gundogan asserts the strength of City's mantra – to constantly seek improvement – will determine whether the Blues can achieve greatness again, come the end of the season.
In a lengthy interview with Sport 360, the German also discussed the prospect of a potentially season-defining month for the Champions, plus the similarities and differences between Kevin De Bruyne and Mezut Ozil, and his thoughts on the suggestion of a new deal.
"We will try to be in every competition as long as possible," he stated. "That's what our target should be.
"Already we are in one final, like last year – the League Cup. It's always good to win this trophy even though some people think we should not prioritise this one.
"But we are in the final, it will be a special feeling to be at Wembley, against Chelsea – a tough team – and it's going to be a great game, and we want to win it as well.

"Then we have the three other competitions to go for. Not including the Premier League, at least we can try to be better than last season in two of the competitions, and if we reach that point then we have a chance of doing it.
"We have reached the same in the FA Cup and we have the Champions League that we want to do well in as well. We are feeling good and want to push as much as possible.
"There's huge potential in that team and we have to show it on the pitch. These home games with Arsenal and Chelsea are very important.
"We are going out to win these games, but you can't deny both have a lot of quality and it's very important to be good defensively against these teams and not concede – and then I believe we can win both games with our quality."
Liverpool's midweek home draw with Leicester has rekindled optimism for City in the title race, with many pundits and former players (including some ex-Reds!) asserting there are more twists and turns to come.
Former Blue Joleon Lescott believes the Blues should take inspiration from our 2012 and 2014 title wins, in which City clawed back points deficits late on to lift the trophy.
"Still there will be belief there," he stated – his comments shared by the Manchester Evening News.
"Drawing on the experience the club has of clawing back eight points with a month to go, should bode well.
"I'm sure if you asked both managers, they would rather be top and be in Liverpool's position, with the points advantage but only time will tell – who knows what will happen between now and the end of the season.

"There will definitely be changes in regards to the points, and hopefully it's in City's favour.
"City fans don't need me to give them a message, they definitely won't give up hope, having won it with the last kick of the season.
"If there's a group of fans that know not to give up hope, it's the City fans.
KEY DATES...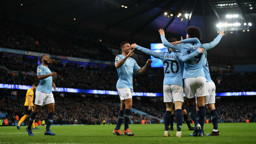 "There were moments in games, never mind the season itself, where people said it was over but the players will never give up and just want to win every game.

"In the immediate future, they will just want to get back to winning ways and bounce back from the defeat.
"Then, as we get closer to the end of the season, if Liverpool do slip up, the realisation of winning the league will start to come more in tune and will pick up pace."
Finally, in other news, there's a snippet of transfer gossip as Il Sussidiario claim City are one of several clubs monitoring Roma midfielder Nicolò Zaniolo.
Matteo Fantozzi's piece, translated, reads: "Nicolò Zaniolo is certainly the prized piece of Rome that absolutely wants to lock on the transfer market.
"According to reports from Rai Sport, the Giallorossi company would have put a flat 1.5 million euro renewal per season to the midfielder who arrived in the summer from Inter in the Radja Nainggolan affair.
"At the moment, the agent of the footballer however, has taken time, knowing he can get a lot more.
"The midfielder in a short time managed to become an excellent team like Roma and on him there are the eyes of all the big Europeans from Juventus to Paris Saint German through Barcelona, Real Madrid and Manchester City."