Media Watch
1
Media Watch: Sterling backed for Player of Year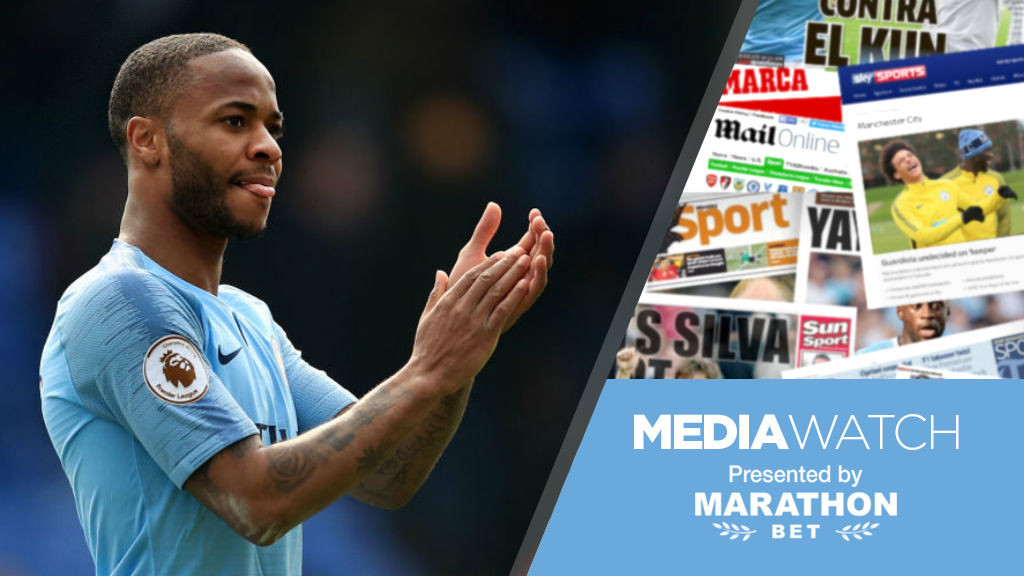 With the nominations in ahead of next weekend's PFA Player of the Year award ceremony, Raheem Sterling's cause is championed by two of Fleet Street's big hitters in Monday's media round-up.
There are also further reflections on our momentous league win over Spurs as well as the start to the build-up for Wednesday's pivotal Manchester derby.
But we begin with the battle to be crowned PFA Player of the Year. City winger Sterling, along with team-mates Bernardo Silva and Sergio Aguero together with Liverpool's Virgil van Dijk and Sadio Mane and Chelsea talisman Eden Hazard were short-listed for the men's award at the weekend.
But according to the Telegraph's chief football writer Sam Wallace – and the Times' chief soccer scribe Henry Winter – who both have cast their vote in the separate Football Writers' Player of the Year award, Sterling is the outstanding candidate.
The PFA award winners will be revealed on Sunday and Wallace told Sky's Sunday Supplement why Sterling was his Player of the Year.
"I voted for him (for the Football Writers' Player of the Year award), I just think he has had a brilliant season," Wallace said.
READ: City men and women lead PFA nominations
WATCH: Guardiola hails City fans after vital Tottenham win
GALLERY: City 1-0 Tottenham
"Of course I admire what he has done off the pitch, but he has been sensational in terms of his consistency.
"And that got forgotten midweek. That hat-trick goal that was disallowed… it would have been a very different story [against Tottenham in the Champions League].
"He scored two goals in what people are now saying is one of the greatest games they have ever seen."
Henry Winter has also plumped for Sterling, 24, who has contributed a hugely impressive 23 goals and 16 assists in 46 games so far this season.
"He is also England's most important player," said The Times' chief football writer.
"But Sterling , particularly in this 4-3-3 which Gareth Southgate seems to be wanting to push towards, really suits him, rather than the version England played with wing-backs in the summer."
Meanwhile, the impressive manner of our crucial 1-0 Premier League win over Spurs saw three City players earn a place in BBC pundit Garth Crooks' team of the week.

Goalkeeper Ederson, midfield marvel Bernardo Silva and match-winner Phil Foden all caught Crooks' eye.
Of the Brazilian keeper, Crooks wrote on the BBC Sport website: "Fortune favours the brave and the Brazilian goalkeeper not only showed up for this fixture but did what he couldn't do on Wednesday night - stopping Son Heung-min from causing any further damage to City's future prospects.
"Bernardo Silva was outstanding against a Tottenham side intent on doing even more damage than they inflicted in midweek. Fortunately, Bernardo had other ideas.
"As for Foden, when you're 18 and asked to fill the boots of David Silva, you had better be good. So what do you do? After only five minutes, you go and score your first Premier League goal. It's what fairytales are made of, but that's what happened to Phil Foden on Saturday."
There are further fascinating reflections on our Spurs triumph from the Daily Mail's chief sports writer Martin Samuel who was in no doubt as to the significance of the result.
Samuel reports: "The January win over Liverpool at home aside, this is possibly the most important three points of the campaign. Having lost to Tottenham in such mind-blowing circumstances on Wednesday, all eyes were on City for their response. It is Liverpool who are said to have the momentum of champions right now. Could City restore their own impetus after such an emotional defeat?
READ: Guardiola - I love my team!
WATCH: Inside City | Episode 338
"That they did may serve as inspiration of a different kind as we reach the season's climax. Their next game is away at Manchester United — and who wouldn't be up for that? Win at Old Trafford and City will be three matches — Burnley away, Leicester at home, Brighton away — off the title. From here, motivation takes care of itself. Yet overcoming the mental and physical exhaustion of Wednesday could not, at first glance, be guaranteed.
"Make no mistake, this was an enormous result.
"And Foden's presence was vital. Not just for the diving header that won the game but for the energy a teenage presence at the heart of the team provided. Pep Guardiola deployed him in a central role, behind Sergio Aguero, always involved, always in a position to demand the ball. And Foden does.
"He has the humility to talk about learning from every last one of his team-mates, but the confidence to play as if he fits right in. Their interaction with him is telling, too. When man of the match Bernardo Silva whipped in his cross for Aguero after five minutes, the striker spotted Foden's run and directed his header across goal rather than towards it.
"He trusted Foden to score, just as Guardiola trusted him to start. These are impressive judgments. Aguero wouldn't tee up a teenager who wasn't ready for such an occasion, no matter what position he took up; and Guardiola wouldn't throw Foden in without understanding he can expect patience from the player no longer. He wasn't gambling on an 18-year-old."
The focus, of course, now switches to Wednesday night's huge Old Trafford derby where the eyes of the footballing world will again be trained on us.

And the Manchester Evening News's Joe Bray got the build-up started by looking at the permutations going into the game.
Bray scribed: "Manchester City know they must beat rivals Manchester United on Wednesday to keep the Premier League title race in their hands.
"City beat Tottenham this weekend to temporarily move above Liverpool in the table, but Jurgen Klopp's men were 2-0 winners over Cardiff yesterday to move back into first place. That means City can't afford a slip up at Old Trafford, but will face a United side reeling from their own 4-0 defeat to Everton.
"Manager Pep Guardiola will know to only focus on what his own side can do, and he will also be hoping for positive injury news on Kevin de Bruyne, who limped out of the Spurs win on Saturday.
"Initial reports following that game suggested de Bruyne will miss the Manchester Derby, after finally re-finding his form in an injury-hit season.
READ: Which TV channel is Manchester United v Manchester City on
WATCH: Phil Foden | Bernardo is a dream to play with
"Liverpool boss Jurgen Klopp has admitted that he'll be watching Wednesday night's Manchester derby — but didn't sound too hopeful of getting the result he wants.
"Klopp's side beat Cardiff City 2-0 yesterday to leapfrog City by two points at the top of the Premier League and they will now be hoping for a favour from their fierce rivals Manchester United.
"But after United suffered a 4-0 defeat at Everton earlier on Sunday, the Liverpool boss was asked if he'd be watching the clash between the two Manchester clubs.
"I think I will watch it if I have nothing else to do," said Klopp when interviewed by Sky Sports after the Liverpool win at Cardiff City Stadium. "Hopefully I can avoid that (shouting at the TV) because we have no influence."
Finally, there were warm words of praise for on-loan striker Lukas Nmecha from his Preston team-mate Callum Robinson in the Lancashire Evening Post after North End's 4-0 Championship win over Ipswich.
Dave Seddon writes: "Robinson took his tally for the season to 13, while in Nmecha's case he doubled his goals for the campaign.
"The Manchester City youngster had not found the net since New Year's Day when he scored at Rotherham.

"A spell on the bench and then a switch out wide saw him dry-up as far as the goals were concerned.
"However, the 20-year-old has shown some good form since Alex Neil gave him the chance on the wing.
"And in a bid to get him among the goals, PNE boss Neil switched Nmecha into the striker's role for the visit of Ipswich to Deepdale.
"Robinson said: "Lukas has been doing really well as a team player but the goals weren't really coming.
"So it was a great to see him scoring against Ipswich, he did well for them.
"He's a really good player, he has got a bright future – I'm really looking forward to seeing how he does when he goes back to City or wherever he goes next."