Media Watch
1
Media Watch: De Bruyne key to Quadruple charge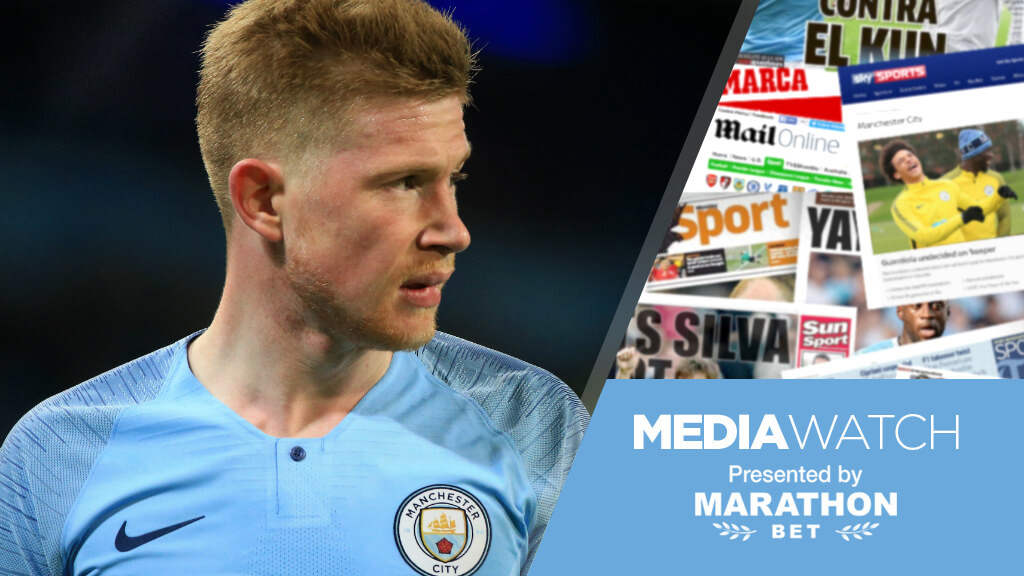 KDB: The key to greatness?
The Manchester City train keeps rolling on…
There are many stops on the journey to greatness, but Pep Guardiola's men are successfully ticking them off one by one, gradually building momentum before hitting full speed.
Dreams of an historic Quadruple remain well and truly alive, following Saturday's FA Cup semi-final victory over Brighton and Hove Albion at Wembley, and with even tougher challenges awaiting in the coming weeks, excitement fills the air for the prospect of what this City team could achieve.
READ: Match report | City into FA Cup Final
WATCH: Gabriel Jesus | 'I am so happy!'
As a result, the footballing world are running away with themselves, skipping the final leg of our remarkable season, and reaching their own conclusions… but as Guardiola often asserts, his side must remain focused on the task at hand – such advice has proven effective thus far.
Still, with such an achievement still a possibility, there is a natural sense of anticipation, which gains traction with each passing week of positive results and impressive individual performances.
Reflecting on the events at Wembley yesterday, the Independent's Miguel Delaney scribed: "Manchester City are now on the brink to the most brilliant finish to a season any English side has ever seen, and one huge factor in that may be fast starts.
"Yet another ludicrously early goal was the source of yet another win, to take yet another step to the quadruple, and put them within 90 minutes of another trophy.
"Once Gabriel Jesus had scored the only goal to make it 1-0 after a mere three minutes, Brighton and Hove Albion - no matter how creditable their display - were just never going to block Manchester City's path to the club's first FA Cup final in six years.
"The route to the Brazilian's strike also represented a potentially huge factor in a prospective quadruple: the return to form of Kevin De Bruyne.
"For Jesus to finish, the Belgian played one of those exquisite through balls that prove so divinely elusive for defenders but so perfect for strikers.
"It lifted the City end, and may somehow further lift the team. It is ominous for everyone else, and an illustration of just why the quadruple might be possible, that the champions have been so good that you could have been forgiven for forgetting that De Bruyne was out for long.

"And yet here he was, returning with a level of play beyond any other attacker in the Premier League, to bring City to another level.
"That is just another reason the previously impossible might now be possible, and why this hugely difficult April already looks more manageable."
Jack Pitt-Brooke's article – of the same source – also hailed the playmaker's impact, declaring: "Throughout his career De Bruyne has carried this unusual gift with him, the ability to view the football pitch as if he was looking down on a chessboard, rather than as one moving piece on it.
"The game was just three minutes in when De Bruyne decided it. He pulled out in that space on the right, where he could easily receive the ball laid off to him by Bernardo Silva.
"He had time to look up but he barely glanced. He knows where the players are, he has known all along. With his first touch he set himself and with his second he whipped the ball into the box.
"This time, after a season of frustration, his body did not let him down. The ball went precisely where he wanted it to, round the back of the Brighton defence, bending right into the path of Gabriel Jesus' diving header.
"The whole thing was echt De Bruyne: the complete internalisation of City's patterns of play, the awareness of space, the vision to spot the pass, the precision to execute it.
"It was the De Bruyne who powered City to the title last year, but who they have missed this season.
"The De Bruyne who can see the passes but the De Bruyne who can now make them again too. He is not at his maximum and will not be again this season, but he is close enough to win games again."

The Belgian claimed Eurosport's Man of the Match award, as Alexander Netherton noted: "He was only on the pitch for a little over an hour, but he is showing some of his best form after a problematic season.
"Injuries are threatening to limit City's achievements this season but if they can keep the Belgian fit then they are in with a chance of winning the lot."
De Bruyne and Gabriel Jesus shared ESPN's star man accolade with marks of eight in their player ratings, with the Brazilian earning 90 Min's award.
Meanwhile, Aymeric Laporte also received praise, courtesy of Sky Sports, who highlighted the Frenchman's crucial goalline clearance, which preserved City's clean sheet.
Wrote Simeon Gholam: "When you're chasing unprecedented trophy hauls it will never be straightforward, and City may well be looking back in May on the moment Laporte denied Glenn Murray a certain goal midway through the second half.
"He has been a supreme presence in the heart of their defence all season."
The defender was our official Man of the Match too.
In other news, Raheem Sterling has been deemed 'an iconic British sports star' and 'a trailblazer', having been named Sportsman of the Year at the 2019 British Ethnic Diversity Sports Awards.

As BBC Sport report: "The England and Manchester City forward was praised for repeatedly speaking out against racism in football.
"He was presented with his award at a ceremony in London on Saturday.
"The BEDSAs, which were hosted by comedian Nish Kumar, are organised by race equality charity Sporting Equals and celebrate ethnic diversity in sport."
READ THIS...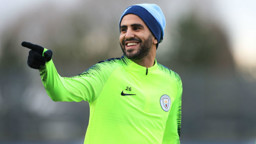 Awards founder Arun King, of charity Sporting Equals, said: "He is undoubtedly one of the UK's most thrilling talents.

"He is a trailblazer in his fight against racism. We are proud that he has become an iconic British sports star who represents so much for BAME communities and the entire sporting community, and will do for generations to come."
Sterling told press the award was a 'massive honour.'
Congratulations, Raheem. Well deserved.
Finally, in other news, Tottenham's Harry Winks has sought to fuel the fire, ahead of Tuesday night's eagerly-awaited Champions League clash, stating he hopes that Spurs' new stadium can 'unsettle' Guardiola's men.
Quoted by the Telegraph, the midfielder – discussing his side's opening game at the venue – warned: "From what I gathered out there, it can be quite daunting for the opposition and that is all credit to the fans and the sound they make in the stadium.
"It is a place we can settle in to quickly and call home, and make it difficult for opposition to come to.
"Of course, the fans play a massive role in creating that atmosphere and helping us out but the most important thing is how we play; how we set ourselves out, and if we perform like we did, and press like we did, it can be a difficult game for City."