Media Watch
1
Media Watch: City to battle Real for defender?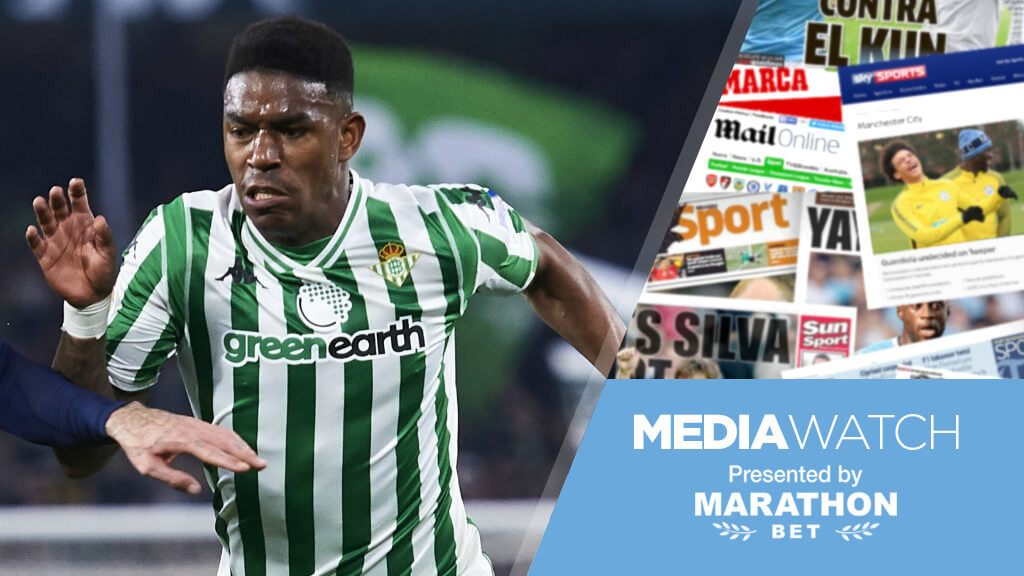 MEDIA WATCH: What's making headlines today?
Previewing our trip to Palace, a tip for our top target man, wise words from our skipper and a tale of transfer gossip…
Saturday morning's media compilation is packed with variety.
We'll kick off with the main topic of conversation = tomorrow's Premier League trip to Crystal Palace.
Pep Guardiola shared his thoughts on the game in Friday's press conference, and Eagles manager Roy Hodgson has done the same, drawing inspiration from our most recent meetings, in which the Selhurst Park outfit are undefeated.
READ: Team news | Bernardo, ZInchenko update
WATCH: Guardiola | 'Bernardo is a fighter'
"No team is unbeatable," he told press. "No team poses a threat you couldn't possibly deal with but everyone understands what a good side they are and their attacking talents.
"They're one of the best teams in my opinion in and around the penalty area. It's a big task but we'll do our best. We kept a clean sheet against them a year ago here so why can't we do it again?"
Reflecting on Palace's 3-2 triumph at the Etihad Stadium in December, he added: "It took a lot of hard work. I thought the players were unbelievably disciplined.
"They worked very hard to fulfil the tactics we had going into the game. On top of that we were able to use the relatively few chances we created ourselves, one of which was a wonder-goal.
"It was a great occasion and a great victory for the club. I just hope we haven't angered them so much they try to punish us for having the temerity for beating them on home turf!
"I think the only way you're only getting a result against them is first of all if your defence is in unbelievable form and your players are willing to work harder than perhaps they ever have on the field before.
"The major formula if you like for winning the game is you know you're not going to have the ball as much as they are, you've got make certain that when you get your chance you take it which is pretty much what happened at Man City.
"I can't come off there saying we beat Man City 3-2 because we outplayed them from the first minute.

"I like playing at home and the atmosphere and the support we get from the crowd but it doesn't alter the fact that we're playing one of the best teams in Europe, let alone the Premier League."
Also analysing the game, the Manchester Evening News' Simon Bajkowski believes Sunday's encounter requires City's leaders to stand up and be counted, as the pressure intensifies in the title race.
Recalling the 2013/14 season finale (in which the pendulum swung in City's favour as Chelsea defeated Liverpool and Manuel Pellegrini's men subsequently triumphed at Palace), he notes: "After Steven Gerrard slipped against Chelsea, the pressure was still on Manchester City at Selhurst Park but a storming performance from Yaya Toure and a brilliant header from Edin Dzeko took the nerves out of the game.
"Pep Guardiola has five captains in his team - Fernandinho, David Silva, Sergio Aguero, Vincent Kompany, and Kevin De Bruyne - and Raheem Sterling has also led them this season so there is no shortage of players to take the game by the scruff of its neck.
"After wobbling around Christmas, the City manager stuffed his team full of as much leadership experience as he could muster and the results were 22 wins from 23 games.
"Having lost at Tottenham, will Guardiola return to that tactic when they head to Selhurst Park?"
Elsewhere, a Liverpool legend has tipped Sergio Aguero to clinch the Premier League Golden Boot.
As Mikael McKenzie of the Express explains: "Manchester City striker Sergio Aguero currently leads the race with 19, one above Liverpool star Salah.

"However, the Blues have a game in hand on their title rivals as they head towards the final stretch of the season.
"Salah won the Premier League golden boot last year with 32 strikes.
"But Heskey, who won six trophies during his four years with the Merseyside outfit, cannot see anybody beating Aguero."
The former Reds and England striker told Sky Sports News: "The likes of Aguero… he is such a phenomenal finisher.
"Man City play to his strengths and play to him so I expect him to be scoring three or four more goals and to be topping that.
"I wouldn't be surprised if we ended up being around 23 or 24 goals. I can see someone like Aguero hitting that sort of mark."
In other news, Vincent Kompany has opened up on the issue of racism within football, asserting the problem runs deeper than individuals or groups of supporters directing abuse at players.
The City and Belgium skipper also offered his support to Raheem Sterling, who has publicly challenged racist behaviour.
"He's very, very humble, willing to learn," Kompany stated. "An example for a lot of young kids, especially where he comes from.

"He should be portrayed as an example, and when you see how we are trying to brand him, you can see there's a disparity."
Wise words, as always, from the captain. Watch his full interview with Sky Sports.
READ THIS...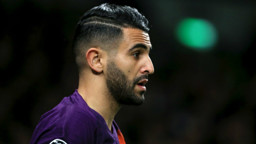 Finally, as ever, there's a snippet of transfer gossip to ponder over, as Sports Mole believe City are set to go head-to-head with Real Madrid for the signature of Real Betis defender Junior Firpo this summer.

Matt Law reports: "Junior only made his first-team debut for Betis in February 2018, having come through the youth system.
"The 22-year-old has been plagued by injuries since the latter stages of 2018, but has still made 22 appearances for his Spanish club during the 2018-19 campaign.
"According to reports in Spain, City are prepared to battle Madrid for the left-sided player, who can operate in both defence and midfield.
"Firpo is believed to have a £43m release clause in his current deal, which is due to expire in June 2023.
"While City have struggled in the left-back position this season, Madrid have also had their own problems with neither Marcelo nor Sergio Reguilon convincing for long periods."
Don't miss our Champions League Quarter Final against Spurs on Wed 17 Apr, 8pm. From £40 Adults & £12.50 U18s. Limited tickets remaining – book your seats.