Media Watch
1
Gossip: KDB update, Ajax star linked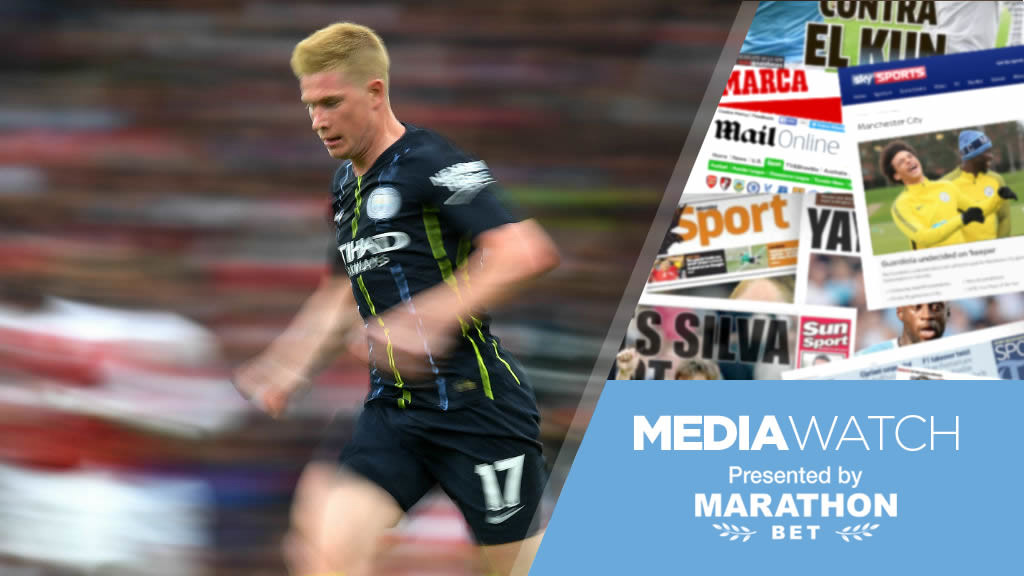 CLOSING ON A RETURN: Kevin De Bruyne
We've a busy matchday Media Watch this morning with injury updates, transfer speculation, plus a slice of team news from the Banbury Cake!
First to star City midfielder Kevin De Bruyne, who is making good progress from his knee injury according to his Belgium national team boss Roberto Martinez.
Martinez said in quotes reported by Goal.com: "It was a freak accident, it happens, football is a contact sport.
"The issue is how long he will be out and the reports are very positive.
"I think we'll see him on the pitch a lot earlier than other players would take with that injury [and] we think he could be even fresher after his period away.
"No time scale yet but Kevin wants to be on the football pitch as quick as he can and physically he's got that natural gift of being able to heal quicker than other players."
READ: Oxford v Man City: TV info
PICS: Exclusive training shots from CFA
Over at the Daily Mail journalist Jack Gaughan has penned a profile piece on young City goalkeeper Aro Muric, who is in the frame to start against Oxford with Claudio Bravo sidelined.
Gaughan reports: "Much like Ederson, Aro Muric – who should make his Manchester City debut on Tuesday - was never a goalkeeper. He has only been playing the position eight years and even that was an idea spawned by a family member rather than a professional.
"But Oxford United's Kassam Stadium could be Muric's big break between the sticks, Pep Guardiola seriously considering throwing the 19-year-old in for the Carabao Cup tie."
Gaughan adds: "Muric owns the fearlessness of Ederson, often seen throwing his head at the feet of strikers, and has learned Guardiola's offensive style – with significant emphasis placed on positioning when City have the ball and the timing of his rushing – under Mancisidor and Richard Wright."
The same paper has a dash of transfer speculation, picking up on the Frenkie de Jong chat from Monday.
Simon Jones scribes: "Manchester United and Manchester City will face competition from Real Madrid for Ajax talent Frenkie de Jong.
"The 21-year-old is fast becoming one of the most coveted young players in Europe with Tottenham, Barcelona, Bayern Munich and PSG also registering their interest.
"Madrid and United checked on de Jong in Ajax's Champions League tie with AEK Athens though his agent Ali Dursun says he will neither confirm or deny contact from the clubs."
Irish publication RTE carry quotes from boss Pep Guardiola about his quest for domestic dominance.

Their report reads: "Pep Guardiola wants to establish Manchester City as the dominant English force after admitting retaining the Premier League title is his primary motivation.
"City stormed to their first league crown under Guardiola last season, becoming the first team in the top flight to break the 100-point barrier.
"Guardiola, though, is used to sustained success, having won three league titles each at Barcelona and Bayern Munich, and sees what his two former clubs and Juventus have achieved in the last decade in their domestic divisions as a yardstick for City.
"The Spaniard, who is set to rest several of his stars as they begin the defence of the Carabao Cup at Oxford on Tuesday, said: 'The first priority is the Premier League, that is the nicest one.
"'When I see, for example, three teams like Barcelona, Bayern Munich and Juventus in 10 years they won seven leagues, they show me they are the best teams.
"'We want to be consistent and solid in that competition.
"'After in the knockout games we want to improve on our mistakes we had in the past in knock-out games - to be more solid, avoiding mistakes and we're going to try [to go for] it [in the Carabao Cup].'"
Have you seen?
Finally it seems both managers could make changes for tonight's League Cup clash, according to Oxford site the Banbury Cake.

Their update reads: "While Pep Guardiola was always expected to shuffle his pack, his U's counterpart Karl Robinson also revealed an intention to hold players back with one eye on Saturday's visit to AFC Wimbledon.
"With United second bottom in the Sky Bet League One table, the fixture at the weekend takes precedence.
Robinson said: 'We are going to rest people. AFC Wimbledon is a massive game at the weekend, that's the way it is.
"'I'm going to start a youngster, one of our academy graduates. There's a good chance the likes of Longy (Sam Long) could be involved.'
Plenty to digest there before tonight's kick-off, we'll have comprehensive coverage as ever across our channels later on.