Media Watch
1
Media Watch: City monitoring Rakitic?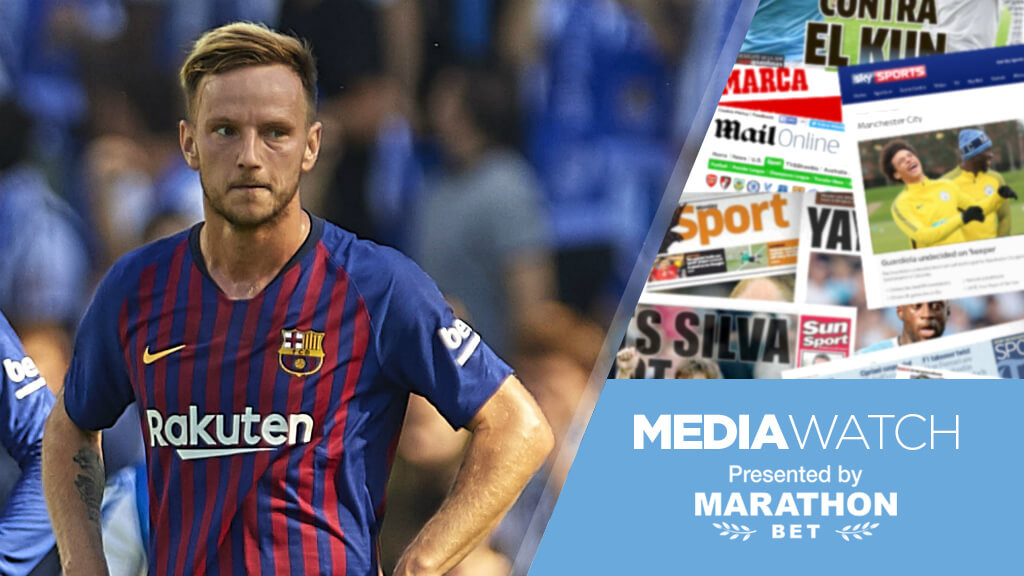 ON THE RADAR?: It's claimed City are monitoring Ivan Rakitic's situation at Barcelona...
An opposition preview, Champions League title talk and a transfer tale… A mixed matchday media compilation!
City kick-off another Champions League adventure tonight, with the visit of Lyon to the Etihad Stadium in our Group F opener (8pm BST).
Naturally, the talk from the City camp (injury news, plus the press conference comments from Mikel Arteta and Aymeric Laporte) can be found right here on ManCity.com – but what have the opposition discussed in the lead up to the eagerly-awaited encounter?
Well, Lyon president Jean-Michel Aulas has moved to alleviate the pressure for his side, in the midst of a challenging period, asserting tonight's game is not their most important of the week.
READ: City v Lyon | Injury latest
READ: Mikel Arteta | 'City have the world's best players'
READ: Aymeric Laporte | 'Mikel Arteta is a great coach'
In their opening five fixtures of 2018/19, the French outfit have won two, lost two and drawn once, sitting seventh in Ligue 1 – already eight points behind Paris Saint-Germain. With Sunday's clash with Marseille now highly-anticipated, given the circumstances, Aulas insists he is unconcerned with the midweek European result.
As Inside Futbol report, Aulas told L'Equipe: "I don't care about the result against Manchester City, I want to see character and attitude.
"The result against Marseille will depend on the quality we show against City.
"Marseille of course [is the more important game], but everything is important when you have the ambition of Lyon."
Looking further ahead, Michael Owen has added his name to the list of pundits, who are tipping City and Liverpool to challenge for the European crown, with Rio Ferdinand and Gary Lineker having announced their backing in Monday's media round-up.
Quoted in his post-match assessment of Liverpool's late win over PSG on BT Sport, the former England man stated: "Our (England's) teams are really at it.
MATCH PREVIEW...
"I really fancy two teams this year – either Manchester City or Liverpool.

"I really think it's going to be an English team. I think we (English teams) will be here to stay for a long period of time as well."
READ: City v Lyon | Talking Points
WATCH: City 3-0 Fulham | Bubblegum Bernardo
GALLERY:Training | Tuesday tune-up
Finally, there's a snippet of transfer gossip, as TalkSPORT claim City are one of the clubs said to be monitoring Ivan Rakitic's situation at Barcelona.
An article reads: "Chelsea, Manchester City and Manchester United are on alert after Barcelona star Ivan Rakitic was told he would not be getting a new contract.
"The Croatia international had asked for a new deal, having impressed at the World Cup where he played in the side that reached the final.
"The 30-year-old's current deal expires in June 2021, but ha had been hoping for an extension, plus a pay rise.
"However, Rakitic has now been told he will have to wait until at least next season before any new contract.

"That news will be of great interest to the Premier League heavyweights, who have all shown interest in him previously.
"The trio now seemingly have a chance of luring the midfielder to England in January if they can offer him the money he wants.
"Rakitic, though, is also on Paris Saint-Germain's radar; the French side having enquired about him during the summer."
How do you think tonight's game will pan out? Let us know on Twitter @ManCity, using #cityvol.