Media Watch
1
Media Watch: 'City still the team to beat'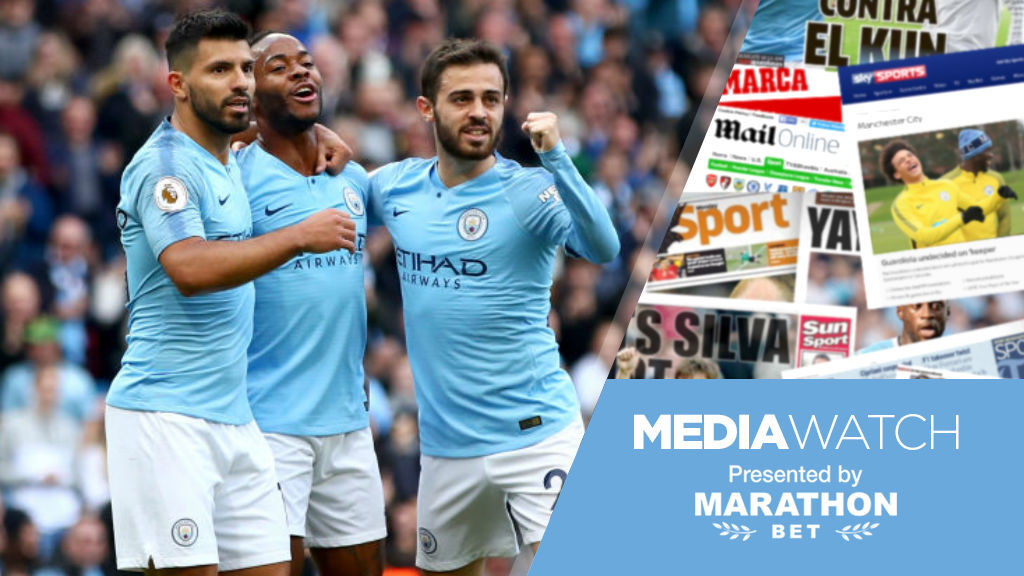 We may be in the midst of the international window but the Premier League title race remains a burning topic in today's media round-up with Manchester City tipped to break the mould and retain our league title.
There's also a fascinating interview with on-loan striker Lukas Nmecha on why Preston North End are now set to see the very best of him.
And Joleon Lescott weighs into the debate about what is the most iconic moment in English league football revealing how, in his mind, there is only one contender – THAT Sergio Aguero goal from May 2012.
But we start Wednesday's round-up with analysis in the Daily Telegraph on how the Premier League title contenders are shaping up after the first eight games.
And according to James Ducker, the evidence suggests that for all Liverpool and Chelsea's qualities, City remain the pre-eminent team.
READ: Which Man City international players are on duty
WATCH: Liverpool 0-0 City | Brief highlights
Writes Ducker: "City have scored the most goals and conceded the joint fewest and the concern for their immediate rivals is that it does not feel like City have got close to clicking fully into gear yet, despite some handsome results.
"With Pep Guardiola likely to welcome back Kevin De Bruyne from injury after the international break, City's attacking options from midfield will enjoy a significant boost.
"The two Silvas, Bernardo and David, have impressed, as has Aymeric Laporte in defence. Sergio Aguero was off his game against Liverpool but the Argentina striker "has been in fine form, too.
"The champions remain the team to beat and, from the end of February onwards, they have a very favourable run-in.
"Their century haul of points last season has ensured expectations remain incredibly high this term but simply retaining the title for the first time - something no club has managed for a decade - would be achievement enough."

Meanwhile, young striker Lukas Nmecha has revealed how he is confident that he is set to flourish in his loan spell at Preston North End after a couple of excellent recent performances.
Lukas is on a season-long loan spell with the Championship side and, speaking to the Lancashire Evening Post, he spoke about how he is now bedding in at Deepdale.
Dave Seddon reports: "Lukas Nmecha says he expects the goals to start coming now that he is getting more used to his Preston team-mates' style of play.
"The teenage striker, who is on loan from Manchester City, turned in eye-catching displays against Aston Villa and Wigan Athletic.
"Until last week, Nmecha had struggled to make an impact – partly due to a knee injury he was carrying.
READ: Man City loan watch Thierry Ambrose Lukas Nmecha Manu Garcia
WATCH: Liverpool 0-0 City | Ian Cheeseman vlog
"But he is feeling far more settled now and is tuned in to how North End want to play. In the last two games, the 19-year-old has led the frontline – some responsibility for a young player.
"Nmecha said: "I've played that role a lot of the time so it is not a massive issue – I like being the lone striker.
"I haven't got the goals yet but once I get one, they will start flowing. When I first came here, I knew the lads were very good players but I didn't know how to change my movement to adapt to them. "But I think I'm starting to get used to them a bit better.
"At City we press really high but here it's very explosive and I've got used to that now."
Finally, on to that fascinating debate about what stands out as English domestic football's ultimate moment.
Ex-Arsenal star Alan Smith recently made the claim that his ex Arsenal team-mate Michael Thomas's Anfield title winner in 1989 took the vote.
But the ex-City stalwart Joleon Lescott, speaking to Graham Hunter's Big Interview podcast, begs to differ, stating that City's Agueroooo moment in May 2012 defeats Thomas' Anfield winner as the most iconic moment in English league football.
The former City and England defender was replying to a claim by ex-Arsenal striker Alan Smith – who scored the first and made the second in the Gunners' iconic 2-0 win at Liverpool in 1989 – that it was unbeatable.

Arsenal went to Anfield needing to win by two goals or more to overhaul Liverpool at the top of the table and lift the title, and did so through Thomas's injury time goal.
But Lescott says that the instant recognition Sergio Aguero's 93:20 moment gets means that it trumps Thomas.
Speaking on Graham Hunter's Big Interview, Lescott said: "Different eras and the context is different now but if you ask people of my age what happened in that game, at that moment, you had to really describe what happened in that game, and that moment for me to get where you were going.
"But if you say to someone 'Sergio Aguero's goal' they know what you are talking about. There's only one goal people would say.
"If you say 'Alan Smith's goal and assist' against Liverpool, it's 'What year was that? What game was that? What did it mean?' and that's what I'm talking about.
"It's not about the importance of it to him, and them, it's what society sees it as.
"It was a rivalry, Liverpool and Arsenal, but this was Man City and Man United, which is surely bigger in any era, especially as City are now where they are."