Media Watch
1
Gossip: Midfielder tipped as 'future' of Man City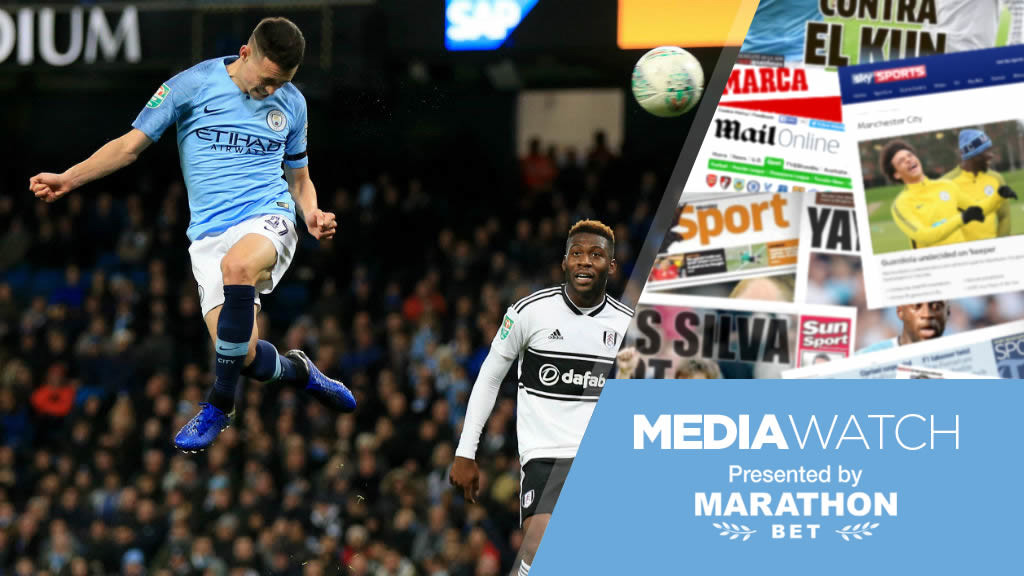 FLYING HIGH: Phil Foden
Good morning and welcome to Friday's Media Watch, which brings us a range of reaction Thursday night's Carabao Cup victory over Fulham at the Etihad Stadium.
One City player's passing has been compared to Italian great Andrea Pirlo, while there is natural focus on City starlets Brahim Diaz and Phil Foden after their part in the League Cup win.
First to BBC pundit Pat Nevin, who has provided a glowing assessment of Foden's potential.
Nevin - who fans of a certain vintage will remember as an impish and technically accomplished player himself – said: "Foden is absolutely extraordinary, there isn't even a doubt about that one. He could be absolutely the future of Manchester City.

"One day Silva won't be there - hopefully as long as possible - and I'm looking at Foden and thinking he can fit in there, he can do that job, he can definitely do that at the top level in the Premier League and well beyond that as well."
The Daily Telegraph's James Ducker, meanwhile, wrote in his report: "His (Brahim's) first and second goals in City colours were enough to consign Fulham to a fifth successive defeat and secure a place in the Carabao Cup quarter-finals for the competition's holders.
"While Fulham named almost a full strength side, they were ultimately no match for a very youthful City. Yet Pep Guardiola's delight at Diaz's performance, a similarly enterprising display from another brilliant teenage talent, Phil Foden, and a debut for youngster Claudio Gomes will have been tempered by the sight of Kevin De Bruyne limping off five minutes from the end."
READ: Guardiola confirms De Bruyne checks

READ: City 2-0 Fulham - match verdict

It was not just Foden and Brahim who impressed against Fulham though. There were eye-catching performance all over the pitch, as Stuart Brennan's MEN player ratings show.

Of John Stones Brennan wrote: "Cruised through the game, stroking passes around like Pirlo, while defending with a minimum of fuss. Who said he would never make a centre back?"
And on striker Gabriel Jesus he added: "How he did not score is anybody's guess, and a travesty. Quite brilliant at times, putting on an exhibition of skill, and hitting the post to set up Brahim's second."
Finally, over in the Guardian, journalist Jamie Jackson reflected: "City had Fulham where they love to have all opponents: pinned in and around the area facing constant blue waves of attack. De Bruyne, Danilo, Díaz, and Fabian Delph were a dizzying blur of interchanging passing."
City now face a quick turn-around with Southampton next up in the Premier League on Sunday - stay tuned to all the Man City channels for all the build up, with Pep's pre-match press conference just after lunch-time on Friday.