Media Watch
1
Media Watch: City target Spanish 'wonderkid'?
WONDERKID?: It's claimed City are monitoring Pelayo Morilla
A matchday mixture of City-centric stories…
With the Blues in Carabao Cup action tonight, hosting Fulham in Round Four, you would be forgiven for assuming the events at the Etihad Stadium would dominate the headlines – but then, you would be mistaken.
They say: 'Variety is the spice of life' and therefore, today's Media Watch is extra spicy!
We have an opposition preview, two title predictions (for the Premier League and Champions League) and a transfer tale. So, without further ado, let's dig in…
Fulham manager Slavica Jokanovic has spoken to the press, ahead of this evening's encounter. With the Cottagers heading into the clash on the back of four successive defeats, the Serbian boss asserts he views tonight's tie first and foremost as a chance for his side to improve their form.
READ: Carabao Cup quarter-final draw
WATCH: Oleks Zinchenko | 'Carabao Cup a chance to shine'
GALLERY: Training | City's sunshine boys train sights on Fulham
"All the people know that for every club, Premier League games are more important," he admitted, as reported by the Club's official website.
"[But] this season [the Carabao Cup] is a great competition for us.
"We started well in this competition, and actually the toughest game at the moment in the world is to play against City.
"This game comes at a good time for us to keep going with our improving process to keep working and not having to wait for another challenge.
"We are going into this game in a positive mood with the intention of continuing our process to try and find an improvement in our team.
"It's another chance, a great chance, to play against one of the top European teams, and we must be ready for the fight.
TV LISTINGS...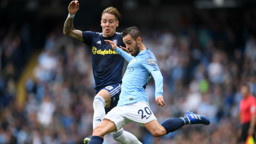 "We are not so satisfied with our start in the Premier League, and this game can give us an opportunity to find a better mood and find a better way to play football.

"If they make 11 changes we're still going to find [Vincent] Kompany or [Leroy] Sane or a striker from the Brazilian national team [Gabriel Jesus].
"Every cup game is an opportunity for young players, and from another side it's an opportunity for all the players to look for an improvement and continue our process.
"Ahead of us is two important challenges – we've tried to analyse everything and make the right decisions about both games."
Switching focus back to the Premier League and midfield enforcer Fernandinho believes the Blues' squad depth could prove key to success.
Speaking to ESPN Brazil, the 33-year-old stated: "Our squad could make the difference.
"Everybody knows the games over Christmas are difficult, with the rhythm dropping; players tiring… It is a time when a lot of teams drop points.
"Chelsea and Liverpool are very good teams. Without doubt they are candidates, who are fighting for the title.
"Our aim is to fight with them, if they are still at the top of the table in March or April. We know that the period we have coming up: November, December is really important for the squad.

"We are very focused."
In other news, City have been tipped as one of the favourites to win the Champions League by World Cup winner Andrea Pirlo.
As quoted by the Daily Star, the Italy legend named five clubs he believes are capable of lifting the trophy, citing Juventus as the side to beat.
"There are four or five teams, including Juve," Pirlo told Sky Italia.
"Then there are Liverpool, Barcelona, Manchester City and Bayern Munich. The teams are more or less those.
"While the championship is a thing in itself, Juventus has shown and is proving to be a step or two steps above the others."
Finally, as always, there's a snippet of transfer gossip as the Mirror claim City are plotting a move for Spanish 'wonderkid' Pelayo Morilla.
According to Jacob Murtagh: "Pep Guardiola's side have sent scouts to watch the 17-year-old, who is one of the hottest prospects in Spain.
"Pelayo's contract at El Molinon still has 18 months to run, but City could test the Segunda Division side's resolve with a January bid.
"Gijon would be loathe to lose the youngster, who has broken into the first team this term, making four substitute appearances."