Media Watch
1
Media: Sterling praised for 'rip-roaring display'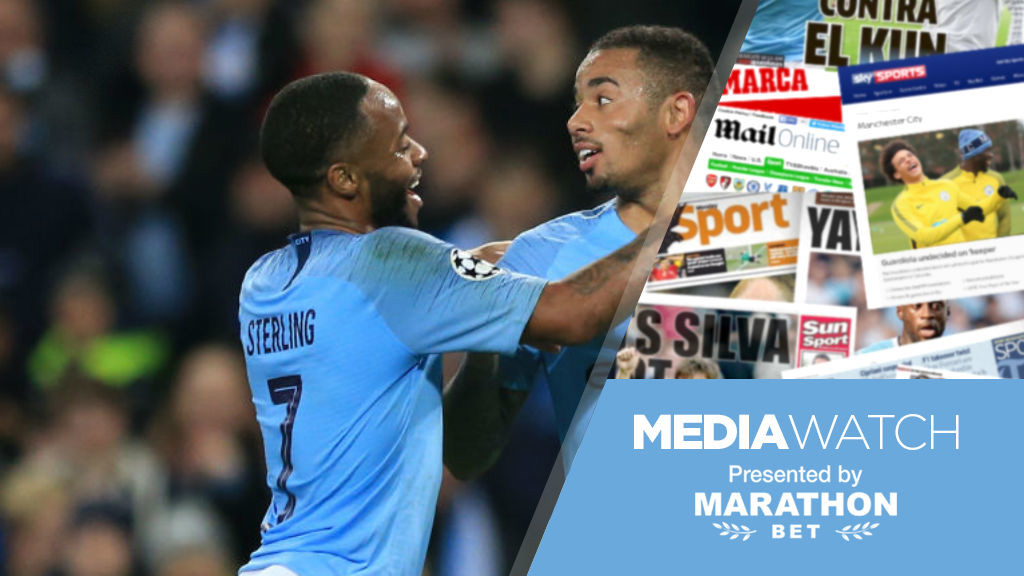 MEDIA WATCH: Your Thursday round-up!
As you can imagine, our emphatic 6-0 win over Shakhtar Donetsk is very much the talk of the back pages today, with Raheem Sterling and Gabriel Jesus receiving plaudits for their individual performances.
Player ratings, derby talk and a word on skipper Steph Houghton feature in your Thursday media round-up!
First up we take a look at what the media have been saying about last night's Champions League victory…
Gabriel Jesus claimed a deserved hat-trick as we hit six for the second game running to close in on a last 16 spot in the Champions League. It proved to be a memorable night for Jesus who claimed his first-ever hat-trick in senior football with David Silva, Raheem Sterling and Riyad Mahrez also on target to secure a back-to-back double over the Ukrainians and the Club's biggest margin of victory in the European competition.
READ: Man City 6-0 Shakhtar | Match verdict
WATCH: Pep Guardiola | David Silva is a joy
Stuart Brennan of the Manchester Evening News picked out Jesus and Sterling's performances in the player ratings feature.
On Sterling, Brennan writes: "After his ten out of ten at the weekend, another rip-roaring display - embarrassed by his penalty award, but his goal was something special – 9." And on our hat-trick hero the journalist scribes: "Scored twice from the spot before that sublime late finish but is still struggling a little in open play – 8."
ESPN's Johnathan Smith also picked out Raheem and Gabriel, with both of our forwards scoring nine.
On Sterling, Smith states: "Switched to the left-hand side and was still as dangerous with his intelligent wing play. Sadly, his performance may well be remembered for kicking the floor leading to the 24th-minute penalty as much as his brilliant, individual strike."
While on Jesus, he comments: "He wasn't about to pass up the opportunity of ending his three-month goal drought from the penalty spot. Added a second penalty before completing a hat trick with an exquisite lob, which will give him huge confidence after a tough time in front of goal even if his game has been otherwise good."
Elsewhere, as the Manchester derby nears, Sky Sports asks its pundits whether City are the more dominant side.

"The balance of power is very much at City at the moment and with the investment they continue to have and the manager and squad they have got than United have got a long way to go to get near them," says Matt Le Tissier.
While Paul Merson writes: "Let's be honest, City have got a much better team that United at the moment. United are a long, long, long away from City. It's hard to say how long it's going to take to switch the power back - years and years probably. They are so far behind that even money will not solve the problem."
Finally, we turn our attention to City skipper Steph Houghton, who is just one England appearance away from receiving her 100th cap for her country.
The Lionesses face Austria this evening, but manager Phil Neville has stated that Steph will save her England century for Sunday's home match against Sweden.
"Steph won't be involved on Thursday. She wants to play but we told her no," Neville told the BBC.
"I wanted to make Sunday a special day because she [Houghton] has earned it," said Neville. "She deserves it so she will be rested and it can be a celebration of her England international career.
"She actually doesn't want it to be about her because she is so humble and she wanted to make her 100th cap in Austria. But we have almost banned her from playing. It is very doubtful she will even be on the bench."
That's all for your Thursday media round-up, but we will be back tomorrow with all the latest news and gossip from the back pages!