Media Watch
1
Media: City set to swoop for Dutch star? ​
GOSSIP: City once again feature in the transfer columns
Transfer gossip, huge praise for Pep Guardiola from the people who work closest to him and wise words from Mike Summerbee…it's time for this morning's roundup of the back pages!
Let's start with a report by Simon Mullock in the Mirror. He says City are lining up a move for Ajax's teenage sensation Matthijs de Ligt, a player Pep Guardiola believes could be
"Pep Guardiola is ready to sanction a £50million swoop for Ajax teenager Matthijs de Ligt," Mullock writes.
"The Dutch star, 18, is seen as the long-term successor to Manchester City captain Vincent Kompany.
"The Belgian will lift the Premier League trophy for the third time in seven seasons on Sunday, after City play Huddersfield.
"Guardiola has hailed him as one of the best central defenders he has ever seen, but that praise came with the caveat that Kompany's long-term fitness issues are still a cause for concern."
READ: Guardiola shortlisted for PL manager of the season
READ: City v Huddersfield | Injury latest
Meanwhile, Martin Blackburn, writing in the Sun, has produced a revealing insight into Guardiola.
Blackburn has gathered the thoughts of several City staff members who offer anecdotes about their experience working with Guardiola.
Chief Operating Officer Omar Berrada is one who Blackburn has spoken to and he said: "His dedication stands out to me. In mid-January we were due to play ­Mansfield or Cardiff in the fourth round of the FA Cup.
"We were sat in the first-team building and he was trying to work out how to get to a Mansfield game to do some scouting. He ended up going with his son. I was just thinking of all the performance analysts we have, he has more than enough ­information.
"But he wanted to go and see for himself. That shows how seriously he takes it and how much time he gives it.
Have you seen...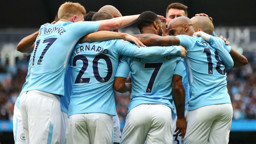 "It shows me he's committed to the cause. He'll do anything to put himself in the best position to win. When we won the Carabao Cup and when we won the Premier League, on both occasions he came into the offices here.

"He gave a speech to everyone who works here to say thank you."
It's a fascinating read.
And, finally, Mike Summerbee has heaped praise on Guardiola's impact at City, claiming the Catalan has "revolutionised" English football during his two years as Blues boss.

In an interview with the Guardian's Jamie Jackson, Summerbee said: "Pep has a certain way.
"I watch them train occasionally and I think he has revolutionised football in this country. He has a group of people who think and play [his] way – they all have great skills on the ball, first touches, and know what to do with the ball.
"They play in a small area where you have to think on your feet. They do that until they see a gap, and then it's like opening the lock on a safe. Every player is so skilful. In our day you probably had four players who were really top-notch, who could open the game up, but nowadays, everyone can play. All can control and pass the ball."
Well said, Mike.
That's all for this morning's Media Watch. Stay with us throughout the day as we bring you comprehensive coverage of our game with Huddersfield and the trophy-lift party that will follow!
If you want to relive the best moments from a truly memorable season, visit our Beautiful Football hub: https://www.mancity.com/beautifulfootball