Media Watch
1
Gossip: Case for greatness and transfer talk
ANOTHER LEVEL: City's consistent brilliance this season has been praised
The case for greatness, the latest victory in the FAWSL, plus some big names linked with summer transfer moves… it's your Friday media round-up.
First let's turn to David Mooney's ESPN column, where he argues that City's sustained brilliance this season is as valuable as the rare, incredible highs of campaigns past.
He opines: "This has been week after week of breathtaking football, a string of performances that have gotten better when it seemed impossible to improve, and a true battering of the rest of the Premier League.
"Sure, City haven't gone unbeaten and there have been moments where it hasn't worked - but they exist in incredible isolation, so far removed from what has become the norm.
"Ignore the critics: Guardiola has re-written the rulebook of the Premier League era. Those who say this team can't stand alongside other great sides are talking nonsense; as a single-season performance, this is on the brink of becoming the best. With three matches to go, City need a win to earn the most points in Premier League history and two goals will give them the greatest scoring tally the division has seen.
"It would be fitting if City could break the modern era's points and goals record when they face Huddersfield on Sunday, ahead of lifting the trophy at full time. It would represent a season of unparalleled dominance and would perhaps be the most extraordinary of all in the club's 124-year history."
Over to the BBC now, whose journalist Tom Garry was at the Stoke Gifford Stadium to watch City put six past Bristol in the Women's Super League.
Watch: The best goals and moments from City's season
He reported: "Victory saw Man City take full advantage of their game in hand on title rivals Chelsea, who slipped to second, while Bristol City stay ninth.
"Nick Cushing's side - who began the night three points and three goals behind Chelsea - moved top by two goals, with four matches remaining, as England boss Phil Neville watched on at Stoke Gifford Stadium."
Finally, the transfer speculation continues to bubble with some major names doing the rounds.
Must see!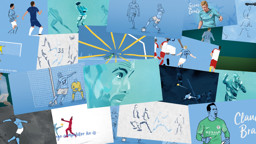 Goal.com reporter Sam Lee writes: "The Jamaican is not as established as the two marquee names on the champions' shopping list but he has the raw ability to make his mark in England

"Pep Guardiola wants a pacy, tricky and versatile forward to strengthen his Manchester City attack for next summer, and that is why Leon Bailey is on their radar.
"City have tried to sign Alexis Sanchez, Kylian Mbappe and Riyad Mahrez in the past two transfer windows, and they were also keeping tabs on Ousmane Dembele last summer, so the profile of their transfer targets is more or less obvious.
"Indeed, City are exploring the possibility of signing Mbappe again this summer," with Lee adding, "Chelsea's Eden Hazard is also regarded as a potential, if difficult, option."
That's all for this morning, stay tuned to all the Man City channels for the latest build up to Sunday's game against Huddersfield.