Media Watch
1
Gossip: KDB plays it cool, forward linked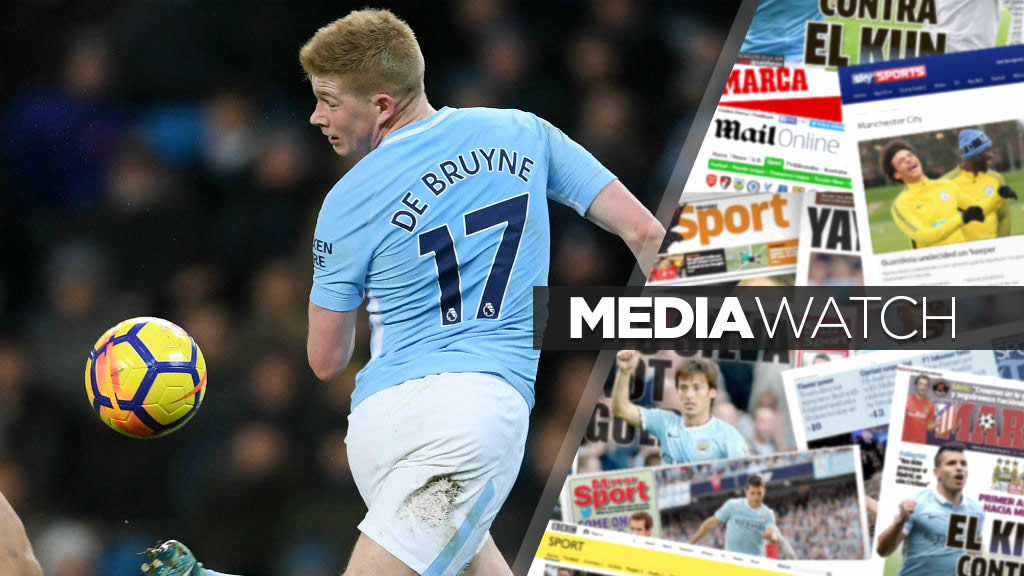 HUMBLE: Kevin De Bruyne
Friday's papers round up features some of the most highly rated players in world football as we head into the internationals weekend.
Kevin De Bruyne, Lionel Messi, Cristiano Ronaldo... can you hear the clangs as we drop names liberally to the Media Watch floor?
We've also got derby opinion, plus a long-linked La Liga forward features in the latest batch of transfer speculation.
First to City ace De Bruyne, who has drawn comparison with multiple Ballon d'Or winners Lionel Messi and Cristiano Ronaldo.
The brilliant Belgian isn't having any of it though.
"It is impossible to compare me with them," he said in comments reported by the MEN. "Our positions are completely different.
"They are much higher on the pitch and score ten times more than me.
"If I make 10 in a season, they score a hundred. But then I have other tasks on the pitch."
READ: Sergio Aguero - injury latest
De Bruyne's compatriot Vincent Kompany has been speaking ahead of Belgium's game against Saudi Arabia, and has underlined how vital it is for the Blues for our momentum to carry through the international break.

City face a critical 11-day spell when we return to action, facing Everton (away, Premier League), before Liverpool (away, Champions League), United (home, PL) and then Liverpool (home, UCL).
In a news conference reported by Sky Sports Kompany said: "'You need that positive vibe to finish the season strongly, carry on playing at the same level but then as well going into the next season and feeling that you still have that mojo.'
"'You can easily lose it even if you're champions. It is a big 11 days when it comes to the bigger picture.
"Manchester City could potentially claim the league title with a win over United on April 7 and Kompany admits the upcoming derby is currently the talk of the town.
"'It is the only thing people talk about in Manchester right now. The Champions League is obviously massive, somehow I feel like we do get a little bit of support from the United fans for that fixture [against Liverpool].
"'But other than that the game against United is the biggest thing to talk about but we still have to play Everton.'"
Finally a quick transfer rumour snippet from Spain, with Real Madrid's Isco still a reported target.
That's your lot for today, we'll be back tomorrow for more paper talk!