Media Watch
1
Media Watch: Bernardo hails City's resilience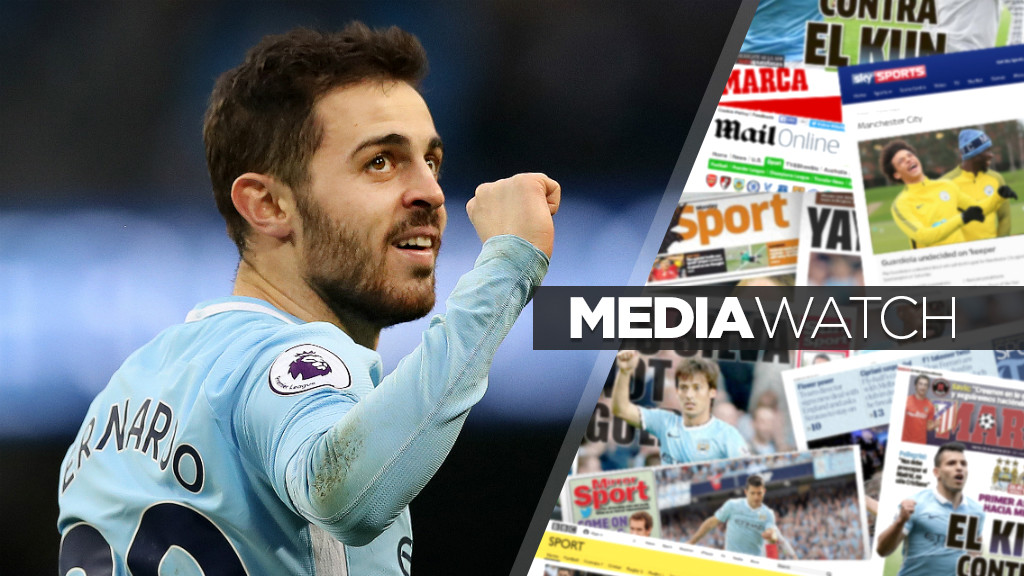 SILVA SERVICE: Bernardo Silva says he's delighted with City's response to the the FA Cup defeat at Wigan
'Bouncebackability', an eagerness to learn, national team hopes and a transfer tale… It's your Tuesday media round-up.
As the dust settles on Sunday's victory over Chelsea and attentions turn to other matters, such as Wednesday night's Champions League visit of Basel, there are plenty of topics for discussion.
We'll kick off with weekend matchwinner Bernardo Silva's comments, as the Portugal man hailed his side's elasti-City(!), following the shock FA Cup defeat to Wigan.
As quoted in the Daily Mail (amongst others), he declared: "When you lose, sometimes it is more difficult but we gave a very good answer – a very good response – and won three games against two great teams.
"We want to think game by game but of course, it means a lot for us to arrive in March and to be so close to winning the title. We will do our best to keep winning games.
"(Against Chelsea), we knew we had to be patient because when you play against a team as defensive and as strong on the counter-attack as Chelsea, you have to be patient.
"You have to control their main players and that's what we did. We always try to control the game, play offensive football, create chances and score goals. Fortunately, we got three more points and we're closer to the title.
"Now we have to think about the next one. I wouldn't say we are a bit comfortable but we have a good advantage (over Basel). Here with our supporters at home we will try to win again."

Meanwhile, although Phil Foden's appearance against Antonio Conte's men lasted only a few minutes with the youngster introduced from the bench in injury time, the 17-year-old still managed to impress.
Recording his post-match podcast, Gary Neville hailed the midfielder for his actions at full-time.
He explained: "I'm actually just watching Phil Foden out on the pitch and he's practicing and you might think why am I mentioning that?
"I'm mentioning that because I don't see enough of it and actually I'm delighted to see him out there with the fitness coach, about to do some work on his own, and I like it.
READ: City v Chelsea talking points
WATCH: City v Chelsea Tunnel Cam
"I like the fact that he's a young player who's taking responsibility for his performance. He's come on for a couple of minutes but he's out there - he wants to play."
In other news, January recruit Aymeric Laporte has told press he hopes his form with City will earn him a call-up to France's senior squad.
As SFR Sport report, the defender stated: "Of course, the more games you win, the more trophies you win and you have more chance of getting into the national side.
"I have to focus on my club for now and if things go well, we'll see about that later.
"I've been very warmly welcomed by the Club. The players are very happy to have me; I'm happy to be with them.
"The Club has helped me in every aspect and that's very good for me. So, things are going well on and off the pitch and we're getting results too so it's great.
"(I am impressed with) everything – the people, the way of playing, the coach.
"It's another world. I have to take advantage of that and learn from those things."

Elsewhere, looking ahead to Monday night's Premier League trip to Stoke, Potters boss Paul Lambert asserted he hopes his team and fans will 'make City feel uncomfortable'.
His words feature in the Stoke Sentinel and read: "Man City… we have to take them out of their comfort zone; maybe we can.
"You know you are going to have to play like hell, but what a game. The support will be vibrant, raising through the roof, so you'll run that extra yard. What a game it's going to be.
"I know we are up against the best team in the country – without a shadow of a doubt – next Monday but you've got to find a way to make it uncomfortable for them and hurt them.
"There have been great teams playing against them before that have got turned over by them and we have to find a way to hurt them.
"It will be difficult but on any given day, you can win a game."
Finally, it's claimed Barcelona have asked Lionel Messi to speak to Pep Guardiola to insist alleged City target Andres Iniesta is not for sale.
According to Alex Wood of the Daily Star: "Spanish media outlet Diario Gol say the City supremo is making overtures towards the veteran star.
"But the Barca dressing room don't want him to depart and have asked Messi to intervene.
"Guardiola knows Iniesta well from their time together at the Nou Camp.
"It's suggested he still thinks the 33-year-old has plenty to offer and wants him to have one final swansong in England."