Media Watch
1
Media: City make Brazilian top transfer target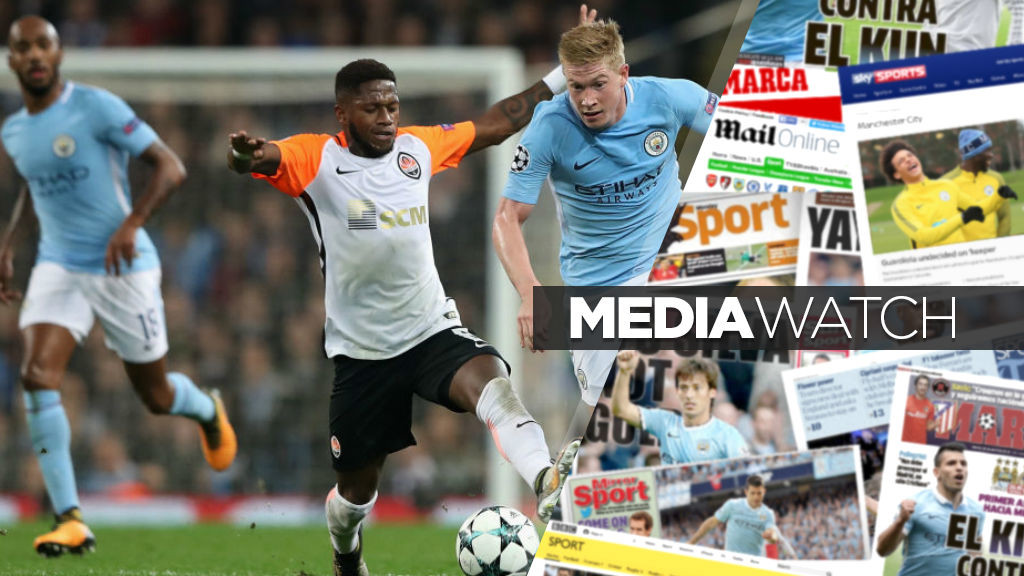 TARGET?: Fred in action against City earlier this season
The transfer mill continues to churn and Manchester City are rarely too far away from the headlines.
And with January now over halfway through, expect the gossip columns to go into overdrive between now and the window closing.
Let's start today's roundup with talk of City's interest in Shakhtar Donetsk midfielder Fred.
The Brazilian played against us twice in the group stage of this season's Champions League and impressed – and, according to James Ducker writing in the Telegraph, Pep Guardiola is continually monitoring his progress and will look to make a move before this summer's World Cup in Russia.
"Manchester City are working on a deal to sign Fred, the Brazil midfielder, from Shakhtar Donetsk," Ducker writes.
"The Premier League leaders have identified the 24-year-old as a primary defensive midfield target as they seek quality long-term cover for Fernandinho and with Yaya Toure expected to be released when his contract expires at the end of the season.
"City have not prioritised the recruitment of a defensive midfielder in this month's transfer window but they do want a player who can fill the "No. 6" position that Fernandinho, another Brazilian, occupies in place for the start of the summer, ideally before the World Cup commences in mid-June.
"Yet City are conscious that the price for Fred has increased significantly since they first entered into informal discussions with Shakhtar last year and hope to secure a breakthrough before the costs continue to escalate amid reported interest from Manchester United, Arsenal and others.
"Sergei Palkin, the Shakhtar chief executive, is thought to have travelled to Manchester in the wake of the clubs' Champions League match in Ukraine on Dec. 6 as talks over a potential deal continued."
Sky Sports also pick up the story – but they believe a deal could be agreed before the transfew window shots at the end of the month.
"Manchester City are interested in signing Shakhtar Donetsk midfielder Fred, according to Sky sources," they write.
"City are understood to be looking at the 24-year-old Brazilian as a long-term replacement for Fernandinho, who turns 33 this year.
"Having ended their interest in Alexis Sanchez, City now have more money to spend and could turn their attention to signing Fred in the January transfer window."

Meanwhile, Craig Bellamy says City are superior to cross-town rivals Manchester United and are now the dominant force in the city.
Speaking on Sky's The Debate, Bellamy said City are now United's biggest headache, with the Blues now playing with more "identity and structure".
"I've always said the biggest problem he (Jose Mourinho) has is Man City next door," he said. "Mourinho has a problem with Pep Guardiola, and he will have that problem as a manager.
"As a team, Man Utd fans watch Man City and think: 'Why aren't we doing this? We've been doing this for years!'" Bellamy said. "Will they be able to come to terms with them playing like that? I don't think they'll ever be able to come to terms with that.
"It helps having a lot of money, but whatever you have, Man City will have more. The goalposts have changed for Man Utd now.

"Man City now have an identity, a structure, a way of playing, this is what they do now. And now they're having success off the back of it. Very rarely have Man Utd fans had to see that."
That's all for this morning's roundup, Blues. Stay with us throughout the day as we look ahead to Saturday's game against Newcastle.