Media Watch
1
Media Watch: Hornets hope to stave off City sting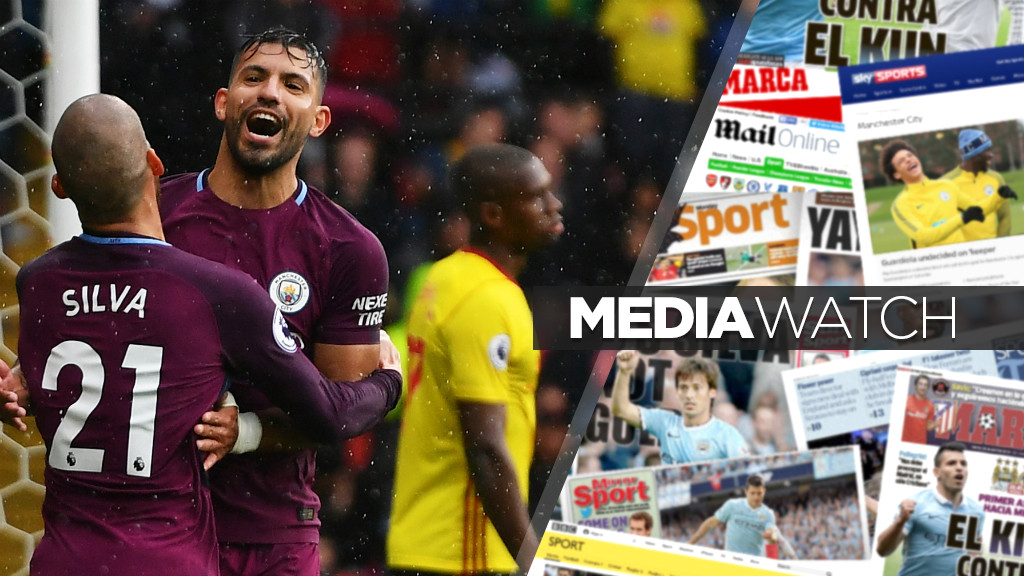 STING LIKE A BEE: City have an excellent recent record against Watford
The view from the other side, pre-match predictions and a transfer tale… it's your matchday media round-up.
City host Watford tonight in our first game of 2018. Pep Guardiola's men will be looking to extend their lead atop the Premier League table, whilst returning to winning ways following a goalless draw at Crystal Palace on New Year's Eve.
The Blues have enjoyed recent meetings with the Hornets, unbeaten in our last 12 games against the Vicarage Road outfit and emerging victorious with 5-0 and 6-0 triumphs in the past two encounters.
Watford defender Daryl Janmaat asserts City will end the league season as champions – perhaps undefeated – but is drawing optimism from our outing at Selhurst Park.
As quoted in the Mirror, the Dutchman declared: "If there's a team who can do it, it's them because they show every week they are too strong for every team.
"They have the best players in the league – in almost every position, they have a really good manager and they are unbelievable at the moment.
"It's going to be hard, of course. I think that's clear and they will be the champions but there's always a way to find a result – maybe they have a bad day.
"We have to go there and try to get a result. You might as well stay home if you don't believe you can get something."

Meanwhile, Simon Bajkowski of the Manchester Evening News believes Watford provide the ideal opposition for City to kickstart another winning run.
He scribes: "Elton John was in attendance for the reverse fixture when Watford had the opportunity to go top of the Premier League.
"Instead, he had a front row seat for one of the most dominant performances the competition has seen.
"If City are a different beast now, the Hornets appear to have lost all of their sting.
"Marco Silva's side have lost more points from winning positions this season (16) than any other team and have lost six of their last eight games, winning just one.
"The fixture list make the festive schedule never ideal, but Watford must be close to perfect opponents at this time of year."
Think you know how tonight's game will pan out…? Cast your predictions for the result, starting XI and scorers in the CityMatchday app and share your pre-match thoughts on Twitter with #cityview.

Finally, the transfer saga regarding Alexis Sanchez continues to rumble on.
Former Dutch international George Boateng believes the Arsenal star would be a good fit for Guardiola's side.
Speaking on Sky Sports News, he stated: "Can you find a player that's better than what you've got? It's really difficult but Alexis Sanchez is the one that can probably come in and give a new fresh inspiration to the squad.
"I think Arsenal have got no choice - they have to keep him. He's the only one that's causing threats for Arsenal when they play - he scores goals and he creates.

"Arsenal have done quite well to keep him until now. He's got six months left - what's the point of selling him now? They'd rather take the points that he can give Arsenal than to take the money."