Media Watch
1
Media Watch: City to make £35m Sanchez bid?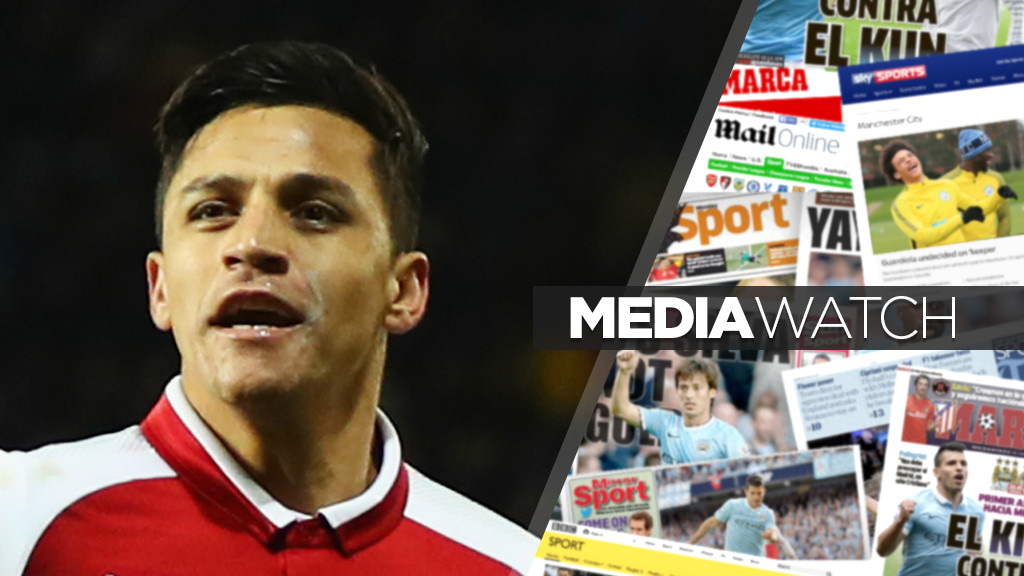 BLUES TO BID?: It's claimed City are plotting a £35m bid for Alexis Sanchez...
The view from the other side, plus two transfer tales… it's your matchday media round-up.
City host Burnley this afternoon in the FA Cup third round and yet, the majority of headlines focus on the Blues' alleged targets in the January transfer window.
Familiar faces feature in the repeated rumours but first, let's focus on the task at hand.
Pep Guardiola shared his thoughts ahead of today's clash and so has Clarets manager Sean Dyche.
The Burnley boss, who has guided his side to an impressive seventh place in the Premier League table with just two defeats on the road all season, is feeling confident.
He told the Club's official website: "All teams are beatable, but with very good reason they are being talked about with this sort of 'Invincibles' as you call it because they have a very deep squad, a very good manager and they have some highly talented players.
"They have mainly been connecting that with the Arsenal group of a few years ago.
"I understand why, but equally no-one in football is against getting beaten.
"They might try and be against it, but it just comes your way sometime.
READ: Pep Guardiola provides injury update
WATCH: City v Burnley throwback
"I think that's the window of doubt for them, that every team that comes says: 'why wouldn't it be us, so let's go and take the game on?'
"We will certainly have that attitude towards the game, while not being naïve.
"However many changes they make they are still a very strong unit and we have seen that over the last couple of years.
"But I've really enjoyed working with this group here this year. I have all of my groups, but this year in particular I think there's a little bit more depth in it and true competition in our group, so we are in a good place.
"Now it's 'let the whistle blow and take the game on'."
Elsewhere, Goal claim to have an 'update' on the Alexis Sanchez saga, suggesting City are set to mount a £35million bid.
An article reads: "Gabriel Jesus' knee injury has forced Pep Guardiola to reconsider a winter move for the Chilean, whom he had originally preferred to sign at the end of the season.
"Arsenal turned down a £60m offer in the summer from Man City but, with fewer than six months left to go on his contract, they could lose him for free in July.

"Arsenal manager Arsene Wenger hasn't ruled out a January exit for Alexis Sanchez and If the Chilean does depart for Man City in January, Wenger is ready to make Monaco's Thomas Lemar his replacement, according to L'Equipe."
Meanwhile, Lionel Messi has been linked with a move to the Etihad Stadium for as long as I can remember and Caught Offside have reported a clause in his contract which may allow a move to happen – and on a free transfer.
According to Edward Bennett: "The Argentina international is one of the best players in the history of the game, but could be sensationally granted a move away from the Nou Camp on a free if Catalan independence means the club are removed from La Liga, according to Mundo Deportivo, as translated by the Metro.
"The Metro also list City as possible suitors for Messi, with Pep Guardiola of course working with him during his time as Barcelona manager.
"The pair struck up a great working relationship as the Spanish tactician seemed a major influence behind Messi reaching some of the finest form of his career.
"Premier League fans would dearly love to see Messi in England at some point, and it's certainly an exciting development to learn that he could even arrive on a free.
"The 30-year-old could slot in perfectly alongside the likes of Raheem Sterling and Leroy Sane in City's attack, though it must be said a deal obviously remains a long way away as it is yet to be seen what consequences Catalan independence could have on Barcelona's La Liga status."
Think you know how today's game will pan out? Cast your predictions for the result, starting XI and scorers in the CityMatchday app and get in touch on Twitter using #cityview.