Media Watch
1
Media Watch: Navas targets win for City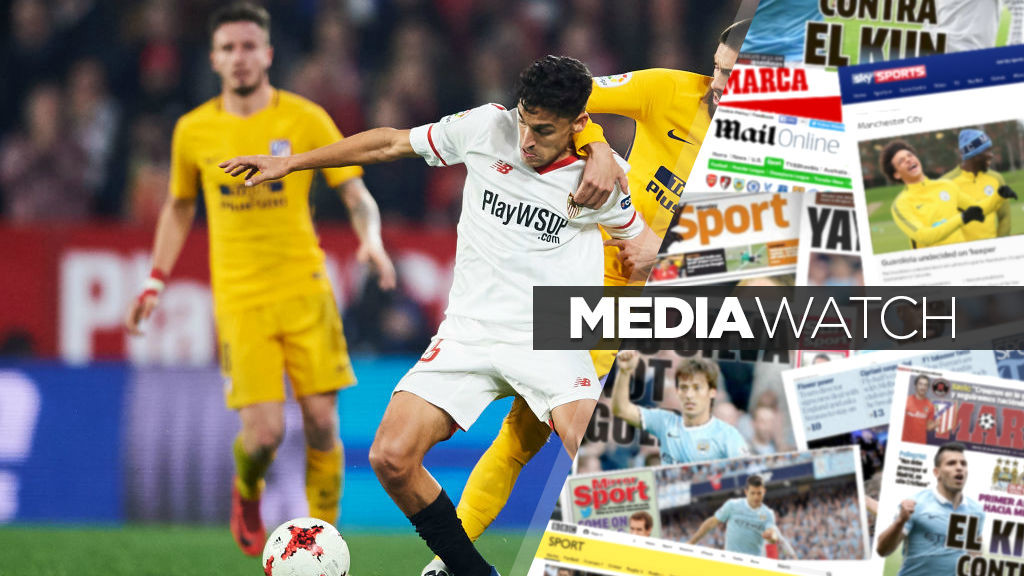 OLD BOY: Jesus Navas.
It's FA Cup fifth round day for Manchester City and the newspapers are awash with all manner of stories ahead of our trip to Wigan.
Opposition boss, Paul Cook, has shared his thoughts ahead of the game, while a member of the Latics' 2013 FA Cup winning side hopes the current crop can pull off another upset.
We start, however, with the thoughts of former City player, Jesus Navas, who is gearing up for a Champions League tie against Manchester United with new club, Sevilla.
Speaking to The Mirror, Navas said: "I know it would be nice for some of the friends I've got back in Manchester if we did manage to pull it off and knock out United.
"I still speak with David Silva. We have a personal relationship and we talk about personal things, but we've not got into football that much.
"But City are playing some lovely football now. They always have possession of the ball, which is what Guardiola likes his teams to do, and they're really enjoyable to watch."
READ: Wigan scouting report
GALLERY: Blues train ahead of Wigan
WATCH: Guardiola focused on 'big week'
Switching attentions to tonight's game, Latics' boss Cook is determined his League One side will not lay down for the Premier League leaders.
He told The Mirror: "We have the utmost respect for every manager we play. Man City bring something different to the town, of course they do.
"You have got the best team in the world possibly and maybe the best manager in the world.
"But we will be competitive in the game. We're not here to make best friends with Man City and everyone pat us on the back after they've beaten us by five and say have a good season. We want to try to win a game of football."
Former Wigan defender Emmerson Boyce sees no reason why the Latics can't do just that.
Having played in the 2013 FA Cup final, Boyce is hoping Cook's side can replicate that result, though has acknowledged the quality in City's ranks.
Writing in his Wigan Post column, he said: "There's no reason at all why we can't do it again and Wigan can pull off a big shock.

"Everyone saw how well the team played against West Ham in the last round, and Bournemouth before that.
"Obviously Manchester City are a level above that, but these are the games you want to play in. You look at the likes of (Kevin) De Bruyne, (Sergio) Aguero...top, top players playing at the top of their game.
"But we've got some good players as well and the team is playing with so much confidence under Paul Cook. We're top of League One, deservedly so, and we've got nothing to lose.
"All they can do is go out there, express themselves to the best of their ability...and why not?"
That's all for today, Blues, but stay tuned to mancity.com for all the build up ahead of tonight's game.